Which side are you on in the age-old debate of "waffles or pancakes?" Halal cafe veterans Royz Et Vous says "why not both?", as they launch their newest Waffle Place concept after the success of their previous Pancake Place.
No matter which choice of toasted carb you prefer, both of Royz Et Vous' concepts will have you satisfied with their diverse and sprawling menu. Similar to the Pancake Place concept, waffle lovers will be spoilt for choice at Waffle Place with a dizzying 18 unique choices.
We're not just talking plain ol' waffles either, they're also featuring croffles on their menu — a croissant waffle hybrid that is trending in Korea. What you'd find here is an exciting array of toppings and flavours you won't really find anywhere else, both savoury and sweet.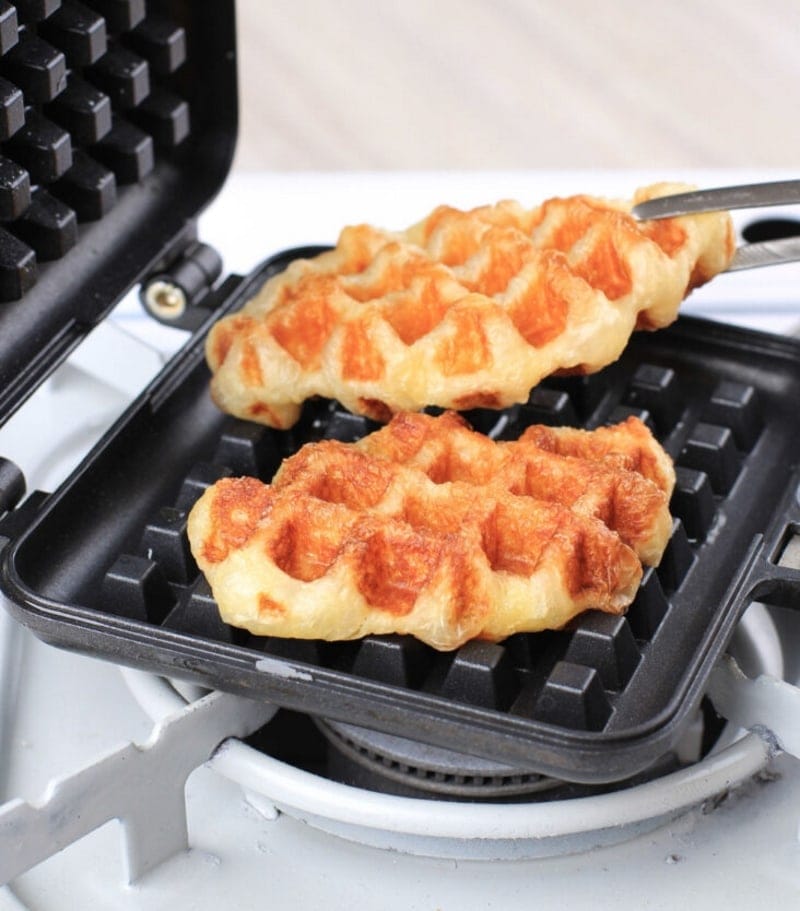 Bored of your run-of-the-mill waffles and gelato double scoop combo? They've got all the quirkiest permutations you can imagine — imagine waffles with takoyaki and mentaiko.
Some of the unusual savoury combinations at Waffle Place include unexpected Asian dishes such as the Japanese-style umami Salmon Mentaiko Waffle (S$17.90), fiery Gochujang Fried Chicken Waffle (S$13.90), or the sauce-drenched Takoyaki Croffle (S$13.90).
A Har Cheong Gai Chicken Waffle (S$13.90) twist on fried chicken & waffles is also on the menu, where you get crispy fragrant prawn-paste chicken and sriracha maple instead.
On the flip-side, you can find a sweet section of the menu that focuses on soft serves, in a more familiar fashion to our favourite waffles and gelato combos. You can either get these soft serves with a waffle, in a glass cup or contained inside a cone.
You've got your iconic ice cream flavours such as Banana Split (S$14.90/waffles, S$6.90/glass, S$5.90/cone) and Rocky Road (S$14.90/waffles, S$6.90/glass, S$5.90/cone) and also a more creative local flavour of Ondeh-Ondeh (S$12.90/waffles, S$6.90/glass, S$5.90/cone).
But if you prefer your waffles a bit airier, then you gotta try some of the creations from Waffle Place's sweet croffles section.
You'd find fruity flavours like Strawberry Cheese (S$11.90) that's a medley of strawberry sauce and cheese foam, an aromatic Cinnamon Poached Pear (S$11.90) and the sweet and decadent Banana Caramel (S$11.90).
They also have a drinks section if you'd rather have your sweets in smooth, ice-cold form. You can find espresso blends like the chocolatey Bueno Creme Brulee (S$14.90) and the rich Rocky Caramel (S$14.90) or get their intriguing twist of the Strawberry Sundae (S$13.90) in drink form.
Waffle Place
Facebook | Instagram | Website
📍 50 Bussorah Street, Singapore 199466
🗓️ 12pm–3pm, 5pm–10pm (Mon to Thu), 12pm–4pm, 5pm–11pm (Fri to Sun)
For more lifestyle updates like this, subscribe to our Telegram channel at @confirmgood.
The guy who will go on a 30 minute monologue about artisan coffee when you ask if they want Starbucks.