Want to make your beloved furbaby an Instagram star? That means you'll have to have just the right props! While we can get a huge variety of pet supplies and treats on our sunny island, as a pet owner, you would probably know that most of them carry just about the same usual brands for treats, clothes and toys.
If you're looking to find something just a little bit fun, different, and visually appealing (but still of great quality) for your furry best friend, you'd have to spend a little more time scouring around online. And that's how I came across Dear Fluffy – a premium online pet store selling pet goodies imported from South Korea.
Founded by a dedicated pet owner, the store carries an array of pet supplies ranging from treats, toys to lifestyle accessories like feeding bowls, towels and more. What makes the experience of shopping from this store more personable is that they only import products that they would use on the founder's own beloved Cavapoo called Mochi — so you'll know that they'll only be the creme de la creme of pet goods (which also eases the concerns of many pet owners).
Some of the store's more popular toys include the Eggslut Fairfax Burger (S$17) — a nosework and squeaker toy modelled after the popular restaurant's signature burger.
There's also the crinkly Paldo Cup Noodle (S$25) that even contains squeaky ramyun powder sachets on the inside so that your little buddy can join in on your cup noodle suppers next time!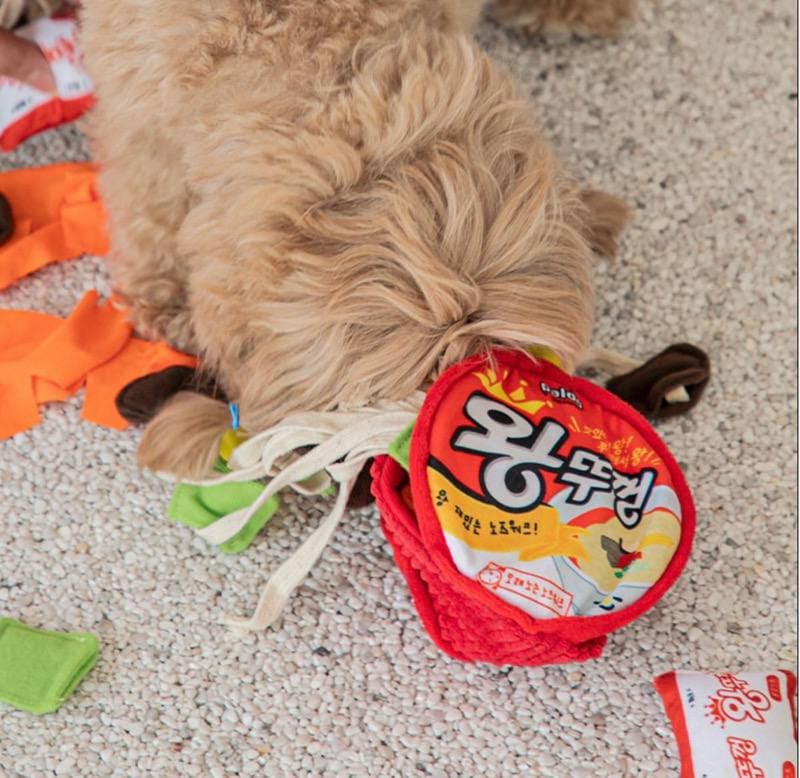 As for the treats, the most eye-catching is probably the Crunchy Pop (S$11) — a pet cereal that almost looks like the Trix cereal that we used to eat as kids (but don't worry, the flavours are completely dog-friendly like pumpkin, beetroot, blueberry and spinach!). It's made with brown rice and rice, so it's a nice and light treat for your doggos.
Other than that, there's also oven-baked Bagel Cookies (S$10.30) that come in a few different flavours like Pumpkin and Coconut, Carob and Banana and so on. These treats resemble little baby bagels, so not only would your pets love them, they'll also look great in pictures!
There's more than enough aesthetically-pleasing (and quality) pet stuff to shop around on the website that'll bound to make you coo at how cute they are — so I guess it's time to spoil your furpals with some of them just in time for Christmas!
Dear Fluffy
Instagram | Website
For more lifestyle updates like this, subscribe to our Telegram channel at @confirmgood.