As someone who has been obsessed with skincare ever since my teenage years, I absolutely swear by Korean hydrating toners — they are must-haves in my daily routine.
Unlike the old-school Western toners containing harsh and astringent alcohol-based ingredients (that tend to dry out the skin), Korean toners are designed to keep your skin hydrated, balance pH levels, and target specific skin concerns.
Looking to get glowy skin from the inside out? Here are 10 popular, tried-and-tested hydrating toners from South Korea worth incorporating into your skincare routine.
1. Round Lab 1025 Dokdo Toner
How could I not start off with one of the most widely-used cult favourite products (dubbed Korea's No. 1 toner), the Round Lab 1025 Dokdo Toner?
Aside from its gentle exfoliating and skin-soothing properties, the nine-time beauty award winner also contains a whopping 74 naturally derived minerals from the deep sea waters of Ulleungdo Island for maximum nourishment and intense hydration.
If you have dry, sensitive, or acne-prone skin and have yet to jump on the Dokdo bandwagon, this is your sign!
Buy here.
2. Anua Heartleaf 77% Soothing Toner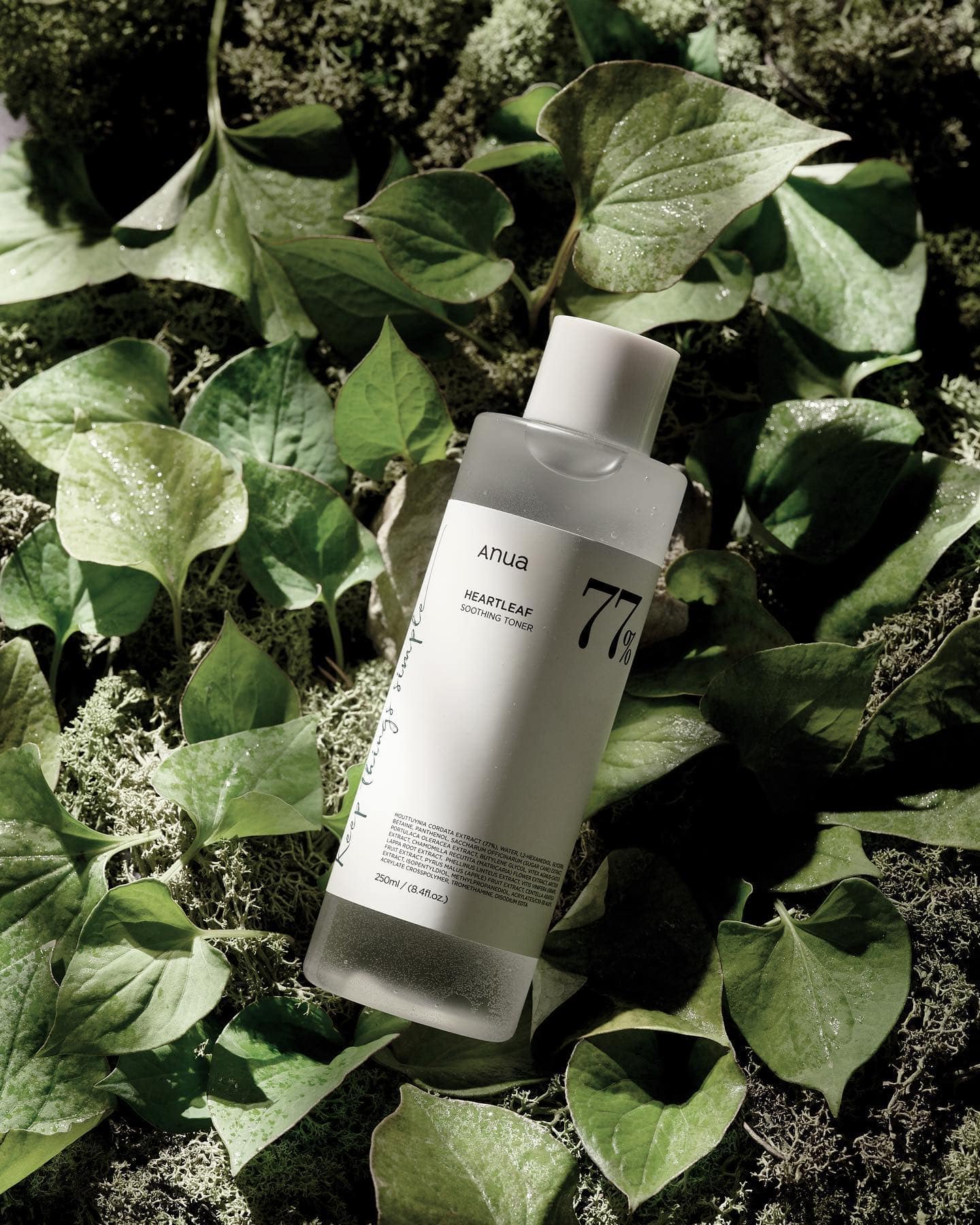 Say goodbye to troubled skin with the Anua Heartleaf 77% Soothing Toner, a highly moisturising and calming toner ideal for those who want to explore the wonderful world of botanical-infused skincare.
Endorsed by EXO's Suho, this toner is infused with 77% houttuynia cordata (heartleaf) extract, alongside 11 other EWG green-graded ingredients that help with reducing redness, soothing sensitive skin, and more.
It's also mildly acidic (with a pH of 5.5 to 6), which helps to regulate the skin's oil-moisture levels.
Buy here.
3. Torriden Dive-in Toner
If you're a skincare newbie who can never choose from the array of Korean hydrating toners out there, the Torriden Dive-in Toner is a great clean beauty product to start with.
This naturally blue-hued toner (thanks to malachite extract, which provides anti-ageing benefits) is infused with 5-D complex hyaluronic acid that replenishes your skin's moisture levels, keeping it soft, supple, and super hydrated.
It also happens to be one of the best toners to use for the "7 Skin Method", which involves layering on three to seven layers of toner (or essence) after cleansing.
Buy here.
4. Beauty of Joseon Ginseng Essence Water
You've probably come across rave reviews of Beauty of Joseon, the hit Korean skincare brand best known for its serums and viral sunscreen.
The Ginseng Essence Water holds a special place in my skincare routine, and for good reason! We all know ginseng boasts plenty of herbal and medicinal properties, including one particularly powerful active component, saponin, which helps supply moisture to the skin and prevents wrinkles and skin pigmentation.
Niacinamide is another key ingredient that works to control sebum secretion and keep the skin's oil-moisture levels balanced. It's no wonder practically everyone raves about this toner.
Buy here.
5. Pyunkang Yul Essence Toner
Another personal favourite of mine, the Pyunkang Yul Essence Toner, is a highly concentrated toner with a unique essence-like viscous texture I use almost everyday.
Formulated using a traditional Eastern Medicine recipe with only seven essential ingredients, including natural root extract (instead of purified water), that improves skin elasticity, reduces inflammation, and helps collagen production.
Given its anti-inflammatory effects, it also comes highly recommended for those with acne-prone and/or sensitive skin.
Buy here.
6. haruharu wonder Black Rice Hyaluronic Toner
Say hello to dewy glass skin with the haruharu wonder Black Rice Hyaluronic Toner, a Korean toner formulated with a patented Ultra Deep Technology that delivers active ingredients deep within the skin.
In short, it helps prep your skin for the serums, facial oils, and moisturisers that follow, ensuring that they become fully absorbed.
Aside from hyaluronic acid, beta-glucan, and red ginseng, this powerful toner also contains fermented Korean black rice extract that restores elasticity to ageing skin, alongside a myriad of other anti-inflammatory and brightening effects.
Buy here.
7. Isntree Hyaluronic Acid Toner Plus
If you deal with dry, flaky, and parched skin on the daily, the Isntree Hyaluronic Acid Toner Plus is one of the most deeply hydrating toners out there that may just get the job done.
This moisture-boosting ampoule toner contains five different hyaluronic acids with different molecular sizes, allowing for fast absorption into the skin.
The addition of seven plant extracts, including soothing aloe leaf extract and licorice root, further helps prevent moisture loss — your skin will start looking full, fresh, and bouncy in no time at all!
Buy here.
8. THE LAB by blanc doux Oligo Hyaluronic Acid 5000 Toner
Another hyaluronic acid toner that's sure to be a hit with clean beauty junkies is THE LAB by blanc doux Oligo Hyaluronic Acid 5000 Toner, a product formerly ranked No. 1 on Korea's top search portal Naver.
Formulated with low-molecular-mass hyaluronic acids and camellia petal extracts, this fragrance-free, hypoallergenic toner is mild and gentle on the skin. It also helps to protect the skin against external aggressors (like the heat), yielding a soothing and moisturising effect that lasts hours.
Buy here.
9. COSRX Full Fit Propolis Synergy Toner
I consider COSRX a major frontrunner in the global K-beauty trend. As one of the more reliable and accessible Korean skincare brands around, it's hard to go wrong with most of their best-selling products.
One of the most popular hydrating toners for those with sensitive, acne-prone skin is the Full Fit Propolis Synergy Toner — your skin will quite literally drink up this blend of 72.6% black bee propolis and honey extract enriched with vitamin B.
It delivers anti-inflammatory and antibacterial benefits, stimulates collagen production, and speeds up wound healing…the list goes on and on.
Here's a tip: pair it with the ampoule from the same propolis line for plump, nourished, and glowing skin!
Available at Watsons.
10. numbuzin No. 3 Super Glowing Essence Toner
Despite being one of the most underrated hydrating toners on this list, the numbuzin No. 3 Super Glowing Essence Toner is a go-to for many Koreans (especially beauty YouTubers).
If you live by the phrase  "the more the merrier", this toner in particular contains 50 different kinds of fermented ingredients that all work hand in hand with good 'ol niacinamide to combat dull and tired skin. 
It promises to improve elasticity, reduce the appearance of wrinkles and fine lines, and yield a brighter complexion — I want em' all, and you should too.
Buy here.
The road to smooth and supple skin is never easy, but with these hydrating toners in tow, you might just get there very quickly!
For more lifestyle updates like this, subscribe to our Telegram channel at @confirmgood.