Oysters are luxurious little pieces chocked full of briney goodness, but good, affordable oysters can't be easily found in many places.
More often than not, you order them on a fancy date night or a TGIF night out with the squad to celebrate something special. That's why we rejoice at the sight of oyster places with happy hour promos.
But, hey don't worry. We gotchu fam — you can stuff yourself on some juicy oysters even if you're not a Crazy Rich Asian.
We've compiled a list of places with affordable oysters places so you don't have to break the bank. It's not just insanely cheap deals but also fancy steals that give you the bang for your buck when you feel like balling.
Ginett (S$1 every Thursday)
This swanky French gastrobar at Hotel G serves freshly shucked Fine de Claire oysters at just S$1 on Thursday nights. Not the usual kind of place you'd expect oysters this cheap.
These fresh, juicy oysters are imported directly from France — these babies are worth every single dollar. That's why you need to get down there early since these are while stocks last.
Make your reservations here.
Facebook | Instagram
📍 200 Middle Rd, Singapore 188980
🕛 Thursday nights, after 6pm
Bar on Chulia (S$1 every Thursday)
Bar on Chulia is a bar situated right in the heart of the CBD, making it a perfect spot to unwind after a hectic day. The alfresco bar is a great place to down some oysters while catching the night breeze with some drinks in hand.
And it is extremely affordable too, with oysters at S$1 a pop. You can even pair them with their 1-for-1 spirits on Thursday nights.
Facebook | Instagram
📍 67 Chulia St, Singapore 049515
🕛 Thursday nights, after 5pm
Angie's Oyster Bar & Grill (S$1.50)
Angie's Oysters is a perfect date spot and specialist oyster place. It's tucked away in an idyllic warehouse, and has an alfresco area that oozes plenty of vibes.
What makes it even better is the unbelievable happy hour price of S$1.50 for their juicy oysters. Like all good things, these gems are limited so go down early before the stock runs out.
Facebook | Instagram
📍 313 Outram Road, #02-01 Tan Boon Liat Building, Singapore 169073
🕛 Happy hour from Mon–Fri, 5.30pm–7pm
The Other Roof (S$1.50)
The Other Roof is a fusion cocktail bar that is known for unique tea-infused cocktails. But besides their quirky concoctions, it's a place where diners can slurp down plump oysters all day on weekends.
A good deal that's not just a typical weekday night happy hour. Not to mention the price tag of S$1.50 is just an insane steal.
Make your reservations here.
Facebook | Instagram
📍 28 Ann Siang Rd, Rooftop Bar, Singapore 069708
🕛 Happy hour all day on Sat–Mon
Greenwood Fish Market (S$1.95)
Greenwood Fish market is known as one of the best places to get fresh seafood in Singapore. In particular, they are known for being one of the places with a meticulous curation of oysters, ranging from Ireland to France.
That's why oyster loves shouldn't miss out on Oyster Tuesdays at Greenwood Fish Market — it's a trifling S$1.95 for house oysters and 35% off the ala carte range. What's even better? It's unlimited orders for every main!
Make your reservations here.
Facebook | Instagram
📍 34/38 Greenwood Ave, Singapore 289236
🕛 Promo every Tuesday
Oyster Co. (S$1.99)
Oyster Co. is a unique place — an Oyster specialist who offers oysters all-day starting from S$1.99. What sets them apart are also the interesting sauces available, besides the affordable price tag for their oysters.
Furthermore, unlike other oyster places, they offer islandwide delivery so you can knock down a few oysters if you have any guests over for dinner.
Make your reservations here.
Facebook | Instagram
📍 1 Magazine Rd, #01-06, Singapore 059567
🕛 All day
Tanuki Raw (S$2)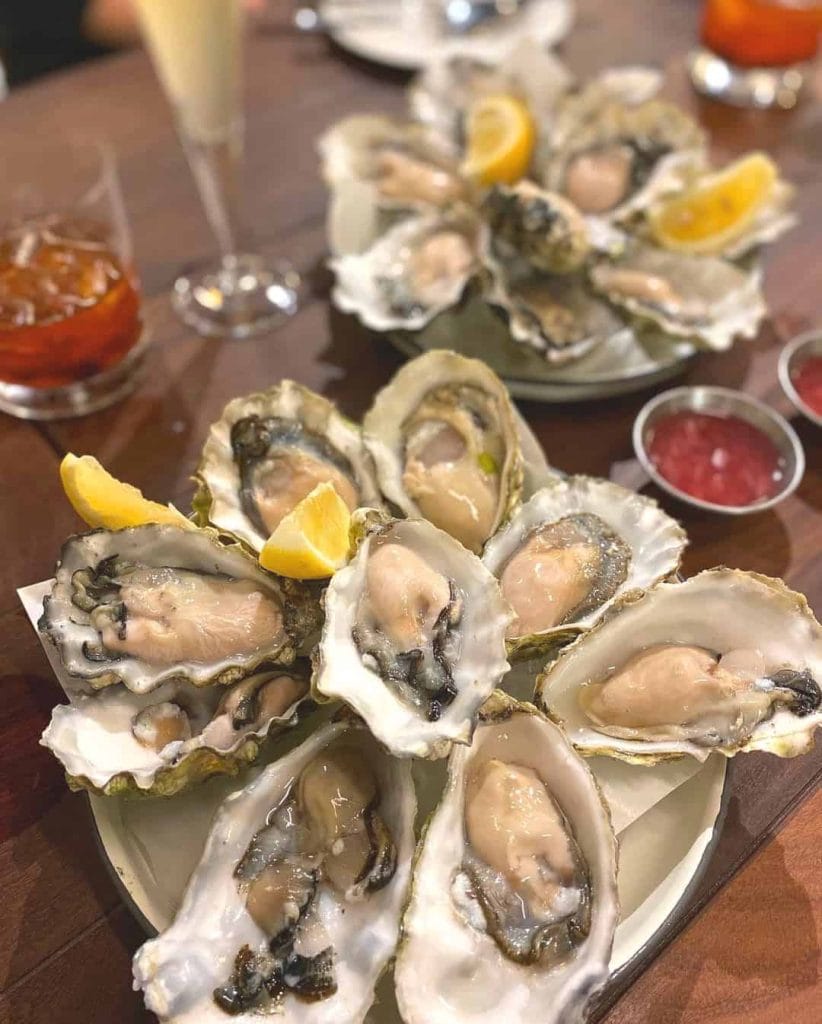 It's not hard to see why Tanuki Raw is so popular with young people. Their wallet-friendly rice bowls, coupled with affordable oysters during happy hour, make it a perfect place for dates and hanging out.
You can get S$2 freshly shucked oysters here from 5pm–8pm, which just sounds lovely paired with their signature Chirashi Don. You can get up to 6 with each drink order.
Facebook | Instagram
📍 181 Orchard Road, Central, 04-01 Orchard, Singapore 238896
🕛 Happy hour daily from 5pm–8pm (varies between outlets)
Supply & Demand (S$2)
Also in the Orchard vicinity, Supply & Demand is another popular café but with slightly different vibes. If rice bowls ain't quite your vibe, Supply & Demand's interesting fusion fare might appeal to you.
The best thing about Supply & Demand besides a spread of pizzas and pastas, they also supply S$2 oysters if your tummy demands some plump shellfish. You just need to get a drink and you're entitled to 6.
Make your reservations here.
Facebook | Instagram
📍 277 Orchard Rd, #02-13/14 Orchardgateway, Singapore 238858
🕛 All day, daily
Beurre (S$2)
While Beurre is more popular for their Asian-French cuisine, some may be surprised to learn they are also a place popular for their S$2 oyster happy hours. It's available with a minimum purchase of 6 oysters with minimum 2 drinks, up to max of 12 oysters.
And what better place to indulge in these succulent shellfish than at French restaurant, where you can find an extensive wine list for an enjoyable pairing.
Make your reservations here.
Facebook | Instagram
📍 23 Bukit Pasoh Rd, Singapore 089837
🕛 Happy hour from Mon–Sat, 5pm–7pm
Oyster Bank (S$2)
Fans of of popular watering hole Hopheads would feel right at home this oyster bar, opened by the same group.
The bar also features an drink extensive menu that includes some signature Kiki's Reserves cocktails. Each drink purchase entitles customers to a half dozen of $2 naked oysters, with a maximum of three dozen.
Facebook | Instagram
📍 107 North Bridge Road #02-32 Funan Mall, Singapore 179105
🕛 Happy hour from Mon–Fri 5pm–8PM and Sat–Sun 3–6PM
Brotzeit (S$3)
Brotzeit is not a place known for oysters, but best known for their classic German fare like their crispy pork knuckles and German sausages. But did you know they are offering oysters at S$3?
A pint of beer and a side of oysters is one of the best combos in life. At Brotzeit, you can sip on some German lager while savouring specially air-flown Japanese Hyogo Oysters — the best of both worlds.
Make your reservations for VivoCity, WestGate, Raffles City, and Katong.
Facebook | Instagram
📍 All Outlets
Humpback (S$3)
Humpback is one of the most popular spots in Singapore for oysters. Not just because of the absurdly affordable price tag — for the quality of their oysters — of S$3 during happy hour either.
Humpback knows their oysters, and specially source their produce fresh from specialist farms in Washington. For example, Hama Hama is a family-run farm that has lasted for 5 generations — longevity is a telling indication of their quality.
Make your reservations here.
Facebook | Instagram
📍 18-20 Bukit Pasoh Rd, Singapore 089834
🕛 Happy hour all day on Monday, 4pm–7pm on Tue–Fri, 12pm–7pm on Sat–Sun
Southbridge (S$20 for half dozen)
If you wanna ball but lowkey don't want to burn a hole in your pocket, Southbridge is your answer. Not many bars in Singapore can compare with the sweeping rooftop views that Southbridge provides.
Even more absurd is when you combine those breathtaking views with breathtaking deals of S$20 for half a dozen oysters. These ain't just blanks either, they come served in yuzu & ponzu or bulldog sauce — this where you want to bring a date.
Make your reservations here.
Facebook | Instagram
📍 80 Boat Quay, Level 5, Rooftop 049868
🕛 Happy hour from 5pm–8pm on Mon–Tues , 4pm–8pm on Wed–Fri, excluding PH & PH eves
LeVeL 33 (S$24 for 3 oysters + 1 beer)
LeVeL 33 is haven for beer drinkers. This craft beer distillery brews their own craft beer in house which can be enjoyed in spectacular fashion — basking in the full majesty of MBS.
But luxurious view are best paired with alcohol and oysters, and LeVeL 33 is a place which knows how to capture our hearts. Get their happy hour packages of 3 oysters and their Brut Beer for S$24, or swap out the beer for Prosecco at S$28.50, or even Champagne at S$38.50.
Make your reservations here.
Facebook | Instagram
📍 8 Marina Blvd, #33 – 01, Singapore 018981
🕛 Happy hour from 3pm–6pm on Mon–Fri
db Bistro & Oyster Bar (S$20 for half dozen)
It's not often that a place as upscale as db Bistro and Oyster bar offers oysters at such a mouth-wateringly affordable price point. It's a whopping 50% off their oysters' menu price.
So if you want to floor your dream girl on your first date, sweep her off her feet and bring her to this luxurious MBS establishment. Even better if she's an oyster lover — these babies certainly look intoxicating.
Make your reservations here.
Facebook | Instagram
📍 2 Bayfront Avenue, B1-48, Galleria Level, The Shoppes at Marina Bay Sands, 018956
🕛 Happy hour from 2pm–5pm on Mon–Fri
MO Bar (S$78 for half dozen and free flow drinks)
Some of you may be baulking at the price point — is S$78 affordable? Well, let's just say it's not a daily occurrence that you find a deal which packages oysters with premium champagne.
The champagne they serve is a R de Ruinart Brut Champagne that runs you a few hundred dollars a bottle. If you have the stomach (and palate) for lavish indulgence, this is practically daylight robbery.
Make your reservations here.
Facebook | Instagram
📍 5 Raffles Ave, Marina Square Singapore 039797
🕛 Oysters and Champagne' promo every from 6pm–9pm every Wed