Everybody loves a good steak — succulent, well-grilled slabs of meat that make you feel like a million bucks, but a good steak doesn't have to cost so much. Steak in Singapore can be pricey, but it's not hard to find affordable steaks that are rich, tender and juicy.
Let me tell you, a simple ribeye can make you as happy as an aged wagyu. Steak is a simple dish — you don't have to be Gordon Ramsay to cook a good steak. The trick is looking for steaks that are both affordable and seared to perfection.
Nowadays, affordable steakhouses can be easily found everywhere in Singapore. Hence, we looked into sussing out which are the best, most affordable steaks in Singapore that are S$25 and below so you can pamper your taste buds without breaking the bank.
The Feather Blade
Does the name "Flat Iron" ring a bell? It's a world-renowned London steakhouse known for its affordable and good steak. Feather Blade's founder, an ex-employee there, started the restaurant with a mission to bring good, proper steaks to Singapore.
Feather Blade uses a lesser-seen "Flat Iron" shoulder cut and charges just S$21 for 200g for tender and beautifully charred Steak. You can add on S$2 for special sauces like Sichuan Peppercorn and Red Wine.
Besides their signature steaks, Feather Blade's menu also includes a Burger (S$21), as well as a Gyudon (S$28) for the lunch crowd, served with Flat Iron dressed in Sukiyaki sauce and a choice of Foie Gras or scallop.
Make your reservations here.
Facebook | Instagram
📍 61 Tg Pagar Rd, Singapore 088482
🗓️ 5pm–10:30pm (Tues–Thurs), 11:45am–3:45pm, 5pm–10:30pm (Sat–Sun), 11:45am–4pm, 5pm–10:30pm (Sat–Sun)
Hamburg Steak Keisuke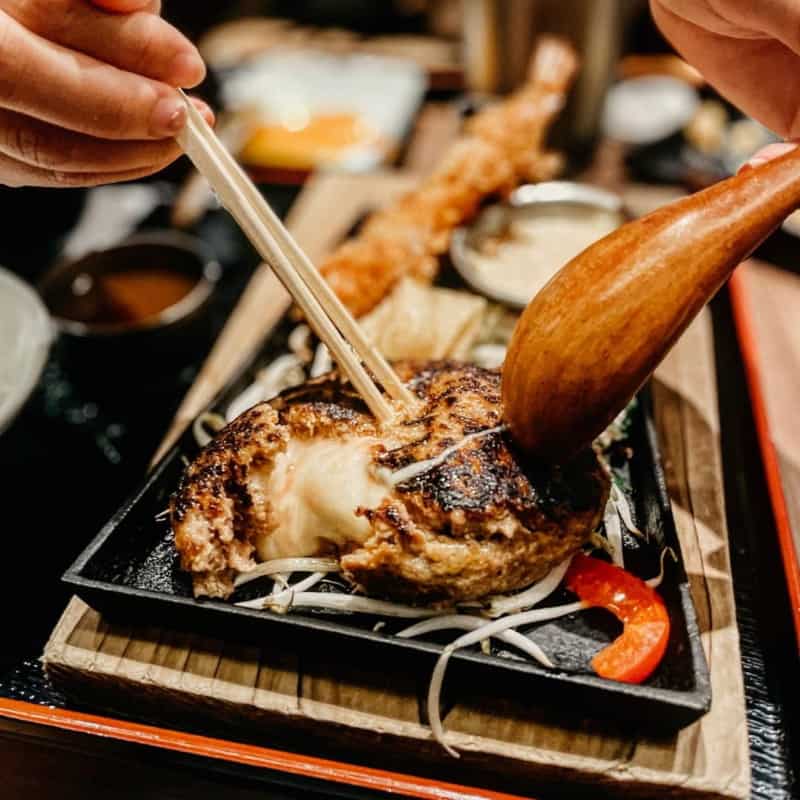 Do you know what's better than an affordable steak? An affordable steak with a sprawling buffet spread. Yes, this steak comes with a free buffet that not only has a salad bar but also unlimited eggs.
They're not just the standard Keisuke soft boiled eggs either. We're talking all kinds of eggs — from creamy scrambled eggs to fluffy tamagoyaki. However, the highlight is definitely their Prime Beef Hamburg Steak Set (S$18.80) which comes tender and nicely charred on the outside.
Alternatively, cheese lovers should go for the Triple Cheese Prime Hamburg Steak Set (S$20.80). Cut it open and just enjoy as you watch the creamy molten cheese flow out. The blend of parmesan, mozzarella and cheddar helps to accentuate the beefy richness even more.
Facebook | Instagram
📍 72 Peck Seah St, Singapore 079329
🗓️ 11:30am–9:30pm (Daily)
Bizen Okayama • Wagyu Steakhouse
Wagyu has become such a buzzword nowadays — the breed of cow is synonymous with top-quality steak and for good reason. However, not all Wagyu are created equal, especially the wallet-friendly variety.
Run by the folks behind Aston's, Singapore's most popular budget steakhouse, Bizen does what Aston's does but for Japanese Wagyu. They serve some of the juiciest but most affordable wagyu steaks in Singapore.
You can find almost any cut of steak you want on Bizen's menu, from the fattier Chuck to the premium Sirloin. Cuts can be ordered in petite portions of 150g, where a Round steak can be had for just S$18.90, with two sides.
Facebook | Instagram
📍 Multiple outlets
🗓️ 11:30am–10pm (Daily)
Stirling Steaks
When it comes to affordable steaks in Singapore, no one can beat Stirling Steaks. We're talking as low as S$9.90 for 150g of Hanger Steak served with Salsa Verde, and a S$1.50 top up for fries. Even mall franchises don't sell steaks this cheap.
If you want a more premium cut then it's S$30.90 for 250g of Striploin. You can even go for a whopping 500g of Angus T-Bone for S$49.90. More importantly, everything here is charcoal grilled for the best steak expeirence.
But that's only if you pay for it ala carte. Big eaters can indulge in all the striploin or hanger they want for just S$30 with Stirling Steaks' special Free-Flow Steak Buffet.
Facebook | Instagram
📍 115 E Coast Rd, Singapore 428804
🗓️ 12pm–2:30pm, 6–10pm (Mon–Fri), 12pm–10pm (Sat–Sun)
iSTEAKS Diner
Steak lovers shouldn't need an introduction to iSTEAKS Diner, purveyors of the most reasonably-priced steaks in Singapore for the longest time. What started out as a humble hawker stall has blossomed into a valuable brand with multiple outlets.
Up until a few years ago, affordable steakhouses were rare. iSTEAKS was always one of the top choices to go for solid, affordable steaks. A 200g of NZ Striploin costs just S$19 at iSteaks.
But even their more premium cuts like the 100 days grass-fed Australian Ribeye only carries a price tag of S$21.50 for a 200g cut. All steaks even come with 2 complementary sides that can be chosen from a sprawling 20 item menu. Both filling and value-for-money.
Facebook | Instagram
📍 Multiple outlets
Picanhas' (from S$21)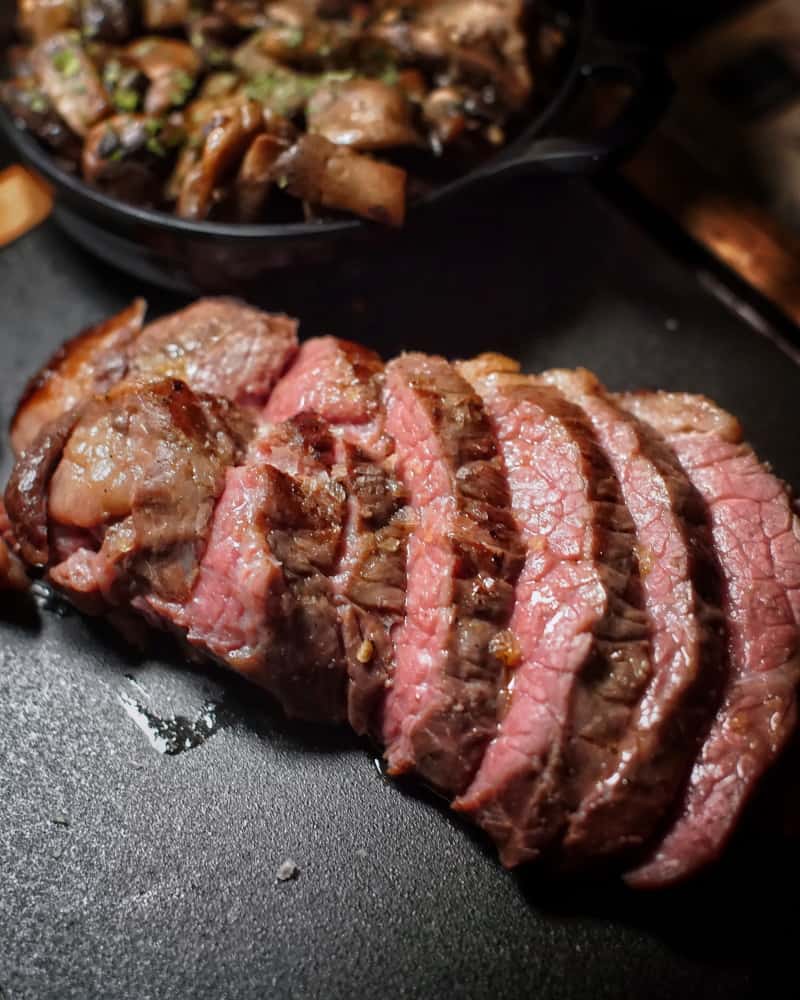 Picanhas is the newest opening on this list, opening earlier this year and taking over the old spot vacated by The Feather Blade, who moved a few streets down. Furthermore, the steakhouse is also Halal.
Picanhas only serves two mains. One is the Queen of Steak (S$21) and the other is the Picanha Don (S$16). Here, they use a unique "Pincanha" rump cut instead. Each slab of steak is sous vide and then finished on the stove with Binchotan Butter, making it immensely tender and rich.
While a common complaint is that it lacks slightly in tenderness, the richness makes up for it. Besides, that you can pair the steaks with cool Sides (S$7) like the Cream Spinach or Cous Cous.
Facebook | Instagram
📍 90 Club St, Singapore 069458
🗓️ 12pm–3pm, 5:30pm–10pm (Tue–Fri), 11pm–3:30pm, 5:30pm–10pm (Tue–Fri)
UNO Beef House
S$15 is surely one of the lowest you can find for a good Ribeye. And where better to spend that S$15 than at one of the most established places for affordable steak in Singapore — it's one of Toa Payoh's hottest stalls, always drawing long queues.
It's an open secret that you must order their Black Pepper Ribeye when you're here. They know that a steak doesn't have to complicated — their sauce is a simple beef jus sauced with black pepper for a bit of zing, so the steak's flavours can shine.
The cherry on top is a cheesy, crispy potato croquette that's unique to them. But if you're feeling moreish, you can even get other cuts like Tenderloin for S$18. The prices are all kept very reasonable here.
📍 51 Lor 6 Toa Payoh, Singapore 310051
🗓️ 12pm–9pm (Tue–Sun)
Armoury Craft Beer and Steak (from S$23)
Armoury is as unpretentious as Steakhouses come. It's a simple meat-focused place that promises a good time with their fun selection of craft beers, as compared to fancy wine pairings.
If you want an affordable striploin steak, Armoury's 220g Angus Black Striploin's S$23 price tag is surely gonna catch your eye.
However, Armoury's trademark menu item has to be their Steak Buffet. It comes with free-flow Australian grass-fed steaks along with other meats like BBQ Pork Rib. Available at S$33 on Tuesday to Thursdays as well as Sunday, and S$35 for Saturdays.
Facebook | Instagram
📍 36 Beach Road, #01- 01 South Beach Tower, Singapore 189766
🗓️ 11:30am–10pm (Tue–Sun)
8ASH
A new addition to Ann Siang Hill, 8ASH is vibrantly decorated like a classic American diner straight out of Riverdale. They'd opened last year as a multi-concept with 2 burger brands and Hoshi, which specialises in casual Japanese fare.
Hoshi's biggest selling point is their Hoshi Steak with Salad for a low price of S$16. Slightly smaller in portion but the Australian Wagyu Picanha makes up for it with a high marble grading of MBS8-9. That said, it's tender and juicy without being overly fatty.
If salad wasn't enough, you can get a Hoshi Wagyu Donburi (S$17.80) or Steak and Fries (S$24) for more carbs to go with the steak. That marble grading, at those prices? Definitely worth a try.
Facebook | Instagram
📍 8 Ann Siang Hill, Singapore 069788
🗓️ 11am–10pm (Mon-Sat)
Braseiro Restaurant
Braseiro's concept is quite interesting, they are offering authentic French Steak Frites but at more wallet-friendly price tags. What makes their steak even more bang for the buck is the side of free-flow fries that comes with it.
A 200g Ribeye Steak at Braseiro comes with a price tag of S$19.90. But you can choose to upsize and get a 300g Ribeye at S$24.90 or 400g at S$29.90.
Essentially, you get a juicy slab of beef and unlimited fries for under S$20! Considering other steakhouses that offer free-flow fries such as the classic L'Entrecote come at a higher price point, this is a steakhouse worth bookmarking.
Facebook | Instagram
📍 333 Joo Chiat Rd, Singapore 427588
🗓️ 6pm–11pm (Mon–Thur), 6pm to 12am (Fri), 11am–3pm, 6pm–12am (Sat), 11am–3pm, 6pm–11pm (Sun)
Zodiac Wine Bistro
A slight change from the rest of the list, Zodiac offers a 200g Argentinean Ribeye for S$25. If you wanna try something different from your usual Aussies or NZs, this is a great price tag to explore.
And it's worth a try because Argentinians are passionate about beef and produce great cuts of meat. So much so that the Chef from the World's No.1 Restaurant, located in Argentina, opened a Burger joint selling Argentinean patties.
Alternatively you can go for a Lunch Set that offers you 120g of MBS4/5 Australian Wagyu for just S$16.90, accompanied by a side of Mashed Potatoes.
Facebook | Instagram
📍 159A Telok Ayer St, Singapore 068614
🗓️ 11:30am–3pm, 5pm–10:30pm (Mon–Sat)
Smokin' Joe
Don't scoff at Smokin' Joe just because it's located in a hawker centre. These guys are passionate about grilling their steaks, which is why they fitted their stall with a S$10k restaurant-grade grill.
And you can get a pretty high-quality cut of Australian Angus Reserve Grain Fed Ribeye at just S$18 too. Really, how many places can you find a steak painstakingly seared over a charcoal flame at only S$18?
They also offer a Wagyu Cheesy Hamburger Steak (S$12) if you want something cheaper. Not a proper steak per se, but a 160g Wagyu patty for S$12 ain't a bad price at all. This hawker stall is clearly different from the rest.
Facebook | Instagram
📍 51 Yishun Ave 11, Yishun Park Hawker Centre #01-37, 768867
🗓️ 1:30pm–10pm (Wed–Mon), 4:30pm–10pm (Wed–Mon)
Steakville
Steakville is a small cosy casual steakhouse found in Sunshine Plaza, not a place you'd look for steak. But this unassuming stall knows its steaks, bringing in carefully curated cuts from all around the world.
Of course, if you're here for affordable steak then go for the signature Hanger Steak (S$20). It's 200g of pure, unadulterated beef flavours from a cut from the cow's upper belly, rendering it a much fattier cut. Fat is what imparts that iconic beefy flavour.
But let's say you want those rich flavours without ingesting too much fat, there's also a very affordable Hunter's Ribeye Steak going for just S$24. If you wanna be a baller, there's also a gorgeously-marbled Miyazaki Wagyu for S$48.
Facebook | Instagram
📍 91 Bencoolen St, #01-56 Sunshine Plaza, Singapore 189652
🗓️ 12pm-3pm (Sat–Mon), 5pm–10pm (Daily)
MediumRare by Saveur
Saveur Restaurant Group is one of the most veteran dining groups in Singapore, having opened multiple concepts since 2011.
MediumRare is a departure from the prim, proper French dining of Saveur into a more casual steakhouse setting. Leaning into their casual dining concept, they've provided affordable options such as a Lunch Set with 200g Striploin Steak for S$21.
Otherwise, you can get the Striploin ala carte for S$24 or even a Ribeye for just S$28. You get a choice of sauce with your steak, and the most popular seems to be the uniquely herby Cafe de Paris Butter.
Make your reservations here.
Facebook | Instagram
📍 2 Tampines Central 5, #01-35 Century Square, Singapore 529509
🗓️ 12pm–3pm, 5pm–10pm (Mon–Fri), 12pm–10pm (Sat–Sun)