Buddy Hoagies is one of the most old-school casual Western diners in Singapore. They were already pushing out affordable Western food in the heartlands before Aston's or Collin's even existed.
Today you can find them all over the island, serving up hearty dishes like crispy rosti and steaks for under S$20.
Now though, you get to indulge in their affordable Western fare at even more affordable prices. Because of dining out restrictions during P2HA, Buddy Hoagies has recently rolled out discounts of up to 40% off their mains for takeaway and delivery.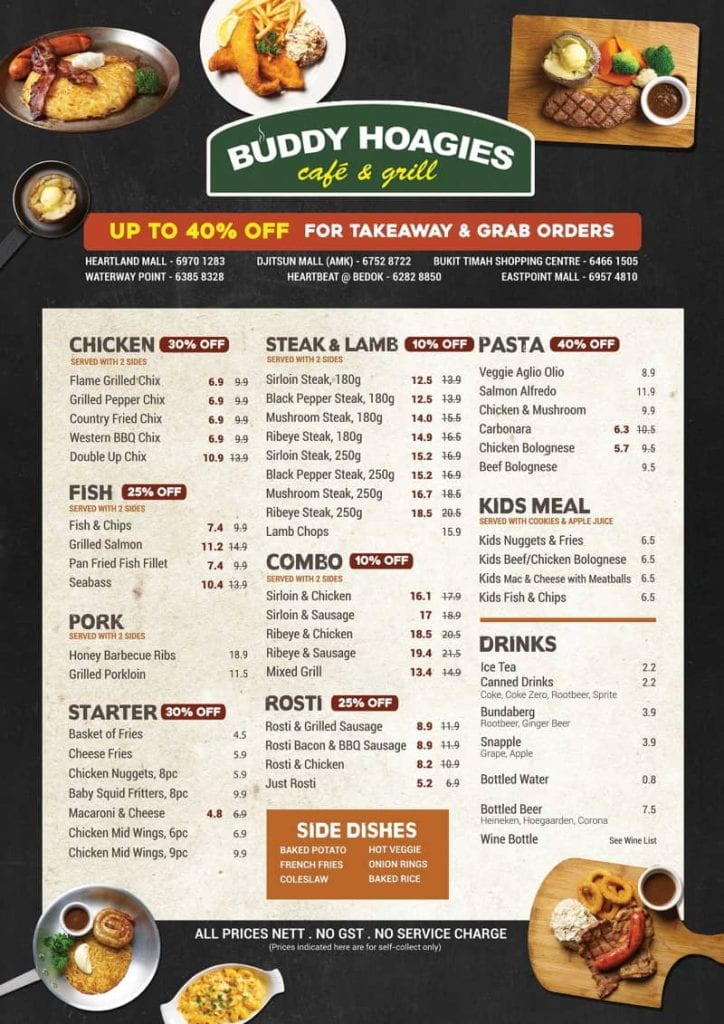 Discounts are available for more than half of the menu, with the biggest discounts for dishes such as their Chicken Bolognese Pasta (S$5.70).
Other mains on their menu such as the meat dishes like grilled chicken, steak, seafood, and their popular rosti are also included in their discounts.
At just S$6.90 for Chicken dishes such as Flame Grilled Chix, Grilled Pepper Chix, Western BBQ Chix, and Country Fried Chix, it's a wallet-friendly price comparable to your neighbourhood Western stall!
If you're a big eater, Buddy Hoagies also has Double Up Chix available at S$10.90 — basically the same price as early 2010s Aston's, definitely value for money.
If you're looking for something that's heartier and more carb-loaded, then try out their famous Rosti dishes — a simple Just Rosti costs only S$5.20.
Buddy Hoagies also offers the Rosti with meat combos such as Rosti & Grilled Sausage (S$8.90), Rosti, Bacon & BBQ Sausage (S$8.90), as well as a Rosti & Chicken (S$8.20).
They also offer pretty sizeable steaks at good prices if you're a beef lover. You can get 180g of Sirloin at S$12.50, 180g of Ribeye at S$14.90 or, if you're a big eater, 250g of juicy Ribeye goodness at S$18.50.
You can find Buddy Hoagies outlets at the following malls in heartlands all over Singapore, including a newly opened outlet at Kovan Heartland Mall:
Bukit Timah Shopping Centre #B1-05
Waterway Point #02-22
Djitsun Mall #01-08/09
Heartbeat @ Bedok #01-27
Eastpoint Mall #02-06
Heartland Mall #01-27
Buddy Hoagies up to 40% off promo
Facebook | Instagram
📍 All outlets and delivery
🗓️ No end date specified
For more lifestyle updates like this, subscribe to our Telegram channel at @confirmgood.
The guy who will go on a 30 minute monologue about artisan coffee when you ask if they want Starbucks.