You might have seen this Banh Mi place popping up on your social media feed. Located under an HDB block in Ang Mo Kio, Banh Mi Sai Gon has gained quite the cult following for its authentic Vietnamese sandwiches. If you're looking for somewhere to get your banh mi fix, you should definitely check out Banh Mi Sai Gon.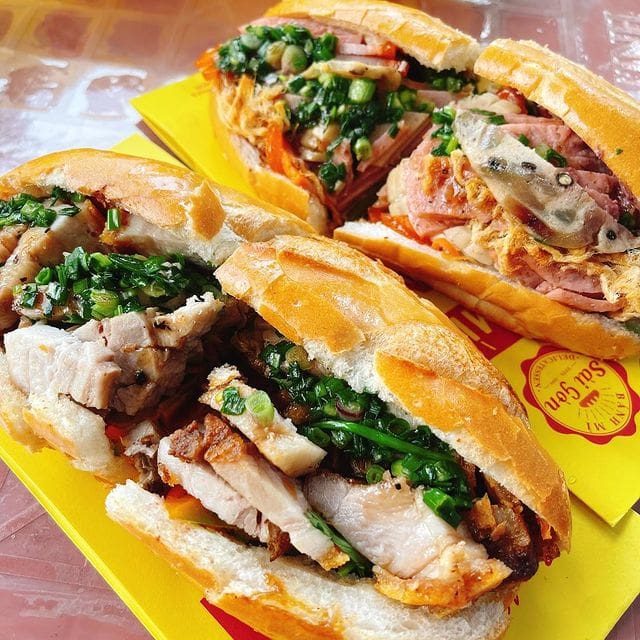 The shop was first opened in 2022 and serves over 10 varieties of stuffed baguettes. Everything from the baguette, to the meat and pate, are all made in-house by the Vietnamese owner herself, whose family also owns a banh mi shop back in Vietnam – so you know the food is definitely good.
The freshly toasted baguettes are slathered with a house-made margarine before they are stuffed generously with various meat toppings like shumai, special fish rolls, roasted pork, grilled meat, shredded chicken, and egg. If you're adventurous enough, you can opt for more unconventional options like the mixed pork skin, pork innards, or even pig ear – yes pig's ear.
Banh Mi Sai Gon's chef recommendations include the Special Great Banh Mi Thit (S$6.90) which is filled with three different types of house-made Vietnamese ham and finished with some floss and fresh crunchy vegetables. After you've had this, you'll never go back to having your regular cold cuts sandwich.
Apart from enjoying their crowd favourite banh mi, the homey eatery has expanded its menu to bring more authentic Vietnamese street snacks to Singapore. The newly added Vietnamese Coffee Flan is a pudding served in a pool of coffee and promises to be the perfect dessert after gobbling down a hearty sandwich.
The Vietnamese breadsticks (S$9.90 for 3) on the other hand come in three different flavours – traditional, Pate & Butter, and Fish and Tomato Sauce. They also have other Vietnamese snacks like Vietnamese Spring Rolls
But of course, you'll need a drink to wash down the food. On the menu are the usual authentic Vietnamese coffee and tea with variations of Iced Dark (S$4.50), Iced Milk (S$4.50), and even Coconut Coffee (S$5). The coffee is quite gao and creamy, although you should ask for less sugar if you don't want to get a sugar rush.
They've also introduced drinks to their menu like the Ice Tamarind Dessert Drink and Special Pandan Milk.
The team at Banh Mi Sai Gon has heard your plea and they now offer dine-in seating – hooray! The seating is arranged between stacked shelves of Vietnamese snacks and sundries.
Paired with the Vietnamese music blasting in the background and the authentic flavours from a traditional family recipe that has stood the test of time, you can't help but feel like you've been transported to Vietnam for a moment.

Feeling hungry? Head down to Banh Mi Sai Gon for some hearty and authentic Vietnamese sandwiches!
Banh Mi Sai Gon
Facebook | Instagram
📍505 Ang Mo Kio Avenue 8, #01-2668, Singapore 560505
🕒 9am–9pm (Daily)

For more lifestyle updates like this, subscribe to our Telegram channel at @confirmgood.