With so many popular hotpot places in Singapore like Haidilao, Beauty In The Pot, Xiao Long Kan and more, a new hotpot place might not sound like news to many Singaporeans —- until Uncle Fong Hotpot Restaurant hit our shores recently.
Having garnered quite a following in Mainland China and Hong Kong, Uncle Fong Hotpot Restaurant opened its doors in Singapore at Great World recently hoping to receive the same enthusiastic reception. Apparently, even celebrities like Carina Lau and Julian Cheung are part of their loyal fanbase.
Here's a little fun fact for you—if you're familiar with Putien, Mr Fong Chi Chung (aka Uncle Fong) is the same man behind the well-known franchise in Singapore as well as this new hotpot place. He isn't from Chongqing himself, but has travelled to and dined at numerous hotpot restaurants there and fell in love with it, hence this franchise!
Now let's move on to the main star of the show. The Chongqing hotpot served at Uncle Fong Hotpot Restaurant is pretty authentic, and it's simmered with some unique, premium ingredients that other hotpot places don't offer.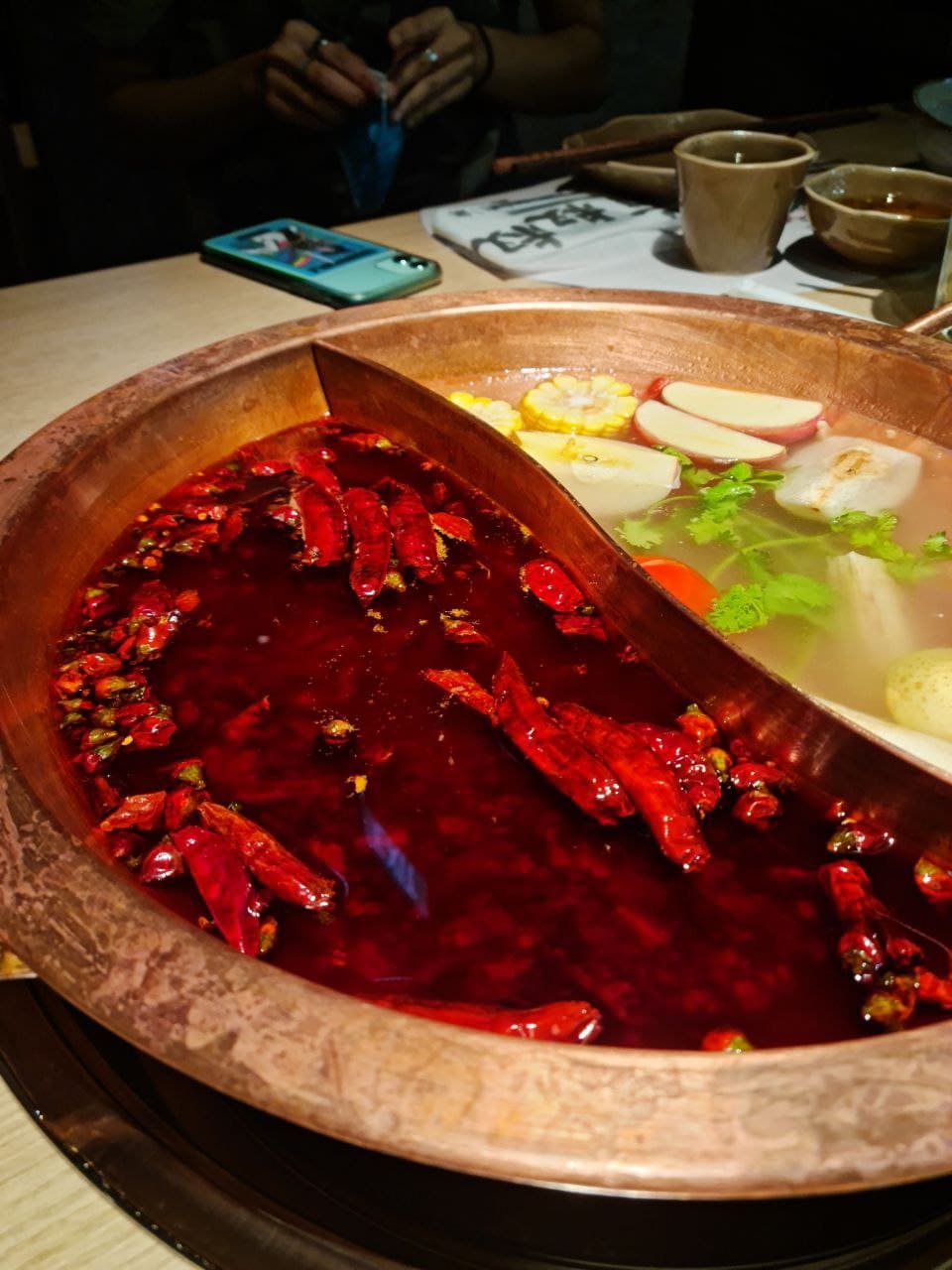 Their signature soup base contains five main ingredients— Chongqing Shizhuhong Chilli, Sichuan Hanyuan Pepper, Refined Beef Tallow, Sichuan Pixian Bean Paste and Yunnan Yellow Ginger.
These ingredients are specially curated for how their individual flavours meld together to create the perfectly addictive Chongqing Soup Base. A word of warning though, as someone who loves mala, I would say that the soup base has a spice level of da la. (Otherwise, if your mouth/tongue is somehow made of iron, you can also choose to level up on the spiciness as well.) There is a sesame oil, garlic and spring onion dipping sauce that really helps with the spice though, so it's still tolerable.
And if that's still not enough to help quell the heat, there's also a free 800ml Signature Drink for every diner until 25 May. You can choose from four options — Oolong Iced Tea (S$8), Iced Roselle Tea with Fresh Orange (S$9), Iced Bayberry Juice (S$8), or Captain Cool Passionfruit Cocktail (contains bai jiu) (S$9). I often order more than one drink when having hotpot, so if you're like me, this massive drink is definitely a plus.
If you're not one for spicy things but still enjoy hotpot, there's also a Singapore-exclusive Fruit and Vegetable Soup base made with refreshing ingredients like sugarcane, water chestnut, coconut water, sweet corn, apple and pear slices in chicken broth. It's very sweet and flavourful, almost reminiscent of the ABC soup that my grandmother makes, but double the sweetness thanks to the colourful ingredients. I would recommend adding the chewy Inaniwa Udon (from S$4.50) into the soup for a comforting meal.
Other than the usual hotpot fare, there are also some interesting items on Uncle Fong Hotpot Restaurant's menu that you might want to try if you're feeling adventurous like the variety of innards including Coral Mussels (from S$19.50) which is the intestines of red sea cucumbers, Pig Throat (from S$18), Beef Tripe (from S$12.50), and more.
The greens at the restaurant are somewhat unique as well, with crunchy Celtuce Slices (from S$4.50) and crispy Dried Gong Choi (from S$4.50). For those into seafood, there are also seasonal ingredients like Razor Clams (from S$12.50) and Homemade Ebiko Prawn Paste (from S$8.50).
To add, the interior of the restaurant is very cosy, with ambient back lighting and wooden accents. There's even an ioniser out front to help you remove the dreaded lingering hotpot smell afterwards.
Are you game enough to up the spiciness level? See you there at your next gathering!
Uncle Fong Hotpot Restaurant
Facebook | Instagram
📍1 Kim Seng Promenade, #B1-108/109, Singapore 237994
🕒 11.30am–3pm, 5pm–11pm (Daily)
For more lifestyle updates like this, subscribe to our Telegram channel at @confirmgood.