If you're looking for a dessert cafe that's open past midnight, you're at the right place.
Mookata and hotpot are always popular supper choices amongst nocturnal humans. But sometimes, eating too much meat gets tiresome and you'll end up with a greasy stomach feeling. For those who fancy chill late-night hangouts with food that's preferably not too heavy, these 18 dessert cafes will be right up your alley.
Wan Wan Thai Cafe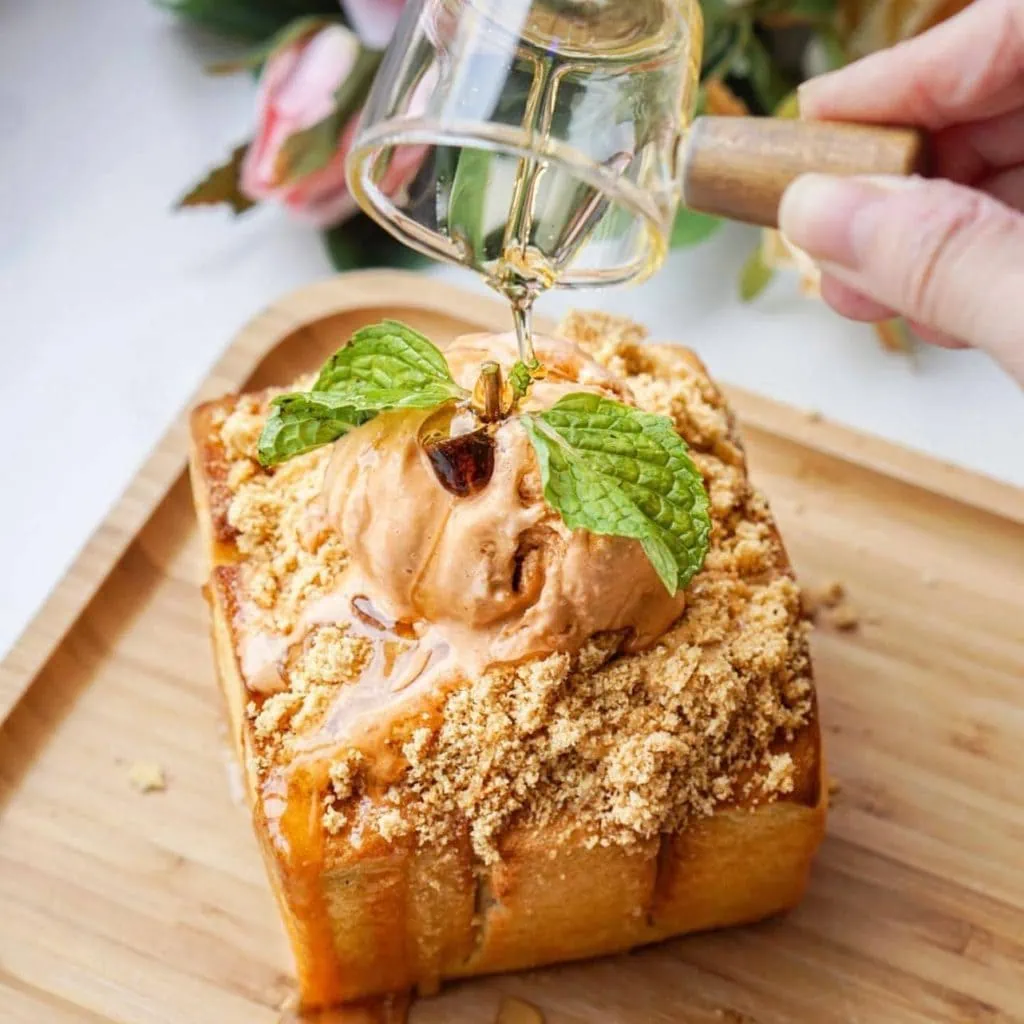 The irresistible Shibuya honey toasts from Thailand's beloved After You Dessert Cafes are certainly worth travelling for, but Wan Wan Thai Cafe is here to satisfy those cravings — without you having to book a plane ticket.
Choose from a variety of honey toast flavours such as Nutella Banana Toast (S$10.90), Strawberry Banana Toast (S$12.90) and even the locally-inspired Kaya Toast (S$8.90). With crispy cubes of bread drenched in sweet honey syrup, this is a combination that'll never go wrong.
Some of us believe that bingsus are glorified ice kachangs, while some of us stand that it's a beautiful, tasty work of art. For those that belong to the latter group, you'll be glad to know that the cafe serves up these icy treats too.
Facebook | Instagram
📍127A Bencoolen Street, Singapore 189637
🗓️ 12.30pm–3am (Daily)
Tittle Tattle
Too many sweets can be nauseating for some. But if you're the type that lives for the artery-clogging, give-you-cavities kind of sugar-high, the Tittle Tattle Disasters (S$23) will knock your socks off.
With a maniacal combination of a fluffy Belgian waffle topped with ice cream, macarons, a cone biscuit, marshmallows, Kinder Buenos, strawberries, gem biscuits and finally, icing sugar, this is a treat that'll keep you up all night.
This is one of the few dessert cafes that open till the wee hours of the morning from Friday to Sunday. Besides specialising in waffles, Tittle Tattle is also known for its vintage theme. Neon-lit signs can be found on its bricked wall interior, and an old school jukebox sits at the corner at the cafe. With chill tunes and good vibes all around, you're in for a great evening.
Instagram
📍 183 Selegie Road, #01-03, Singapore 188329
🗓️ 5.30pm–2am (Mon to Thu), 5.30pm–6am (Fri to Sun)
Lickers
Half of the year has passed and if you've procrastinated on your 2022's weight-loss resolution, there's no harm in putting it off for another day. At Lickers, it's hard to keep yourself in control when an additional scoop of ice cream on a waffle only costs S$2.50.
The ice cream parlour handcrafts all of its noshes, but Oreo Yakult and Milo Mallow are the ones to try. A Lonely (single scoop) goes for S$3.50, while a Buddy (double scoop) costs S$6. Since it's difficult to find affordable ice cream places, we say that it's a night to let loose and just load the scoops up.
Facebook | Instagram | Website
Lickers (Hougang outlet)
124 Hougang Avenue 1, Block 124, #01-1446, Singapore 530124
1pm–2am (Tues to Thurs), 12pm–2am (Fri to Sun), Closed on Mon
Lickers (Telok Blangah outlet)
📍 6 Telok Blangah Crescent, #01-422, Singapore 090006
🗓️ 1pm–2am (Tues to Thurs), 12pm–2am (Fri to Sun), Closed on Mon
Gong He Guan (Geylang)
It's been raining cats and dogs recently and if you're craving a no-nonsense, piping hot bowl of dessert to warm your tummy, Gong He Guan is the way to go. Originating from Hong Kong, this small dessert cafe opens past midnight and serves up authentic traditional desserts.
An assortment of traditional desserts such as Rock Melon with Sago (S$4.20), Gui Ling Gao (S$6.80), and White Fungus Papaya (S$3.90) can be found on its menu. If you're feeling under the weather, a bowl of Original Herbal Tea (S$5) ought to do the trick — you can even ask the auntie to add Cough or Sore Throat Powder into the mix.
Since most hawkers and eateries close at 10pm, we can't get enough of traditional dessert cafes that open past midnight.
Facebook
📍 217 Geylang Road, Singapore 389277
🗓️ 9.30am–2.30am (Daily)
Hay Gelato
We know that ice cream and waffles have taken up quite a bit of space in our list, but you can't blame us when those smooth, creamy and luscious scoops are just waiting to be eaten. Instead of the usual round scoop, at Hay Gelato, a small indentation is made at the top of the ice cream for the staff to add complimentary toppings of your choice.
A total of 12 flavours are offered, but we recommend going for the signature Smoked Hay (S$5.20), where real hay is smoked and infused into a milk gelato, then topped with cocoa nibs.
With a chic and cosy interior like this, you'll be tempted to overstay your welcome.
Facebook | Instagram
📍 136 Bedok North Avenue 3, #01-148, Singapore 460136
🗓️ 1pm–2am (Tue to Sun), Closed on Mon
The Whale Tea SG (Rivervale Mall)
Forget ice cream, bubble teas are the new comfort food for lonely people up at 2am. It's a pity that most boba stores close at 10pm — but there's one that prevails through the night. The Whale Tea's Rivervale Mall outlet is the only bubble tea dessert store in Singapore that's not only open past midnight but also operates 24/7.
The first thing that you'll notice on their menu board is the baby blue colour gradient in their drinks. The blue comes from spirulina (a blue-green algae superfood) and it gives your drink an extra boost of nutrients.
With such a pretty drink in hand, maybe it isn't so bad to be lonely after all.
Facebook | Instagram
📍 Rivervale Mall: 11 Rivervale Crescent, #01-14, Singapore 545082
🗓️ 24/7
Coffeesmith (Orchard Gateway, Northpoint & Westgate)
There are two types of people who stay awake past midnight. 1) The nocturnal party animals. 2) People who work round the clock that are forced to become night owls. For the ones who were coerced into living the nightlife, there'll always be Coffeesmith if you ever need to catch a break.
The Korean coffee chain offers light refreshments such as cakes and brownies, along with Injeolmi toasts and bingsu.
But for a quick pick-me-up, there's a coffee selection of Cafe Americano (from S$5.50), Cafe Vienna (from S$6.60), and sweeter options such as Sweet Potato Latte (from S$7.50) and Caramel Milk Tea (from S$8).
*Only the Orchard Gateway, Northpoint, and Westgate Coffeesmith outlets are open 24/7.

Facebook | Instagram
Coffeesmith (Orchard Gateway)
📍 277 Orchard Road, Orchard Gateway, #01-09/09A, Singapore 238858
🗓️ 24/7
Coffeesmith (Northpoint)
📍 930 Yishun Avenue 2, Northpoint City South Wing, #01-112, Singapore 7690988
🗓️ 24/7
Coffeesmith (Westgate)
📍 Gateway Drive, #02-24 Westgate, Singapore 608532
🗓️ 24/7
Darkness Dessert 甜品屋
There is no shortage of dessert cafes in Tanjong Pagar, but traditional Chinese desserts are certainly hard to come by. Enter Darkness Dessert, which opens till 1am with a menu of both traditional and modern dessert offerings.
Portions are on the larger side, so round up your friends and family for Cheng Teng (S$4.50), Mango Pomelo Sago with Coconut Ice Cream (S$6.50), and of course, the towering Grass Jelly Ice with Lychee (S$7.80).
Facebook | Instagram
📍 100 Tanjong Pagar Road, Singapore 088521
🕒 4pm–12am (Mon to Wed), 2pm–12am (Thu), 2pm–1am (Fri), 1pm–1am (Sat), 1pm–12am (Sat)
Time For Thai SG
This is one of those midnight dessert cafes that'll instantly transport you to +66. The Mango Sticky Rice (S$6.90) at Time For Thai SG is drenched in copious amounts of velvety coconut milk, which makes the rice to cream ratio absolutely perfect.
Other authentic Thai desserts such as Red Ruby (S$6.90) and Tapioca with Coconut Milk (S$5.90) are sold at an affordable price too. But perhaps the best part of this restaurant is that there's no additional fee for GST and service charge.
Main courses and light bites such as Oyster Omelette (S$13.90) and Thai Fish Cake (S$7.90) are also on the menu.
Facebook | Instagram
Time For Thai SG (Bukit Timah outlet)
📍 15 Cheong Chin Nam Road, Singapore 599739
🗓️ 11am–1am (Daily)

Time For Thai SG (Bedok outlet)
📍 282 Bedok Road, Singapore 469438
🗓️ 11am–1am (Daily)
Cafe de Muse
If you like cake and bingsu, you'll have the best of both worlds at Cafe de Muse, a dessert cafe that opens past midnight. Tucked away at Shaw House, this hidden cafe may have gone unnoticed even by the CBD workers.
They serve up a variety of desserts, but the ones to note are the Fresh Melon (S$22) bingsu, which features shaved ice in a carved melon bowl, and The Chocolate Supreme (S$20), a sponge cake enclaved in a chocolate shell.
Served with an indulgent hot chocolate sauce to melt the shell away, a mixed berry compote for a splash of acidity, and vanilla ice cream for a soft creaminess, the dessert gradually reveals itself in a medley of flavours.
Facebook | Instagram
📍 350 Orchard Road Isetan Scotts, Shaw House, #01-K5/K6 & #02-K4, Singapore 238868
🗓️ 24/7
Cold Flings
If you're in the Sengkang area, make your way to Cold Flings for a post-supper fix of gelato and acai. Prices start from S$4.50 for a single scoop of flavours like Stracciatella, Coffee Chip, and Blue Pea Lemongrass, best enjoyed atop a freshly made Pandan Waffle (S$6).
Keep the bloat at bay with a "healthier" dessert, such as the Cookie Crush (S$9.90 for medium, S$13.90 for large), an IG-worthy acai bowl crowned with fresh fruits, superfood, biscoff, and luscious cookie butter.
Facebook | Instagram
📍 21 Fernvale Road, #01-05, High Park Residences, Singapore 797637
🗓️ 2pm–2am (Mon to Fri), 12pm–2am (Sat, Sun & PH)
Dessert First
We understand that durian is a fruit that's poison to some, but for the durian lovers, this Durian Snow Ice (S$9.50) at Dessert First is probably everything that you've ever asked for. Made with real durian flesh, the fragrant (or pungent) shaved ice is topped with a luscious amount of durian cream and topped with more durian flesh.
Hot desserts such as Gingko Barley (S$4.50), Mango Sago with Pomelo (S$5.80) and Double Boiled Papaya with White Fungus & Almonds (S$4.80) are also on the menu. Since the Hong Kong dessert cafe closes after midnight, it's also a great after-drinks hangout.
Facebook | Instagram | Website
📍 8 Liang Seah Street, #01-04, Singapore 189029
🗓️ 1pm–12am (Mon to Tue, Thu), 1pm–1am (Fri & Sat), 12.30pm–12am (Sun), Closed on Wed
Mosanco Settlers Cafe
This one's for the active minds that can't seem to stop running, even after dark. Mosanco Settlers Cafe is a 24/7 board game cafe for the night owls to put their minds to good use.
Main courses are also served, but we recommend fueling up with The Goose That Laid Rainbow Eggs (S$24.90), five scoops of ice cream topped with an assortment of sweet treats. Two hours of complimentary gaming are provided so hopefully, it'll tire your brains out enough for a good night's sleep.
Facebook | Instagram | Website
📍 39A North Canal Road, Singapore 059295
🗓️ 24/7
No Horse Run
Singaporeans would recognize the quirky design of No Horse Run's signboard from far away. It mimics the street signs of Singapore, with the signature green as a background colour and blue that signals the turning into an expressway.
Located at Yishun Street 11, this dessert cafe that opens past midnight serves up locally-inspired flavours such as Cereal Mai Pian, Lemongrass Pandan and even Green Apple Yakult, which is better known as a bubble tea flavour.
Classic flavours are priced at S$4.20 for a single scoop, while a double scoop goes for S$8.20.
Facebook | Instagram | Website
📍 160 Yishun Street 11, #01-216, Singapore 760160
🗓️ 2pm–2am (Daily)
Tian Wang 甜旺
The only thing that some of us know about mahjong is the word "Pong", but that won't stop us from visiting this quirky mahjong-themed dessert cafe. Tian Wang 甜旺 stays open till 2am, which is late, but not as late as the mahjong rounds played by our friends.
This is one of those local dessert cafes that specialise in a Singaporean favourite typically served at banquets and Teochew restaurants — Yam Paste With Pumpkin & Gingko (S$4.80), otherwise known as orh nee. Besides that, there's also MSW Durian Mousse (S$9), which is made with the flesh of real Mao Shan Wang, one of the most highly sought-after durians in Singapore.
Instagram
📍 145 Jalan Besar, Singapore 208863
🗓️ 5pm–2am (Mon to Thurs), 5pm–3am (Fri), 3pm–3am (Sat & Sun)
Butterspace
Previously operating as an online business, Butterspace sells cookies, ice cream, and brownies out of a minimalist, industrial-themed brick-and-mortar shop in Chai Chee.
Ice cream is priced at S$3.50 and S$6.50 for a single scoop and double scoop respectively. Expect a mix of familiar and unique flavours, including After Eight, Osmanthus Oolong, and the ultra nostalgic Horlicks.
Unleash your creative side by customising a Cookie Sandwich (S$8.50) — keep it simple, or make it as colourful and kooky as you want. Bring on the rainbow sprinkles!
Facebook | Instagram
📍 55 Chai Chee Dr, #01-198, Singapore 460055
🗓️ 12pm–2am (Daily)
Lola Faye Cafe
The Muslim-owned Lola Faye Cafe opens till 2am, making it one of the best post-dinner dessert cafes for those with a huge sweet tooth. Bask in the tropical-themed interior as you indulge in the decadent Charcoal Blackout Waffles (S$7) with a scoop of Gelato (S$5).
If you're sick of pairing ice cream with waffles, take it up a notch with the Gelato Croissant (S$9.80), and wash everything down with a frappe or two. Chocolate Cookie (from S$7.90) and Oreo Vanilla (from S$7.90) are options you cannot go wrong with.
Facebook | Instagram
📍 35 Hamilton Road #01-03 Singapore, Singapore 209204
🗓️ 2pm–2am (Tue to Sun), Closed on Mon
O'Bok Dabang
SMU students have it good — O'Bok Dabang is a chill Korean cafe on campus grounds serving up popular street eats like Korean fried chicken and croffles till 1am.
The trendy croffles, a popular waffle-croissant hybrid, are available in sweet and savoury flavours like Lotus Speculoos, Tiramisu, and Apple Cinnamon. Can't travel to Korea right now? This is one of those dessert cafes sure to hit you in the feels.
Instagram
📍 70 Stamford Road 01-22A Li Ka Shing Library, Singapore 178901
🗓️ 7.30am–1am (Mon to Sat), Closed on Sun
For more lifestyle updates like this, subscribe to our Telegram channel at @confirmgood.