When it comes to hawker food in Singapore everyone has dishes, such as Hokkien Mee, that they go crazy over. We are a country with our hawker culture recognised by UNESCO, after all.
Hokkien Mee is as as much a Singapore classic as Chicken Rice or Laksa, and leaves people arguing over where the best ones are. But Hokkien Mee is complex and it's hard to find similarly-gratifying alternatives.
So, we've gathered a list of 21 popular Hokkien Mee in Singapore that will be confirm good and confirm worth your calories.
Tiong Bahru Yi Sheng Fried Hokkien Mee
There are hundreds of Hokkien Mee in Singapore, but only two were awarded with the prestigious michelin bib gourmand. Tiong Bahru Yi Sheng is one of them.
It's rich, mildly smokey, all-around perfectly balanced, and comes with a divine sambal chilli. If you want to escape the hour-long queue, a secret hack is to call in for takeaway and skip the queue.
📍 ABC Brickworks Food Centre, 6 Jalan Bukit Merah, #01-13, Singapore 150006
🗓️ 3pm–10:30pm (Thurs–Tues)
Nam Sing Hokkien Fried Mee
This stall at Old Airport boasts of a heritage as one of the pioneers of the Singapore Hokkien Mee style. It's a drier style of the dish and served with cut chilli instead of the more common sambal.
The frying style locks plenty of flavour into the noodles and the drier, bouncier noodles have gotten them a legion of loyal fans.
📍 51 Old Airport Rd, #01-32, Singapore 390051
🗓️ 10am–5pm (Tues–Sun)
You Fu Fried Hokkien Prawn Mee
Can a 21-year-old fry a good plate of Hokkien Mee? You Fu is perhaps best known for its young chef who has been helping out his father since he was 14.
You'd be surprised to find that his frying is immaculate, delivering a plate that is loaded with both wok hei and prawn sweetness. Pretty incredible for a young chap, when more experienced hawkers in Singapore struggle to fry a good Hokkien Mee.
📍 505 Beach Rd, #01-57 Golden Mile Food Centre, Singapore 199583
🗓️ 10am–8:30pm (Tues–Mon) (Golden Mile Food Centre is currently closed for renovations)

Hainan Fried Hokkien Prawn Mee
The other Hokkien Mee of Golden Mile food Centre is the polar opposite of You Fu. It's masterfully fried by a seasoned veteran and is my vote for best dry-style Hokkien Mee in Singapore.
Noodles are moist but springy whilst the mix of umami and wok hei is simply intoxicating. The queue may be long but any wait would be definitely worth it.
📍 505 Beach Rd, #B1-34 Golden Mile Food Centre, Singapore 199583
🗓️ 10am–3pm (Mon), 10am–5pm (Tues, Thurs–Sat), closed on Wed (Golden Mile Food Centre is currently closed for renovations)
Swee Guan Hokkien Mee
Wok hei is a common buzzword to describe many hawker foods but Swee Guan's charcoal-fried Hokkien Mee has the strongest wok hei. No other Hokkien Mee in SIngapore comes close.
Maybe their chilli falls a bit short, but its smoky richness and generous seafood ingredients make this worth a trip down to Geylang. Every week.
📍 5 Lor 29 Geylang, Singapore 388060
🗓️ 5pm–10pm (Thurs–Tues)
Hokkien Man Hokkien Mee
Another Michelin entry—Hokkien Man Hokkien Mee's owner was formerly a sous chef at one of Singapore's two three-Michelin-starred restaurants, Les Amis.
This plate is a cross between the wet and dry style, and is popular for their sweet sambal belachan. It's only open for 4 hours a day since it the chef personally preps everything, a process that takes up to 10 hours.
📍 19 Lor 7 Toa Payoh, Block 19, Singapore 310019
🗓️ 10am–2pm (Thurs–Tues)
Come Daily (Tian Tian Lai)
Toa Payoh has many Hokkien Mee stalls but Tian Tian Lai is maybe the most popular in Singapore. Their style is more "soupy" than wet, with the plate drenched in a pool of incredibly umami stock that tasted almost like prawn mee broth.
Best of all, it comes with a generous helping of crunchy fried pork lard that elevates the richness even more.
📍 127, #02-27 Singapore 310127 Lor 1 Toa Payoh, 310127
🗓️ 8am – 2pm (Wed-Sun)
Hong Heng Fried Sotong Prawn Noodles
This is the other Michelin bib gourmand receipent, located at the popular Tiong Bahru Food Market. It has a gentler, more subdued flavour profile than most other popular Hokkien Mee in Singapore.
However, it does manage to find that sweet spot of balance in richness, wok hei and spice. As a whole though, it's maybe not quite Michelin quality.
📍 30 Seng Poh Rd, #02-01 Tiong Bahru Market, Singapore 168898
🗓️ 11am–3pm, 4:30pm–7:30pm (Tues–Sat)
XiaoDi Fried Prawn Noodle
Xiao Di is actually inconveniently in a Serangoon HDB estate, but somehow attracts droves of people. If there was a "hipster" choice for best Hokkien Mee in Singapore, Xiao Di would be it.
Maybe some enjoy the wetter gooey style, or the fragrant stock and garlicky kick—just know that this is a well-rounded crowd pleaser sure to satiate anyone.
📍 153 Serangoon North Ave 1, #01-512 Guan Hock Tiong Eating House, Singapore 550153
🗓️ 11am – 3pm (Tues-Sun)
Geylang Lor 29
One of the rare few places in Singapore, along with Swee Guan, that do charcoal-fried Hokkien Mee. That's because both are run by siblings who learnt the art of charcoal frying from their father.
Geylang Lor 29's version isn't as intensely smoky but still packs plenty of flavour, while being nuanced in profile—garlic lovers would enjoy the layering of garlic over seafood notes.
📍 396 E Coast Rd, Singapore 428994
🗓️ 11:45am–9pm (Tues–Sun)
Chatterbox
Famous for the most expensive chicken rice in Singapore, Chatterbox also serves up a luxe version of Hokkien Mee. Don't mistake it for a touristy gimmick, because it's expertly-fried and indulgently rich.
Premium ingredients like king prawns, abalone clam and scallop make this a great plate for anyone feeling baller.
📍 333 Orchard Rd, Level 5 at Mandarin Orchard, Singapore 238867
🗓️ 11am – 11pm (Daily)
Singapore Fried Hokkien Mee
Hokkien Mee is definitely a perfect supper dish. Unfortunately, many aren't open past midnight. Fortunately, Singapore Fried Hokkien Mee at Whampoa does and it's one of the better ones around.
Not many things can beat the comfort of slurping down the gravy-coated noodles and feisty belachan here after a long day.
📍 90 Whampoa Drive, Whampoa Makan Place, Singapore 320090
🗓️ 3:30pm–1:30am (Mon–Wed, Fri), 2pm–1:30am (Sat–Sun)
Xie Kee Hokkien Mee
Most Hokkien Mee in Singapore uses thick yellow noodles. Xie Kee's version is special in the use of flat yellow noodles, which provided a slightly different but interesting bite.
Wet Hokkien Mee fans would love that it's slathered in a thick gooey stock, whilst sweet chilli fans would love the bright zesty punch of their chilli.
📍 51 Upper Bukit Timah Rd, #02-174, Singapore 588215
🗓️ 11:30am–11pm (Daily)
Yong Huat
Yong Huat is practically an institution at this point, having occupied their Joo Chiat stall since 1949. It was meant to close last year but was bought over from the retiring owner.
It's not hard to understand the hype. The noodles were slick, moist and had a good dose of wok hei. Some great chilli and fragrant pork lard allowed for maximum indulgence.
📍 125/127 East Coast Rd, Alibabar The Hawker Bar, Singapore 428810
🗓️ 10am–8:30pm (Daily)
Liang Ji Fried Hokkien Prawn Mee
It's no secret many hawker recipes will be lost after the owners retire.So it's always great to see new-gen hawkers extending the legacy of Singapore heritage food, especially Hokkien Mee.
The son of Hainan's owner had opened a stall last year frying Hokkien Mee in the same dry style. The consensus is that it's not quite there yet but still solid with plenty of potential.
📍 134 Sims Ave, Singapore 387456
🗓️ 11am–10pm (Tues–Sun)
Original Serangoon Fried Hokkien Mee
The original founder of this stall is a legend in the hawker scene. Many have heard the tale of a handicapped man who fried one of the best Hokkien Mee while seated over charcoal fire on the streets.
His successor has evidently mastered his style, because the wet, starchy texture is fantastic. It lacks egginess, which it easily makes up with a delightful touch of smoke and a killer sambal.
📍 566 Serangoon Rd, Singapore 218181
🗓️ 4:30pm–11pm (Tues–Sun)
Ah Hock Fried Hokkien Mee
When it comes to Hokkien Mee at Singapore's favourite supper spot Chomp Chomp, there are conflicting opinions. The general opinion seems to sway to the red plates.
While not dry style per se, their version has stock mostly coated onto the noodles. It packs a decent amount of flavour but wok hei lovers might not be satisfied, especially after waiting for 1 hour.
📍 57 Garden Way, Chomp Chomp Food Centre Stall 27 Serangoon Gardens
🗓️ 5:30pm–12am (Tues–Sun)
Kim Keat Hokkien Mee
Most Hokkien Mee lovers would know of Kim Keat, renowned for serving it in claypot and pairing it with a side of sio bak. This is perhaps one of the most unique Hokkien Mee in Singapore.
Many people claim the unique serving vessel imparts more depth of flavour and wok hei, plus trapped heat resulting in a thicker, starchier sauce.
📍 Block 92 Toa Payoh Lorong 4, #01-264, Singapore 310092
🗓️ 11:15am–7:30pm (Wed–Mon)
Yang Zhou Hokkien Sotong Mee
Formerly situated Beo Crescent for over three decades, Yang Zhou used to fry over charcoal. Their new premises don't allow for that but their trusty old wok still infuses some wok hei into their noodles.
Another reason for their popularity is actually their tangy sambal, which many claim to be one of the best in Singapore for Hokkien Mee.
📍 127 Bukit Merah Lane 1, Singapore 150127
🗓️ 7:30am–3:15pm (Mon-Sat), 8:30am-3:15pm
Good Luck Beer House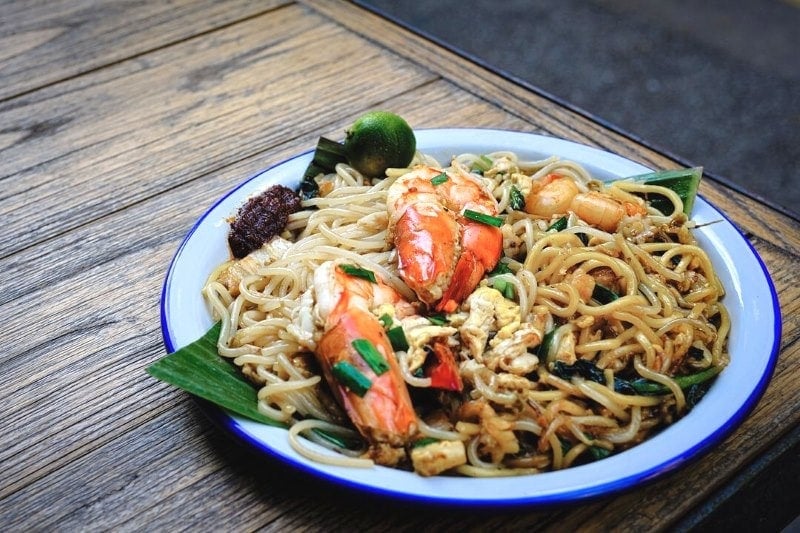 Probably not many people would expect to find a beer house that sells good Hokkien Mee in Singapore, but the pairing just makes so much sense.
Good Luck Beer House's version of this hawker favourite is popular for its gratuitous dose of umami and gargantuan prawns, which are perfect pairing with a glass of refreshing IPA.
📍 9 Haji Ln, Singapore 189202
🗓️ 12pm–10pm (Mon–Sun)
Eng Ho Fried Hokkien Mee
Many Northies complain that there aren't a lot of good Hokkien Mee in the North. More specifically, Eng Ho is probably the only Hokkien Mee that's relatively near to the North of Singapore.
Eng Ho has been around for some time and their wetter version uses thinner bee hoon to absorb more broth. Some have likened this to a wetter version of Nam Sing so take note, fans.
📍 409 Ang Mo Kio Ave 10, #01-34, Singapore 560409
🗓️ 4pm–11pm (Wed–Sun)