Easter might be over, but here's another egg to look out for. Inspired by each member of the popular South Korean boy group BTS, TinyTAN are hatching out as your very own digital companion in Bandai Namco's beloved Tamagotchi Nano device. This is the second time Bandai Namco is releasing a BTS-related device, the first being the BT21 Tamagotchi.
If you're not familiar with Tamagotchi, it's basically a virtual pet that you have to regularly care for inside a small handheld device shaped adorably like an egg. It's said that if you care for your Tamagotchi well enough, it will grow up to become a cute and lovable pet. If you don't, it'll turn into an ''ugly'' pet (which you would probably still think is pretty cute).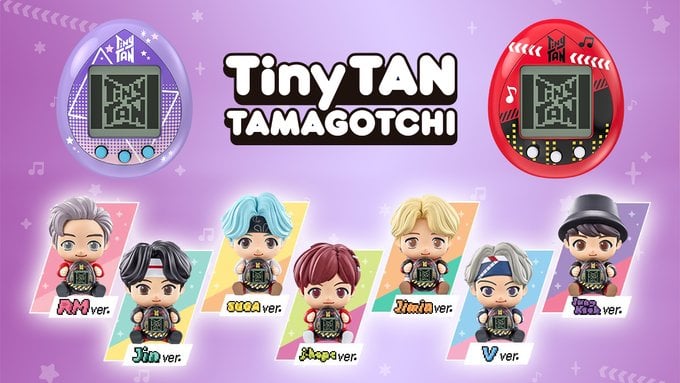 The TinyTAN Tamagotchi Nano devices come in three colours— purple inspired by their song Magic Door, red inspired by Mic Drop and an exclusive black version which comes limited with a HugmyTamagotchi set, a set of soft vinyl figurines modelled after the seven BTS members that hug your Tamagotchi. The HugmyTamagotchi vinyl figurines are also sold separately, which means you can choose to buy RM, J-Hope, Jin, Suga, V, Jimin or Jung Kook to dress up your Tamagotchi Nano device. If not, they make for great display figurines on their own as well.
For the gameplay itself, it's similar but slightly different compared to the original Tamagotchi. The TinyTAN characters come through a magic door on the device. The character that comes through the door depends on how you interact with it. (*fingers crossed* that we all get our favourite BTS members!) From there, you can start caring for and playing with your TinyTAN Tamagotchi by feeding them their favourite food like sushi for Suga and hamburgers for V. You can also play mini games like DANCE! Dynamite and make custard tarts with your TinyTAN character.
Relax with your TinyTAN character and be part of their daily life by carrying out activities with them like listening to music, heading to dance practice, going to the sauna and more on the Tamagotchi Nano device. It's small and portable so you'll be able to carry it around and take a peek at your TinyTAN character anywhere and anytime.
Thankfully, unlike the original Tamagotchi game, if your TinyTAN character's stress barometer gets too high, you don't have to worry about watching them die. They'll just leave through the magic door and you simply have to try again. Who knows, maybe this time you'll get your bias list wrecker as your TinyTAN Tamagotchi character.
The TinyTAN Tamagotchi collection is available for preorder on the BTS Japan official shop or Amazon now, and is scheduled to be released in Japan and Korea on 17 September this year at 2530 JPY, which is roughly S$27.20.
For more lifestyle updates like this, subscribe to our Telegram channel at @confirmgood.