Douyin looks have been absolute game-changers for many people — including myself (I've never gotten more compliments on my makeup!). 
While there are hundreds of different looks under this umbrella, many of them involve a couple of staple traits like manga lashes, glitter shadows and so on.
To help you unlock a whole new world of makeup possibilities, here are six essential products that you must have in your makeup bag to create the most ethereal Douyin looks under S$10! 
1. Liquid Glitters
Many trending Douyin looks include a sparkly eye look, so glitter is definitely a must. Normal glitter eyeshadows work really well on the lids, but a liquid glitter would be great when recreating these looks because it's much more easy to apply and manipulate when you're trying to achieve more complex designs like a mini crease, a subtle aegyosal and so on.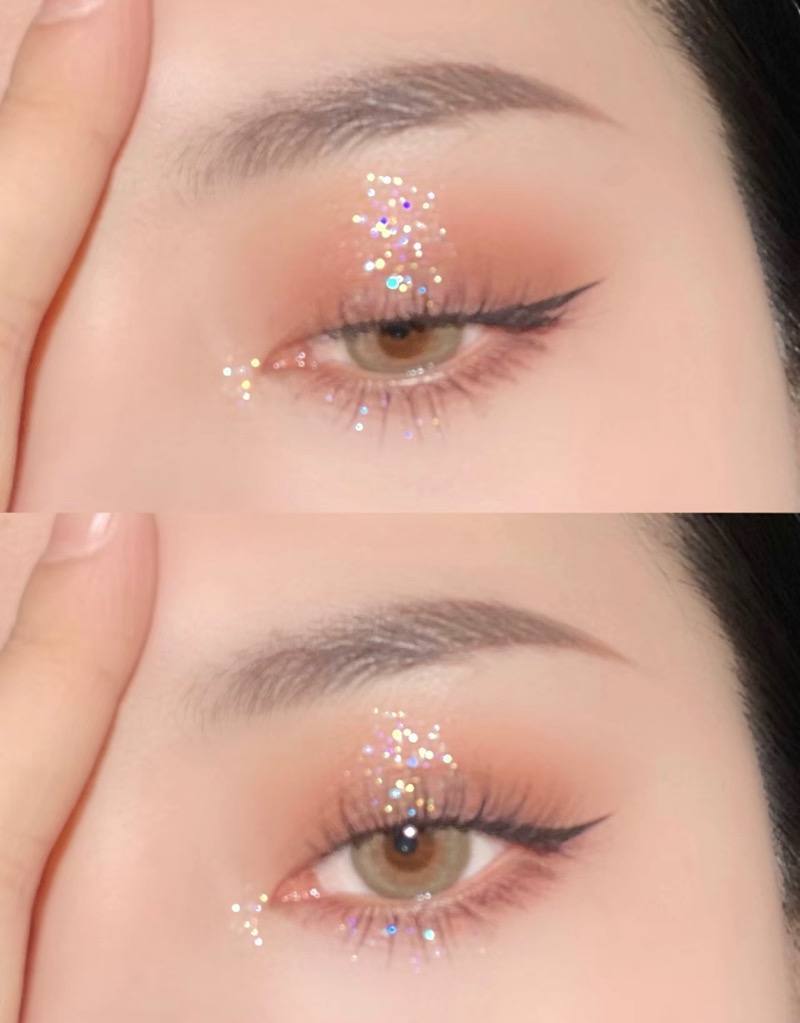 Lots of Chinese influencers also dab a little bit of these glitter shadows on their cupid bows and the tip of their noses to create a dewy, angelic look.
Our recommendation: PERIPERA Sugar Twinkle Liquid Glitter 
Price: S$7.63 
Available at Watsons
2. Man Hua/Manga Lashes
Man Hua (or Manga) lashes are the very essence of Douyin makeup — these wispy lashes not only add more depth to the eyes but also open them up and enhance almost any eye look.
While individual lashes are more popular on Douyin because it's more versatile, there are also strip lashes that give the same effect for those who want something easier. Thanks to the demand, there are also endless designs to choose from depending on the vibe that you're going for.
Our recommendation: Moffie Natural False Eyelashes (these are my absolute holy grails as a falsie noob, I've already re-ordered them multiple times and they never disappoint!)
Price: from S$4.80 
Available on Shopee
3. Tinted Lip Balm
Juicy and glassy looking lips are very in on Douyin, and you don't need any expensive lip oils to achieve this look! With a tinted lip balm, not only can you keep those puckers moisturised, you'll also be able to add just the right pop of colour to make them stand out.
You can also dab the excess on your cheeks to add more dimension to your blush or smudge them out for a blurred look. 
Our recommendation: FLORTTE First Kiss Love Jelly Lipstick 
Price: S$8.20 
Available on Shopee
4. Liquid Eyeliners in black and brown
Liquid eyeliners have so many uses when it comes to creating Douyin looks — you use it to line your eyes (duh!), draw on bottom lashes and dot your moles.
With the right liquid eyeliner, you can even use it to draw some strokes to your brows to create the illusion of real hairs as well as to line your aegyosal — ideally, a brown fine-tip liner so that the lines aren't too harsh. 
Our recommendation: FLORTTE So Fine Eyeliner
Price: from S$4.37 
Available on Shopee
5. Soft pink blush
From helping to shorten the appearance of your face to bringing attention to certain facial features, there's definitely no lack of blush hacks available on Douyin — so it's only natural that most of these looks involve this holy grail product.
The most popular shade on the app would be a soft pink blush — something like Dior's viral Backstage Rosy Glow Blush in 001. Don't worry though (for those who don't want to splurge), there are plenty of dupes for this!
Our recommendation: Cezanne Natural Cheek 
Price: S$7.55
Available at Guardian and Watsons
6. Highlighter
Highlighting is essential in many makeup looks to enhance and create fullness for important features like your cheekbones, nose bridge, nose tip and so on. For Douyin makeup looks, the highlight usually looks very dewy — almost like a wet look.
To create this, pick a highlighter that's more even and applies onto your skin like a veil rather than something that has too many different sizes of glitters and shimmers (if you prefer this, you can add some with your liquid glitter!).
Our recommendation: Judydoll Starlight Highlighting Powder
Price: S$10.70 (this pick might cost S$0.70 more than S$10 but trust us, it's so ideal for Douyin looks that it's definitely worth it!)
Available on Shopee
Ready to glow up into a goddess and become a Douyin icon yourself? Add these makeup products into your makeup bag now!
For more lifestyle updates like this, subscribe to our Telegram channel at @confirmgood.