With December already in full swing, it seems like yet another year has passed us by. And if you're not travelling just yet and are opting to spend the holidays in the +65, we've got you covered with these 25 things to do in December for good year-end fun, to celebrate the festive season, and just for a bangin' time out with loved ones.
Those taking a trip to USS have an added treat this year with their all-new Festive Market that's home to six F&B establishments and two retail stalls. Here, you'll be able to munch on croffles, truffle garlic butter buns, and coconut shakes to keep fuelled amidst an activity-packed day.
More info on the merchants here.
📍 Universal Studios Singapore: 8 Sentosa Gateway, 098269
🕒 Noon–9pm (on listed dates below) | 10am–7pm (only on 5, 12, & 19 Dec 2021)
🗓️ 6 to 11 Dec, 16 Dec to 18 Dec, 20 Dec 2021 to 2 Jan 2022
💰 Entry is included in the USS ticket prices, prices of food & gifts vary
The bear bros have landed, and they've taken Design Orchard by storm. Snap selfies with Grizz, Pan Pan, and Ice Bear in this special-edition We Bare Bears Pop-up that features bear-themed merchandise designed in collaboration with local artists.
More info here.
📍 Design Orchard: 250 Orchard Rd, Singapore 238905
🕒 11am–8pm (Daily)
🗓️ Now to 6 Jan 2022
💰 Free entry, prices of merchandise vary
If you haven't already heard the news of Christmas Wonderland being packed to the brim on opening day, perhaps it might be best to wait it out just a little, after the crowd dies down. As always, there's much to look forward to here, with photo booths, a whimsical carousel, plenty of photo ops, and retail and food stalls for your snacking pleasure.
Book tickets here.
📍 Gardens by the Bay: 18 Marina Gardens Drive, Singapore 018953
🕒 6.30pm–10.30pm (in hourly slots)
🗓️ Now 'til 2 Jan 2022
💰 S$7
4. Catch a 360 view on the Sentosa SkyHelix
Take a slow, relaxing ride up the Sentosa SkyHelix in Singapore's first open-air gondola that will reward you with a 360-degree view of the island. If you'd like, you can also grab a drink, kick back, and enjoy the view in the best way you know how.
Book tickets here.
📍 41 Imbiah Road, Singapore 099707
🕒 10am–9.30pm (Daily)
🗓️ 15 December 2021 onwards
💰 From S$15
5. Usher in 2022 with countdown fireworks
While there won't be fireworks at the Marina Bay celebration area this year, decentralised firework displays will still be set off from 11 different neighbourhoods such as Bedok, Jurong, Tiong Bahru, Woodlands, and others. There will, however, still be light shows happening around the Marina Bay area, so there's still much to look out for.
More info on the countdown festivities here.
📍 Marina Bay area & selected neighbourhoods
🕒 Timings vary across activities
🗓️ Dates vary across activities
💰 Free to view
6. Pop-up Disney!
Mickey and Minnie Mouse welcome you with open arms to their humble abode, even featuring a hyperlocal room of the Mickey Mouse characters around uniquely Singapore landmarks. Pop-up Disney! will have you snapping away with some of your favourite Disney icons, making for great content on your social feeds.
Book tickets here.
📍Suntec Convention Centre Level 3, Suntec City Tower 1
🕒 11am–9pm (Daily)
🗓️ Now 'til 20 March 2022
💰 From S$21
7. Dine with sharks & rays
Perhaps the closest you'll get to "dining underwater", Ocean Restaurant's High Tea in the Deep Sea at S$58++ per person lets you take small bites out of fancy canapés while you quite literally watch the sharks go by. You can expect an aptly-themed seafood-heavy menu featuring Hiramasa Kingfish Tartare with Coconut Foam Kueh Pie Tee, Canadian Lobster with Seaweed and Citrus Zest Pie, amongst others.
Book a table here.
📍 22 Sentosa Gateway, B1M, #B1-455 & 456 Equarius Hotel, Singapore 098136
🕒 3.30pm–5.30pm (Daily)
🗓️ Now 'til 2 Jan 2022
💰 S$58++ per pax
8. Go-karting & glamping at Changi Festive Village
With a myriad of activities spread across the whole airport precinct, you'll find yourself more than occupied at the Changi Festive Village. From free photo-taking spots, to neon go-karting, and even glamping by the runway, we'd dare say that the Christmas experience here is quite unparalleled.
More info on the festive village here.
📍 T3, T4 & Jewel
🕒 Timings vary across activities
🗓️ Dates vary across activities
💰 Selected attractions are free, prices for the rest vary across activities
9. Spot life-sized lego dinos
Bringing over 60 life-sized LEGO dinosaurs to the Singapore Zoo & River Wonders, Brickosaurs World has a specially-curated trail that's both educational and entertaining for the whole family. On top of that, you can also shop special limited-edition lego and merchandise, and snack on dino-themed tidbits at Ah Meng Bistro at the Zoo.
Book tickets here.
📍 Singapore Zoo & River Wonders
🕒 Singapore Zoo: 8.30am–6pm (Daily) | River Wonders: 10am–7pm (Daily)
🗓️ 13 Nov 2021 to 3 May 2022
10. Experience snow & life in an ice hotel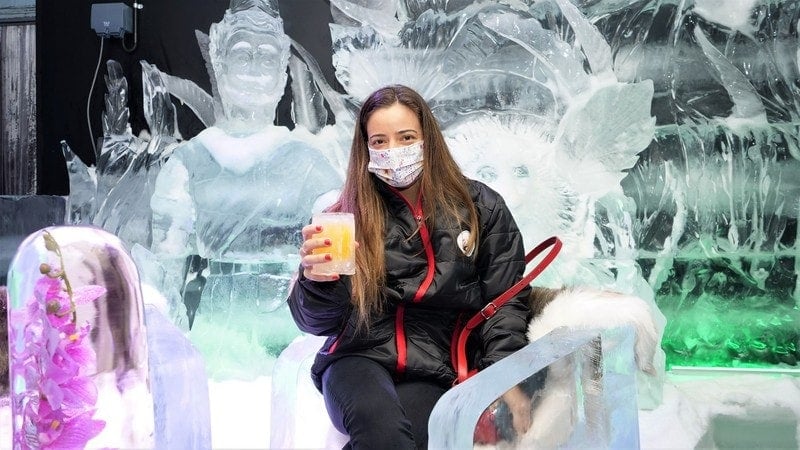 Many might recognise Snow City as their childhood holiday spot, but they've recently revamped and undergone an upgrade to feature a brand new ice bar and ice hotel gallery for a renewed experience, on top of their usual bumper car rides and winter shooting arena.
Book tickets here.
📍 21 Jurong Town Hall Rd, Singapore 609433
🕒 10am–5pm (Tue to Fri), 10am–6pm (Sat, Sun & PH), Closed on Mon
💰 From S$16.80
11. Help Otah & Friends complete their mission & be rewarded
If Otah & Friends sounds familiar, that's because there already has been a couple of instalments before Camp Stardust. In this rendition of the activity space, you'll be tasked with collecting all four courage badges and placing them on the tree stump to unlock a magical space.
Book tickets here.
📍 National Museum of Singapore, Exhibition Gallery: 93 Stamford Rd, Basement, Singapore 178897
🕒 10am–7pm (Daily)
🗓️ 15 Nov 2021 to 20 Mar 2022
💰 From S$19
12. Jump around at SG's largest bouncy castle fair
Featuring 15 bouncy castles, Jumptopia by Kiztopia is an absolute haven for the little ones — with plenty of space for hopping and frolicking about.
Book tickets here.
📍 Marina Bay Sands: 10 Bayfront Ave, Singapore 018956
🕒 10am–9pm (in timeslots)
🗓️ Now to 2 Jan 2022
💰 From S$23
13. Knock-back one last drink at Loof rooftop bar
The news of Loof Bar closing down hit us just a while ago, and is akin to many as the shuttering of an icon. Those who used to frequent the place will remember it as the "风和日丽" bar, home to one too many drinking sessions back in university.
Book a table here.
📍 331 North Bridge Rd, #03-07, Singapore 188720
🕒 4pm–10.30pm (Mon to Sat), Closed on Sun
🗓️ Now until 27 Feb 2022
💰 Drinks from S$13 onwards
14. Celebrate Christmas at Capitol & CHIJMES
If you're looking for a one-stop destination of Christmas cheer and activities, the precinct of CHIJMES and Capitol brim with an array of festive happenings that's worth spending your day on. Here, you'll get to partake in open-air skating, sidecar tours, Christmas workshops, snowfall, and a projection mapping light show.
More info on individual activities here.
📍 Capitol: 13 Stamford Rd, Singapore 178905 | CHIJMES: 30 Victoria St, Singapore 187996
🕒 Timings vary across activities
🗓️ Dates vary across activities
💰 Selected activities are free, others are chargeable
15. Candlelight: Holiday Special ft. "The Nutcracker" & more
You might've already heard of Candlelight through very targeted Instagram advertising because I sure have, so now they're back with a special holiday edition featuring our favourite Christmas classics. Enjoy age-old melodies in the Christ medley comprising the familiar Deck the Halls, Joy to the World, O Holy Night, and more — a departure from the usual thumping music you might be used to.
Book tickets here.
📍 Victoria Concert Hall: 11 Empress Pl, 01-02, Singapore 179558
🕒 6.30pm & 9pm
🗓️ 20 to 23 Dec 2021
💰 From S$46
16. Spot rare birds at Kingfisher Wetlands
Even if you're not one for bird-watching, the sights and sounds at Gardens by the Bay's latest landscape are worth visiting anyway. Kingfisher Wetlands boasts three different lookouts, even brimming with potential of spotting rarer feathered breeds like the Lesser Whistling Ducks, White-breasted Waterhen, as well as the Scarlet-backed Flowerpecker.
More info here.
📍 18 Marina Gardens Dr, Singapore 018953
🕒 5am–2am
💰 Free
17. Get intimate with parasites
Unbeknownst to some, there actually exists a natural history museum in Singapore, and it's nestled right on the cusp of NUS. The NUS Lee Kong Chian Natural History Museum is home to three dinosaur fossils that are more than 80% complete, as well as a fully-assembled sperm whale display that was salvaged by the museum team after the whale was found washed dead ashore, off Jurong Island. Body Snatchers is the museum's latest exhibition with parasites on display, and a whole lot of mind-blowing facts you never knew about how they live in much closer proximity than you'd think.
Book tickets here.
📍 National University of Singapore: 2 Conservatory Dr, Singapore 117377
🕒 10am–6pm, last admission at 4.30pm (Tue to Sun), Closed on Mon
🗓️ Now 'til Oct 2022 | Tour dates: 1 to 12 Dec 2021
💰 From S$8
18. Snap IG-worthy X'mas pics at GBTB's flower display
We're no strangers to the fact that Gardens by the Bay's Flower Dome is home to various floral displays over the course of different seasons. Poinsettia Wishes, their yearly Christmas display, is back this year with baking-themed installations. You'll spot marshmallow snowmen, a cupcake ferris wheel, and even a candied apple carriage peppered across the exhibition.
Book tickets here.
📍 Gardens by the Bay, Flower Dome: 18 Marina Gardens Dr, Singapore 018953
🕒 9am–9pm (Daily)
🗓️ Now to 3 Jan 2022
💰 From S$12
19. Be an astronaut for a day
While not everyone gets to go to space in their lifetime, it's perfectly possible for even us to experience life outside of Earth thanks to archives and records of man's missions to the moon, and beyond. At Spacewalkers, you'll get to virtually live as an astronaut and relive the heart-stopping wonders of space exploration through the lenses of those who've gone before us.
Book tickets here.
📍 ArtScience Museum: 6 Bayfront Ave, Singapore 018974
🕒 10am–7pm (Daily, last entry at 6pm)
🗓️ Now 'til 27 Feb 2022
💰 From S$9.80
20. Play on bouncy castles & carnival games
Throw it back to go ol' carnival fun and games at D'Ultimate Xcape at Downtown East, where you'll find adrenaline-pumping Uncle Ringo rides and adorable inflatable dino bouncy castles. Also, if you stay after dark, there's also neon-lit containers that make for a great photo spot for 'Gram town.
Online bookings for this are sold out, but walk-in purchases are still available. More info here.
📍 Downtown East, Begonia Open Air Carpark: 60 Pasir Ris Drive 3, Singapore 519497
🕒 4.30pm–9.30pm (Mon, Weds to Fri), 12pm–9.30pm (Sat, Sun, Sch hol & PH), Closed on Tue | Last entry at 9.15pm
🗓️ Now until 20 Mar 2022
💰 From S$12
21. Staycation at the Zoo or River Wonders
If you've ever been on the hunt for unique staycations, few things come close to this special outdoor staycation at either the Singapore Zoo or River Wonders, where you'll find yourself in an air-conditioned tent amongst the critters. The stay is inclusive of exclusive activities like getting to meet mystery animals, dining experiences, guided tours, and more.
Book your stay here.
📍 Amazon Flooded Forest, River Wonders
🕒 2.15pm (check in)–10am (the next day)
🗓️ 16 Dec 2021 to 19 March 2022 (On selected dates during this period)
💰 From S$1,499
22. Try your hand at cocktail-making
If the pandemic hasn't already had you picking up stay-home hobbies like sourdough bread-baking and dalgona latte-brewing, perhaps it's time to add cocktail-making to your list of skill sets. Apart from the fact that you'll no longer have to pay close to S$30 for a drink at the bar, you can finally be that useful friend at parties now. Chimichanga's Cocktail Trail will first guide your through an ingredient-sourcing tour before the main bulk of the cocktail-making workshop starts. Then, you'll finish off by devouring three tacos of your choice and nachos with salsa.
Book tickets here.
📍 Chimichanga Holland Village: 3 Lorong Liput, 01-02/03, Singapore, 277725
🕒 3pm–5pm
🗓️ 12, 19 & 26 Dec 2021
💰 S$85 per pax
23. Go ba-ba-bananas at the Minion Cafe
Bello! If you know a minion-lover or two, gather them 'round and head down to the Minion Cafe, a special themed pop-up eatery that's only around for a limited-period. As with all themed cafes, you can spot the familiar yellow creatures hiding amongst your plate of Chicken Keema Curry (S$25) or Minion Wagyu Lunch Plate (S$28), and even dancing along a sweet treat — the Minion Banana Boat (S$18) — which is an ode to the favourite fruit of the minions themselves.
Book a table here.
📍 3A River Valley Road, Block A Clarke Quay, #01-01C Merchant's Court, Singapore 179020
🕒 11am–10pm (Sun to Thu), 10am–10pm (Fri to Sat)
🗓️ Now 'til 2 Jan 2022
💰 Dishes start from S$9
24. Experience snowfall after dark
In this special and final instalment, you'll get to experience the Zoo in a unique way after dark. Not only can the usual light up at Rainforest Lumina be expected, there's also snowfall this season, happening on selected dates, weather permitting, and subject to Safe Management Measures. So if you're hoping to catch the special-edition event, be sure to book your tickets on the coinciding dates,
Book tickets here.
📍 80 Mandai Lake Rd, Singapore 729826
🕒 7.30pm–midnight (Tue to Sun), Closed on Mon
🗓️ Now 'til 2 Jan 2022 (Snowfall happening on 10-12, 17-19, & 24-26 Dec, from 7.45pm to 11.15pm)
💰 From S$8 onwards
25. Indulge in a Parisian high tea
As Emily in Paris Season 2 draws near, some of us might be reminiscing the glamorous Parisian life more than ever now. The dreamy city of love might be a long shot for now, but a quick trip to a themed cafe that's also pet-friendly so your furkids can join in on the meal. Simplicité's menu presents a medley of sweet and savoury bites such as Tarte au Chocolat, Classic Opera Cake, Truffle Cold Angel Hair, Prawn Bruschetta, and Smoked Salmon Canapé.
Book a table here.
📍 351 Changi Rd, Singapore 419818
🕒 Afternoon Tea Set hours: 2pm–6pm (Tue to Sun) | Cafe opening hours: 11am–10pm (Tue to Fri), 9am–10pm (Sat & Sun), Closed on Mon
💰 S$49++ for two
For more lifestyle compilations & updates like this, subscribe to our Telegram channel at @confirmgood.