Imagine soaking in an onsen with flower petals floating around you, having a meet-cute out of a K-drama in a pocha (little eatery), or staying in a luxe Parisian hotel with velvet flooring and artistically-decorated walls. Now, imagine doing all of that in Singapore – which you now can with these 34 travel-inspired places and attractions that take you on a trip around the world – for travel within Singapore.
Japan
Our first stop is the land of the Rising Sun, you guessed it, Japan! Known for its minimalistic culture, as the birthplace of manga, and relaxing onsens, you can find plenty of Japan-inspired cafes and attractions in Singapore.
1. Authentic Japanese food
We can't mention Japan without mentioning oden, udon, ramen or chirashi dons, and here you go with a definitive list of authentic Japanese food in Singapore, featuring Japanese-owned restaurants such as Orihara Shoten, famous for their delicious oden, and Shinzo's omakase sets.
2. Dig into juicy sandos
Sandos are the latest food trend in Japan, and now you can get your hands on juicy wagyu sandos from Gyu san, or dig into flavourful tamago sandos. Here's where you can find the best sandos in Singapore for your sando cravings!
3. Experience the autumnal flavours of Kyoto
We might not have autumn, but you can also experience what Kyoto autumnal dishes taste like, with the flavours of chestnut, apricot and yuzu featuring in dishes such as Kuri Kinton candied chestnut and a Matcha Moss Sphere. Seasonal teas are also available like osmanthus sencha, and genmaicha, at the Four Seasons' Hotel's Japanese fall-themed high tea set.
Facebook | Instagram | Website
📍 190 Orchard Blvd, Singapore 248646
🕒 2pm–5pm (Weekends from 3 Sep – 27 Nov 2022)
4. Have a relaxing soak in an authentic onsen experience
Japan is famous for its bathhouses and onsens, with many popular movies featuring onsens and bathhouses such as in Studio Ghibli's Spirited Away. Singapore also has many onsens (and Korean-inspired jimjilbangs) where you can soak your stress away with various themed baths, Japanese decor, and wear a traditional kimono to fully immerse yourself in the onsen experience.
5. Design cute Studio Ghibli music boxes
Can't wait to experience Ghibli Park? Here's something to keep occupied during the wait. Now you can make your own music boxes with popular characters like Totoro and friends at Okdodoo! Choose from a wide variety of decorations, pick your fave instrumentals, and get a piece of Japan to take home.
Facebook | Instagram | Website
📍 138 Robinson Road #03-31 Oxley Tower, Singapore 068906
🕒 12pm – 6pm (Mon to Fri), By appointment on weekends and after hours
6. Work in a Japanese-themed space
And for those who work from home, why not spice it up at Mangawork? With minimalistic sliding doors, your own private cabin, and a large collection of manga volumes to browse, you'll feel like you're working in Japan in no time.
Facebook | Instagram | Website
📍 291 Serangoon Rd, #02-00, Singapore 218107
🕒 9am – 11pm (Mon to Sun)
France
Say bonjour to France on our next layover, with art museums, adorable patisseries, and a charming hotel concept by famous French designer Jacques Garcia. There's plenty to see and do here!
7. National Gallery
Explore exquisite paintings and art installations across different mediums at the National Gallery, which has a colonial-style wing featuring the Singapore story, a charming domed research library, and even a cafe to chill at – reminding us of the many famous art museums in France.
Facebook | Instagram | Website
📍 1 St Andrew's Rd, #01 – 01, Singapore 178957
🕒 10am – 7pm (Mon to Sun, closed on PH)
8. Cafe & Bar Gavroche
Make a quick lunch stop at Cafe & Bar Gavroche, a rustic French cafe serving up classics such as Tapenade Olives, Duck Rillettes, and other iconic dishes. On weekends, the cafe offers an exclusive Breakfast À La Française — a classic Parisian breakfast experience with a variety of French pastries served with French jams and egg dishes that you don't want it miss!
PS: Don't forget to grab an after-lunch dessert at Singapore's many patisseries, with bakeries selling crepes, merveilleux, and madeleines.
Facebook | Instagram | Website
📍69 Tras St, Singapore 079008
🕒 11.30am — 9.30pm (Mon and Tue), 11.30am — 12am (Wed, Thu and Fri), 10.30am — 12am (Sat)
9. The Vagabond Club
End your day with a stay at The Vagabond Club, a hotel housed in a 1950s Art Deco building and designed by famous French designer Jacques Garcia that makes you feel like you're in a hotel in Paris. With a whiskey library, jazz club, and Parisian-chic suites to explore and stay in, you'll get one step closer to Paris at the Vagabond Club.
Facebook | Instagram | Website
📍39 Syed Alwi Road, Singapore 207630
Italy
After you've spent an exciting day soaking up the French atmosphere, it's time to have an Italian experience. With Venetian-like boat rides, authentic Italian food, and cultural workshops, there's so much to see and do to immerse yourself in an Italian-style excursion.
10. Go on a gondola ride at Marina Bay Sands
Venice is known for its scenic boat rides, and now you can go on one in the heart of Marina Bay Sands. Hop onto a sampan (our version of a gondola ride) as you cruise down in style in the mall's centre, and get a close-up view of the Rain Vortex for an IG-worthy moment.
Facebook | Instagram | Website
📍 1 St Andrew's Rd, #01 – 01, Singapore 178957
🕒 10am – 7pm (Mon to Sun, closed on PH)
11. Savour authentic Italian food
If you're looking for authentic Italian food, these restaurants serve up Italian homestyle dishes such as Tagliatelle Al Nero Di Seppie (Squid ink spaghetti), omakase-style dining concepts, and more.
12. Make your own Italian Lino prints
Learn how to make Italian-style Lino prints such as Vespas, coffee makers and more which you can turn into stamps as well! The Italian Cultural Association in Singapore offers workshops, virtual Italian cooking trips, and activities that will make you feel like you're an Italian artisan!
Facebook | Instagram | Website
📍 1st Coleman Street, The Adelphi #10-12, 179803 Singapore
New York City
Welcome to New York City, the home of Broadway musicals, diners, and museums, and of course, we can't miss out on pizza. From amusement parks to our very own Coney Island, you can take a short 'getaway' to New York City.
13. Experience New York in Universal Studios
That's right, Universal Studios Singapore has a 'New York' themed zone with a pizza parlour, a replica of NYC's Rockefeller Centre and live shows that will bring the heart of New York City to you.
Facebook | Instagram | Website
📍 8 Sentosa Gateway, 098269
🕒 2pm – 6pm ( Wed to Mon)
14. Broadway & West End Musicals
If you enjoy Broadway & West End musicals, Singapore has played host to hit musicals such as Les Misérables, The Phantom of the Opera, The Lion King, Wicked and more. And with the pandemic clearing up, The Sound of Music and Frozen the Musical are coming to Singapore as well!
15. Lee Kong Chian Natural History Museum
We're not sure if the fossils and taxidermy tigers in the Lee Kong Chian Natural History Museum come to life like in Night at the Museum, but Singapore has its own natural history museum with plenty of taxidermies, fossils and replicas of dinosaur fossils to explore – just don't stay after dark!
Facebook | Instagram | Website
📍 8 Sentosa Gateway, 098269
🕒 2pm – 6pm ( Wed to Mon)
💵 S$15 for Singapore residents, S$10 for non-residents
16. Botanic Gardens
For something more scenic, head to Botanic Gardens, which has an orchidetum, a lake with swans, various themed gardens as well as a children's garden which has interactive activities for your child to learn more about nature – almost like Central Park!
📍 1 Cluny Rd, Singapore 259569
Korea
We're headed for Korea, the birthplace of K-Pop and iconic K-dramas. Re-enact your fave K-drama meet cute scenes at pochas, head over to a K-Pop-themed cafe and savour famous bagels at these places.
17. Have a meet cute at a pocha
Re-enact scenes from famous K-dramas at pochas in Singapore, with aesthetic-themed Pocha in a Forest which has IG-worthy tents you can eat Korean street food in with the likes of kimchi pancakes, tteokbokki, and other delicious delights. Who knows, maybe you'll have your very own meet-cute there?
Facebook | Instagram
📍 36 Prinsep St, #01-01 Singapore 188648
🗓️ 3pm–10:30pm (Mon), 12pm–10:30pm (Tue–Sun)
18. Coney Island has major Haneul Park vibes
Admiring Haneul Park's scenery? Coney island has an open lalang field reminiscent of the one at Haneul Park. With aesthetic spots to brighten up your feed, you can pretend you're in a K-drama.
19. Changi Bay PCN will make you feel like you're in Jeju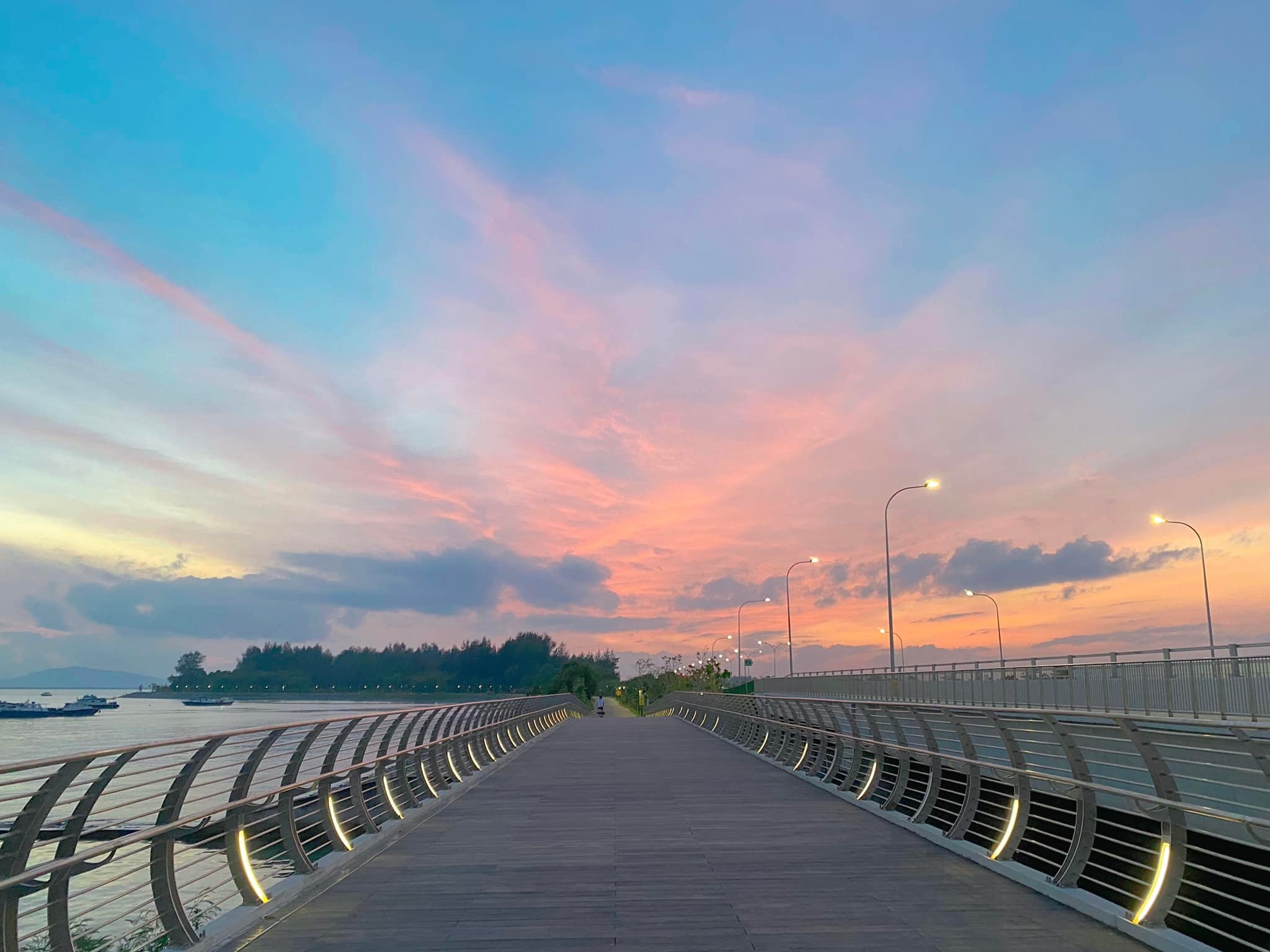 For a slice of Jeju, visit Changi Bay PCN, a tranquil haven with rolling waves and plenty of benches to admire the sea. There's an observation deck, and a panoramic view overlooking Singapore's islands that you can't miss.
20. B for Bagel
Popular Korean bagel bar B for Bagel has opened in Singapore so you can get your bagel fix! Its orange-hued interior reminds us of their Yeoksam-dong outlet, with bagels in flavours like cookie dough, fig chutney, and more. You can also get adorable merch here, from caps to tableware!
Instagram
📍 163 Tanglin Rd, B1-125,126, Singapore 247933
🕒 10am–5pm (Daily)
21. K-Land Cafe
Don't miss K-Land café, a café with all things K-pop! You'll be able to get your hands on photocards, albums, and jam to top K-pop hits with the cafe's projector screen. The café has aesthetic cakes and cute drinks to complete the atmosphere! K-Land occasionally hosts themed K-pop fan events, such as birthdays of popular idols or fan celebrations, so keep an eye out for those!
Instagram
📍 1 Selegie Rd, #01-16 GR.iD (GR.iD Singapore), Singapore 188306
🕒 11am – 9pm ( Wed to Mon)
Thailand
In the Land of Smiles, say Sawasdee ka (or kup) to aesthetic Thai-inspired bakeries, ice-cream joints, and even a Thai mart and restaurants to get your Thai fix at.
22. Try Thai pastries at Thai Baang Bakery
Ever wanted to know what Tom Yum buns taste like? Thai Baang Bakery has you covered with its wide range of pastries with Thai flavours that are sure to make you feel like you're in a Thai bakery. After all, who can say no to yummy pastries?
Facebook | Website
📍 01-41, Kitchener Complex, 809 French Rd, Singapore 200809
🕒 8.30am — 8.30pm (Mon-Sat), 9am — 8.30pm (Sun)
23. Have a traditional Thai meal at Mak Nom Nom
Mak Nom Nom serves up both classic and unique dishes perfect for a feast. Try Moo Ping, Thai Basil Minced Pork, Thai Green Curry, and more, including potato balls at this eatery, with daily specials that switch it up a little.
Instagram
📍 10 Anson Rd, #01-45/46 International Plaza, Singapore 079903
🕒 11am–4.30pm (Mon to Fri), Closed on Sat & Sun
24. Have a unique dining experience at Tara Thai
We can't talk about Thailand without mentioning its traditional Thai dishes like ants' egg soup, which you can try at Tara Thai, as well as Tom Yum cocktails, and more offerings to experience Thailand's most famous dishes.
Facebook | Instagram
📍 7 Circular Rd, Singapore 049363
🕒 5pm – 12pm (Mon to Sat)
25. Have some dessert at an aesthetic Thai dessert place
For an aesthetic dessert experience, head to Lunar Ice, which has moon-themed desserts and Thai Coconut Ice-Cream as well as an IG-worthy store interior to brighten up your feed.
Facebook | Instagram
📍 21 Chai Chee Rd, #01-430, Singapore 461021
🕒 12pm–2am (Daily)
26. Slurp down authentic boat noodles at Tha Chang Noodle Bar
Missing the taste of authentic Thai noodles? You're in luck, as Tha Chang Noodle Bar has everything boat noodles – from hot pot boat noodles to wagyu boat noodles, you'll be able to satisfy all your cravings here!
Facebook | Instagram | Website
📍 5001 Beach Rd, #01-91, Singapore 199588
🕒 12pm – 4pm, 5pm – 10pm (Mon to Sun)
27. Explore a Thai supermarket at Rama Bear Mart
For the Thai supermarket experience, Rama Bear Mart will remind you of the Big-C supermarket with a colourful array of Thai snacks, soaps and accessories that will guarantee you'll walk out with something.
Facebook | Instagram | Website
📍 73A Jln Besar, Singapore 208817
🕒 10am – 10pm (Mon to Sun)
28. Hang out with monkeys at Macritchie Reservoir
For the avid hikers or people who enjoy pretty scenery, you'll feel like you're hiking in Thailand here at Macritchie Reservoir. With plenty of wild monkeys to be sighted as well, it also reminds us of Lopburi, a province in Thailand famous for its monkeys.
📍MacRitchie Reservoir
Hong Kong
Our last stop is Hong Kong – famous for its dim sum, teahouses, and the Peak, where you can feel like it's winter all year round! Singapore has plenty of Hong Kong-themed eateries and experiences that you can get your vacation fix!
29. Bring the family, and pets for brunch at Legendary Hong Kong
You heard right, you can bring the furkids into this cha chaan teng (tea house). Legendary Hong Kong is the perfect brunch spot, with comfort food such as congee and warm bowls of wanton noodles, as well as must-try dishes like London Roast Duck Rolls guaranteed to give you a taste of Hong Kong!
Facebook | Instagram | Website
📍 10A Rochester Park, Rochester Commons, Singapore 139258
🕒 11am – 10pm (Mon to Fri), 10am – 10pm (Sat to Sun)
30. This retro-themed teahouse will make you feel like you're in old Hong Kong
Step into an intimate, rustic teahouse at Friends Cafe, a retro-inspired, mosaic-tiled cha chaan teng that will transport you back to old Hong Kong. Have a relaxing brunch with classics like Luncheon Meat with Egg and French Toast, and soak up the homey atmosphere!
Facebook | Instagram
📍 60 Springside Walk, #01-18, Singapore 786020
🗓️ 11am–9pm (Wed–Mon)
31. Have the best of both worlds at this dim sum and hotpot restaurant
Who says you can't have both dim sum and hotpot? Yanxi Dim Sum & Hotpot has IG-worthy dim sum offerings and delicious hotpot meals. Their unique dim sum takes the spotlight, with treats like Quail Egg & Bonito Flakes Siew Mai and Matcha Polo Bun With Fresh Milk And Cream that you can only get at this restaurant!
Facebook | Instagram
📍 175A Chin Swee Rd, Singapore 169879
🕒 12pm – 3pm, 5:30pm – 11pm (Daily)
32. Famous Hong Kong bakery Hang Heung is now in Singapore
Hang Heung might be a name familiar to those who enjoy HK bakeries, and the Hong Kong brand has opened four branches in Singapore! Famous for their delectable and flaky "老婆饼" (Wife Biscuits or Wife Cakes), Hang Heung is a must-visit for a unique experience.
Facebook | Instagram | Website
📍 53 Ang Mo Kio Ave 3, #01-11/12 Ang Mo Kio Hub, Singapore 569933
🕒 10.30am – 8.30pm (Daily)
33. Jurong Point Hong Kong Food Street
Of course, we can't miss out on the Hong Kong-inspired Food Street at Jurong Point, a replica of neon-hued Mongkok with LED signboards and eateries that will make you feel like you're in Mongkok!
📍Jurong Point, 1 Jurong West Central 2, Singapore 648886
34. Tea Chapter
Unwind with a cup of tea and savoury foods like tea-leaf egg and dim sum that pair just right with the perfect blend of tea at Tea Chapter, a unique teahouse experience which places emphasis on the tea experience. You can even take home a tea set of your own!
Facebook | Instagram | Website
📍 53 Ang Mo Kio Ave 3, #01-11/12 Ang Mo Kio Hub, Singapore 569933
🕒 11am – 9pm (Sun to Thu), 11am – 10.30pm (Fri to Sat)
With all these exciting activities to take you around the world, you won't be at a loss for what to do again when you try and experience these different countries and travel within Singapore!
For more lifestyle updates like this, subscribe to our Telegram channel at @confirmgood.