Kaya toast is undoubtedly our national breakfast. But do you know where to find good, old-school kaya toast? Introducing YY Kafei Dian — an old-school Hainanese coffee shop known for making one of the best Kaya Toasts in Singapore.
You can find the shop located in a small shophouse corner store along Beach Road. The tiled walls and metal counters give a nice homely throwback you back to childhood memories of eating out at coffee shops.
That said YY Kafei Dian is not run-down or aged — like the popular Heap Seng Loong for example — and in fact quite tidy and clean. The best way comparison is a 90's coffee shop ambience.
It's a really popular spot too, with queues forming during meal times.
While YY Kafei Dian serves some traditional Hainanese food like an actual coffee shop, they're probably most renowned for their special kaya toast.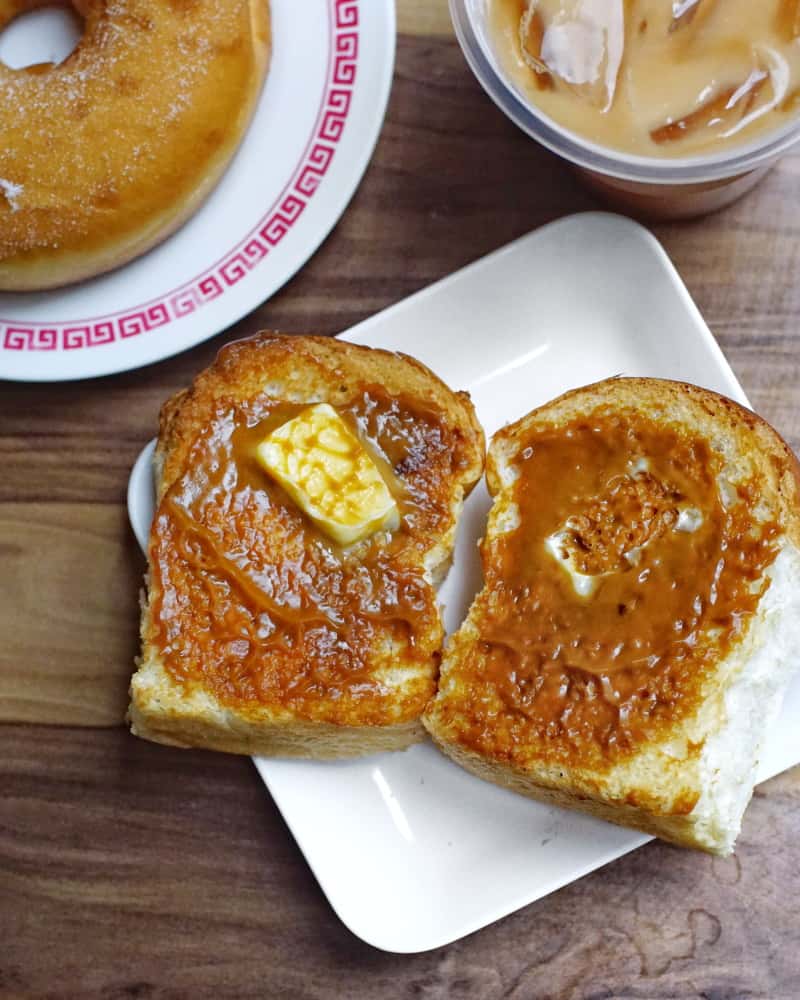 The first thing you'd notice is the unique bun YY Kafei Dian uses for their Kaya Toast (S$1.30/S$3.70 for coffee and eggs set). Quite different from the typical thin type used by your standard mall franchises.
These babies are baked fresh in-house daily, ready to be toasted and slathered with their signature rich kaya.
While most Kaya Toasts in Singapore either belong to the crispy or fluffy category, YY Kafei Dian's rendition is a delectable mix of both.
Nothing quite beats the gentle crunch of the crust, which embraced the dreamily fluffy insides.
Their homemade kaya was top-notch too — it was just the right amount of sweetness and contained a burst of rich coconut aroma. However, they could have spread a bit more kaya as it didn't feel like there was enough.
But besides their famous kaya toast, there's another item that is surprisingly popular here. It's this unassuming Sugar Donut (S$1.20).
You must be wondering how this plain donut could have gotten so many fans? Well, YY Kafei Dian really perfected this classic snack. It's a simple treat but the execution is great — good value for the price.
It's impossible to escape the allure of that dough, which blended a dreamy pillowy softness with a delicate chew. The fine coat of sugar dusting also added a nice touch — not too sweet and not too coarse.
If you're looking for nostalgia and traditional breakfast — give YY Kafei Dian a try. Their fluffy kaya toast and donuts are the perfect sweet throwback that everyone needs once in a while.
YY Kafei Dian
Facebook | Instagram
📍 37 Beach Rd, #01-01, Singapore 189678
🗓️ 7:30am–-7pm (Mon–Fri), 8am–7pm (Sat–Sun)
The guy who will go on a 30 minute monologue about artisan coffee when you ask if they want Starbucks.