When we were kids, McDonald's fuss-free burgers were the ultimate indulgences in life. Even when we grow up, nothing quite beats chowing down on a juicy beef patty embraced between two fluffy brioche buns — simply heaven.
Many gourmet burger joints have popped up in recent years, especially with the booming popularity of international franchises like Shake Shack and Five Guys. And these burgers range from super wallet-friendly to luxuriously crafted creations.
If you're curious where you can get a smashing good burger that's not from the popular fast food joints, here's a list to help you satisfy those cravings.
Scrumptious burgers in Singapore that don't break the bank (S$5-S$10)
Ashes Burnnit
Burger fans would know of the bustling burger stall in the basement of Golden Mile Hawker Centre. It used to house Burgs by Project Warung but Ashes Burnnit took over a while back and continued banging out some of the most affordable gourmet burgers in Singapore. You can get their signature black bun burgers from just S$5.90 for the Smash Cheese Burger, and make it double for only S$8.40.
Facebook | Instagram
📍 505 Beach Rd, #B1-24 Golden Mile Food Centre, Singapore 199583
🗓️ 11:30am–8:30pm (Daily)
Meatsmith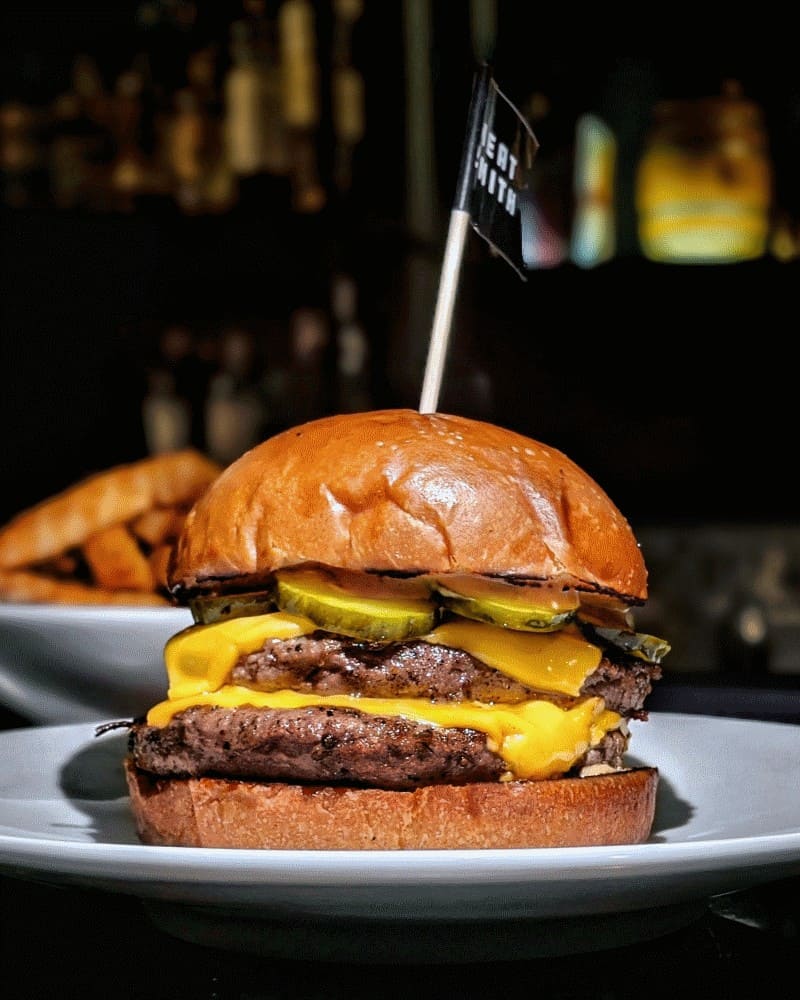 Every burger lover in Singapore needs to get in on Meatsmith's S$10 burger takeaway deal. And honestly, this might be the best Cheeseburger you can get for S$10. Which CBD restaurant sells them at this price? Juicy double patties, beautifully smoky from grilling packed between two pillowy brioche buns, balanced with punchy cheddar and tart pickles. Such an indulgent umami bomb.
Alternatively, you can make a reservation for either the Telok Ayer or Little India outlets if you'd rather not takeaway.
Meatsmith (Telok Ayer)
Facebook | Instagram
📍 167-169 Telok Ayer St, Singapore 068620
🗓️ 11:30am–11:45pm (Daily)
Meatsmith (Little India)
📍 21 Campbell Ln, Singapore 209894
🗓️ 11:30am–11:45pm (Tue–Sun)
Skirt & Dirt
Opened last year, this hawker stall makes one of the most unique-looking burgers in Singapore. The Cheese Skirt Burger ($6.80) features a crispy cheese "skirt" made with shaved cheddar over a hot grill that adds a bit more flair to this affordable burger that's basically a simple cheeseburger at heart.
Facebook | Instagram
📍 30 Seng Poh Rd, #02-66 Tiong Bahru Market, Singapore 168898
🗓️ 11am–7:30pm (Tue–Sun)
Wolf Burgers
For an affordable basic burger, the Original Wolf ($9.90) comes loaded with quite a bit of good stuff. Not only do you get a nicely grilled patty, but it also comes with a soft brioche bun and a hearty ensemble of sautéed onions, lettuce, tomatoes, and pickles. A fuss-free and reliable option to satiate those burger cravings.
Facebook | Instagram
📍 Multiple outlets
Wildfire Burgers
Wildfire does the Classic Cheeseburger as good as any other gourmet burger bar in Singapore — and at just S$10 too. They don't skimp on ingredients for the price too. It comes with a USDA certified Black Angus Beef Patty that's dressed with a simple sauce and chipotle mayo. If you're feeling fancy, they also have an SRF Wagyu Burger for just S$14.
Facebook | Instagram
📍 80 Bencoolen Street, #01-15, 1 NAFA Campus, Singapore 189655
🗓️ 12pm–3pm, 5:30–10pm (Daily)
Casual burger joints in Singapore worth bringing a date to (S$11-S$20)
Three Buns
If you're missing Bali, head over to Potato Head Folk at Keong Saik. This cute hipster space opened by the beach club is most popular for their burger franchise, Three Buns. Da Cheese Master (S$18) pairs their luscious grass-fed beef patty with a cheesy overload for one of the most indulgent and sinful burgers we've had in Singapore.
Make your reservations here (Potato Head Folk, Robertson Quay)
Three Buns (Potato Head Singapore)
Facebook | Instagram
📍 36 Keong Saik Road, Singapore 089143
🗓️ 11am–12am (Daily)
Three Buns (Robertson Quay)
📍 60 Robertson Quay, Singapore 238252
🗓️ 5pm–12am (Mon-Thur), 12pm–12am (Fri), 10am–12am (Sat), 10am–10pm (Sun)
25 Degrees
25 Degree's signature Number One ($14) is a unique burger. It's accented by gorgeously caramelized onions and crispy bacon, then finished with sharp gorgonzola and piquant thousand island sauce. The components give it one-of-a-kind spunk atop the thiccccest buns you'd find in Singapore. Numero Uno for burger size at least, cos this bad boy is huge.
Facebook | Instagram
📍 Hotel G, 200 Middle Rd, Hotel G, Singapore 188980
🗓️ 11am–12am (Daily)
Between Buns
One of the worst kept secrets amongst burger lovers on social media — Between Buns makes one of the best Fried Chicken Burgers (S$12) from scratch, from home. The key is in the chicken, which is tender, juicy and sports a gratifying crunch. It's really hard to score one nowadays when it sells out so fast but it's worth it — especially with occasional specials like their Taiwanese Hot Sauce Fried Chicken Burger.
Instagram
📍 Home-based business
The Goodburger
Goodburger doesn't serve classic burgers per se — they use Impossible Meat's meatless substitutes for their patties. Honestly, they beat many other gourmet burger joints in Singapore. Truffle lovers would enjoy The Black Tie's (S$18) posh ensemble of truffle aioli and rocket leaves while the Thai-inspired flavours in One Night In Bangkok (S$20) might help curb some of your +66 longings.
Facebook | Instagram
📍 587 Bukit Timah Rd, Singapore 269707
🗓️ 11am–9pm (Daily)
Moosehead Kitchen-Bar
Moosehead is generally known as a nice hangout spot for Mediterranean-inspired food. But during this pandemic period, they also rolled out great takeaway deals for their burgers. All their burgers are priced at only S$12 for takeaway, with their hulking Double Cheeseburger at S$15. Just look at the towering stack of patties — how would you not want to dig into that?
Make your reservations here.
Facebook | Instagram
📍 110 Telok Ayer St, Singapore 068579
🗓️ 11:30am–2pm, 6–10:30pm (Mon–Sat) 11:30am–2pm, 6–8pm (Sun)
The Fancy Burgers in Singapore for Ballin' (S$21 and above)
BurgerLabo
The burger version of "tell me you're a burger expert without telling me you're a burger expert" — its Basic Burger (S$25 with fries) is renowned as the pick as best burger in Singapore by many food critics. Little wonder with a patty that's a special R&D'd blend of exquisite Wagyu and Angus beef. Topped with cloud-like buns and special house-made sauce, it's like a Big Mac for C-suites.
Facebook | Instagram
📍 41 Malan Rd, Gillman Barracks, Singapore 109454
🗓️ 12pm–3pm, 6pm–10:30pm (Tue–Sat)
Burnt Ends
Where better to grab one of the best burgers in Singapore than from the Picassos of meat who not only have a Michelin Star but are also ranked No. 5 in Asia? Their highly-raved Sanger Burger (S$21.40) is loaded with tender pulled pork that just drips sauce everywhere — this is one of the messiest but most gratifying eats ever. Thank god takeaways let us skip their impossibly hard-to-get reservations.
Facebook | Instagram
📍 20 Teck Lim Rd, Singapore 088391
🗓️ 11:45am–11pm (Mon–Sat)
Carne Burgers
If we're talking about star power, nothing beats Carne, opened by the Chef of the No. 1 ranked restaurant. In. The. World. Chef Mauro just opened his burger joint in Singapore earlier this year and many were going crazy for the exclusive Chimichurri Burger (S$24), which comes with herbaceous Chimichurri sauce smothered over grass-fed beef patties imported straight from Argentina.
Make your reservations here.
Facebook | Instagram
📍 88 Amoy St, Singapore 069907
🗓️ 8am–10:30pm (Daily)
Creatr.
If you've watched the newest season of MasterChef Singapore like me, you'd wished you could dig into their creations. Well, here's your chance to try runner-up Leon's Chilli Crab Burger with Tofu Fries (S$29.90). Each patty is freshly made with crab and the brioche buns are also baked daily in-house. Some may balk at the price tag but well, the limited 50 sets every day are quickly snatched up.
Facebook | Instagram
📍 169 Stirling Rd, #01-1149, Singapore 140169
🗓️ 12–8pm (Daily)
DB Bistro & Oyster Bar
While there are plenty of upscale joints selling their own luxe takes on burgers in Singapore, nothing screams "decadent" like The Original DB Burger (S$48). It is truly a gourmet burger with an opulent centrepiece make out of a sirloin patty and stuffed with short ribs and foie gras. It's a hefty price tag but it's also a mighty hefty burger, in flavours and make.
Make your reservations here.
Facebook | Instagram
📍 2 Bayfront Avenue, B1-48, Galleria Level, The Shoppes at Marina Bay Sands, 018956
🗓️ 12pm–10pm (Daily)