One dish has remained a long-running obsession amongst foodies — rosti. Beautifully seared till a crackling golden-brown crust forms, with soft and fluffy insides, this popular Swiss breakfast dish continues to be so damn addictive.
Restaurants aside, rosti in Singapore has grown so much in popularity that you can even find them sold at cafes and hawker stalls, ideal for a casual brunch fix.
Already gearing up to go for a rosti hunt? Here are 18 places to satisfy your rosti cravings in Singapore.
1. The 6ixs Rosti
Previously operating as a roving pop-up stall that featured in events such as Art Box, The 6ixs, a popular hawker stall specialising in affordable rosti in Singapore, can be found at a coffeeshop in Ghim Moh.
Both the Classic Rosti (from S$7) and Spicy Rosti (from S$7) are popular, but the indulgent, mouth-wateringly stretchy Cheesy Rosti (S$8) is what makes The 6ixs stand out. The stall has also branched out and created a rather unique Japanese Fusion Rosti (S$11) that can be enjoyed with Smoked Salmon (S$12) or Chicken Cutlet (S$14).
Facebook | Instagram
📍 25 Ghim Moh Link, Singapore 270025
🕒 12pm–8.30pm (Tue to Sun), Closed on Mon
2. Wursthans Switzerland
How many have dined in a Swiss restaurant before? Not many, considering the number of options here. Wursthans Switzerland is one of the rare casual Swiss all-day dining concepts, located in Paya Lebar Quarter.
Rosti is, of course, the star of the show. Wursthans lets you Create Your Own Swiss Meal (from S$15.90), so you can pair their signature sausages with your crispy rosti. Alternatively, leave it to the pros and order the Gotthard (S$19.90), rosti topped with smoked pork cervelat sausage, caramelised onions, and a fried egg.
Facebook | Instagram
📍 10 Paya Lebar Road, #01-39 Paya Lebar Quarter, 409057
🕒 11.30am-–9pm (Daily)
3. Breakfast Club
Have you ever imagined eating a European breakfast out of a coffee shop in Kovan? Well, Breakfast Club is a popular spot selling all-day breakfast plates, French toast, and rosti at affordable prices.
We're talking as low as S$5.90 for a Plain Rosti! Even if you choose to spruce it up a bit with sausage and an egg, it's still insanely affordable at just S$8.90 — it's probably one of the cheapest rosti offerings in Singapore.
Facebook | Instagram
📍 941 Upper Serangoon Rd, Singapore 534709
🕒 9am–9pm (Mon, Tue, Tue to Sun), 9am –3pm (Wed)
4. Coucou Authentic Swiss Restaurant and Bar
A meal at Coucou may be pricier than other options, on this list, but how could we miss out on one of Singapore's most authentic Swiss restaurants in a listicle all about rosti?
A Le Classique, or plain rosti is priced at S$16, whereas for a bit more at S$24, you can get veal sausage and onion confit with the Rosti Saucisse de Saint-Gall. Alternatively, cheese lovers will enjoy the Rosti Zermatt (S$28), which is topped with luxurious melted Swiss raclette cheese and ham.
Make your reservations here.
Facebook | Instagram
📍 9 Craig Rd, Singapore 089669
🕒 12pm–2.30pm, 6pm–11pm (Mon to Thu, Sun), 12pm–2.30p, 6pm–12am (Fri & Sat)
5. Oberstrasse
The story behind Oberstrasse is actually very sweet. It is named after the street on which the owner first met his girlfriend in Switzerland before he returned to Singapore to open this café serving rosti, a Swiss classic.
You can get an Original Rosti with sour cream, scallions, and a sunny side up for S$13 here. But the most eye-catching option has to be the Breakfast Rosti (S$19), which comprises fennel rosti served with avocado, poached eggs, hollandaise sauce, and mesclun salad. Truly a breakfast of champions.
Make your reservations here.
Facebook | Instagram
📍 809 French Rd, #01-50, Singapore 200809
🕒 9am–5.30pm (Daily)
6. Carrara
Carrara may be best known for its award-winning gelato, but many flock to the cosy cafe for Western fusion fare and hearty all-day breakfast plates including rosti.
Tuck into the Smoked Salmon Cheese Rosti (S$16.90), mozzarella-stuffed rosti with smoked salmon, sour cream, and a sunny side up — it even boasts a stunning cheese pull!
Facebook | Instagram
📍 2 Jalan Bukit Merah, #01-5148, Singapore 150002
🕒 11.30am–9.30pm (Mon to Thu, Sun), 12pm–11.30am (Fri & Sat)
7. Leopold Gastrobar
Leopold Gastrobar (or leopold), is a one-of-a-kind gastrobar with a combination of Austrian, German and Swiss influences. It's also run by a native Austrian, so authenticity is guaranteed.
Leopold makes their Rosti (S$22) with coarsely grated potatoes seared in butter, baked and topped with sour cream and a free-range organic egg. Simplicity is key, but if you want a touch more flair you can add some Black Forest Ham (S$5) or Melted Raclette Cheese (S$6).
Make your reservations here.
Facebook | Instagram
📍 96 Tg Pagar Rd, Singapore 088517
🕒 5pm–1am (Daily)
8. Tolido's Espresso Nook
You may know Tolido's Espresso Nook for its all-day brunch classics, like French toast, shakshuka, and of course, crispy rosti, one of the most highly sought-after menu items.
There's an assortment of toppings you can choose to go with your rosti, ranging from the classic Cheesy Sausage (S$20) and Smoked Bratwurst (S$22) to the more unique truffle aioli.
Facebook | Instagram
📍 462 Crawford Ln, #01-63, Singapore 190462
🕒 8am–4pm (Thu to Tue), Closed on Wed
9. Wine Universe
Located inside the Millennial Walk compound, Wine Universe is a modern Swiss bistro serving a variety of traditional Swiss items, including rosti, raclette cheese, and the signature cheese fondue. Despite being one of the more stylish places to get rosti in Singapore, prices are pretty reasonable.
Order a glass of wine and a Matterhorn Rosti (S$23), which comes with a generous helping of cooked ham, raclette cheese and a fried egg.
Make your reservations here.
Facebook | Instagram
📍 01-109 Millenia Walk, 9 Raffles Blvd, Singapore 039596
🕒 12pm–12am (Mon to Fri), 5pm–11pm (Sat), Closed on Sun
10. Brotzeit
Crowd favourite German franchise Brotzeit may be better known for its pork knuckle and sausage platters, but did you know that it is also one of the few restaurants that serve up rosti in Singapore?
The range of rosti on the menu includes the Lachs-Rosti (S$19), a smoked salmon and poached egg number, and the Rosti Mit Schweinshaxn (S$18), rosti topped with pork knuckle and kale.
Make your reservations for VivoCity, Westgate, Raffles City, and Katong.
Facebook | Instagram
📍 Multiple outlets
11. Ivan's Carbina
Another hawker stall serving rosti further up in the north of Singapore is Ivan's Carbina, a go-to for affordable Western fare in Woodlands.
Don't underestimate the humble Kopitiam stall — it offers over 10 different toppings for customers to choose from. Crowd favourites include Cheese Sausage (S$9.60), Mushroom Chicken Chop (S$9.80), and Cheesy Chicken Cutlet (S$10.80), but you can go all out with the premium Teriyaki Salmon (S$13.80) or even NZ Chilled Ribeye (S$17.50).
Facebook | Instagram
📍 354A Woodlands Ave 5, Singapore 730354
🕒 11pm–9pm (Tue to Sun), Closed on Mon
12. Buddy Hoagies
Buddy Hoagies is an old-school franchise that's been around since 2004, serving authentic and unpretentious Western food like steaks, pasta, and good ol' rosti.
You can find an affordable Just Rosti (S$8.20) at the same price range as that of hawker stalls, as well as heartier options like the Rosti Bacon & BBQ Sausage (S$11.90) and indulgent Baked Rosti & Cheese (S$14.10).
Facebook | Instagram
📍 Multiple outlets
13. Joji's Diner
True to its name and themed concept, the retro Joji's Diner in Serangoon doesn't shy away from the wholesome American diner fare it specialises in, be it chicken & waffles, smash burgers or creamy milkshakes.
The Weiner & Hash (S$8.90), is about the closest thing you can get to rosti — a thick sausage paired with crisp potato hash, a sunny side up, and topped with a dollop of sour cream.
Facebook | Instagram
📍 534 Upper Serangoon Rd, Singapore 534549
🕒 10am–10pm (Daily)
14. Daily Ground
Daily Ground in Bukit Timah wears many hats — it is a 3-in-1 multi-artisan concept store bringing you good food, fresh bakes, and tasty gelato. The extensive brunch menu is enticing, but it's the rosti that truly stands out.
Instead of your usual eggs benedict, why not go for the signature Rosti Eggs Benny (S$20), which substitutes rosti for English muffins? Otherwise, reward yourself with the Ultimate Rosti (S$28) — 180g rib eye, truffle hollandaise sauce, sour cream, purple kraut, and a fried egg.
Facebook | Instagram
📍 619D Bukit Timah Rd, #01-01, Singapore 269724
🕒 8am–5pm (Daily)
15. Spuds Shack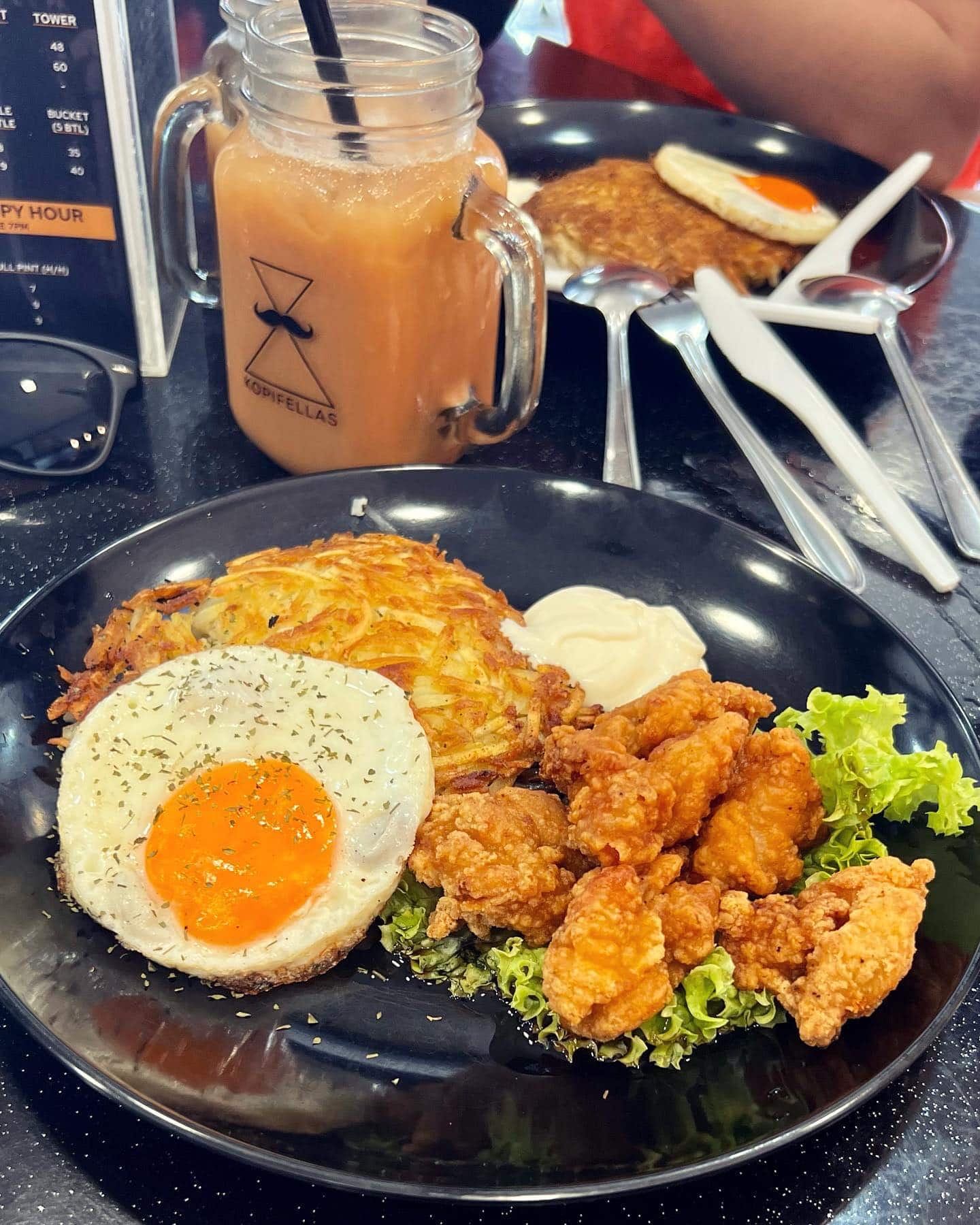 Geylang may be home to plenty of good eats, but Spuds Shack takes rosti to the next level with a unique selection of toppings and flavours.
Think rosti with Spicy Mala (S$6), Torched Mentaiko (S$7.80), and Pesto Mayo (S$7.80). Not too outlandish, but super delicious. Feel free to also add sides like Sauteed Wild Mushroom (S$2) and Black Pepper Beef Cubes (S$6) to complete the meal. It's affordable rosti with a twist — don't miss out.
Facebook | Instagram
📍 440 Geylang Rd, Singapore 389400
🕒 12pm–10pm (Mon to Sat), 10am–5pm (Sun)
16. Dough
Seasoned cafe-goers ought to be familiar with Dough, an aesthetic Korean-inspired cafe & bakery in CHIJMES serving pastries, brunch, and speciality coffee.
Pair your cuppa with the generously portioned Rosti & Shrooms (S$27), which features house rosti, scrambled eggs, creamy black garlic shrooms, sour cream, and mixed greens, and you're in for a good time.
Instagram
📍 30 Victoria St, #01-30, Singapore 187996
🕒 8.30am–6pm (Tue to Thu), 8.30am–9.45pm (Fri & Sat), Closed on Mon
17. Ang Moh Zi Char
Tucked away in Taman Jurong Food Centre is the unassuming Ang Mo Zi Char, a hawker stall specialising in Asian and Western fusion fare.
Here is where you can find some of the most affordable rosti in Singapore, priced at just S$6 for Plain Rosti with an additional S$3 for toppings like Beef, Chicken Chop, Premium Mushrooms, or Salmon Dill Herbs.
Facebook
📍 #03-151 Taman Jurong Market & Food Centre, 3 Yung Sheng Rd, 618499
🕒 11am–2pm, 6pm–9pm (Wed to Sun), Closed on Mon & Tue
18. Bread First Everyday
Owned by the folks between the cult favourite Qi Xiang Chicken Pot and Qi Xiang Hotpot is Bread First Everyday, a Western stall in Kovan serving cafe-inspired all-day brunch fare.
Out of all the hearty breakfast platters available, the affordable Rosti Platter (S$8.90) features rosti, scrambled eggs, smoked pork bratwurst, and a garden salad — the kind of weekend breakfast I'd love to wake up to.
Facebook
📍 969 Upper Serangoon Rd, Mee Sek Food Court, Singapore 534723
🕒 9am–5pm (Wed to Mon), Closed on Tue
For more lifestyle updates like this, subscribe to our Telegram channel at @confirmgood.