Many of us understand the significance of looking good, but did you know that smelling good is equally important?
It not only boosts your confidence, but it also helps you make a good impression on others (we often associate certain smells with certain memories, so you definitely want to leave one when you're smelling good rather than iffy!)
However, finding a signature scent that suits your personality can be time-consuming, and perfumes are typically more expensive — so you don't want to make the wrong choice.
For a little help, what's a better place to look than some of the most popular Korean celebrities and influencers who have been leading the makeup and fashion scene with their impeccable styles like IVE's Wonyoung and Mamamoo's Hwasa?
To help you narrow down your hunt, that's exactly what we found. Hopefully, you'll be able to find some inspiration from some of these 7 best perfumes that Korean celebrities and influencers love!
1. IU – Diptyque Eau Des Sens
IU is known to many as the ultimate girl next door but recently, she's been taking on a more elegant, mature and sophisticated personality while still retaining a tinge of that youthful touch.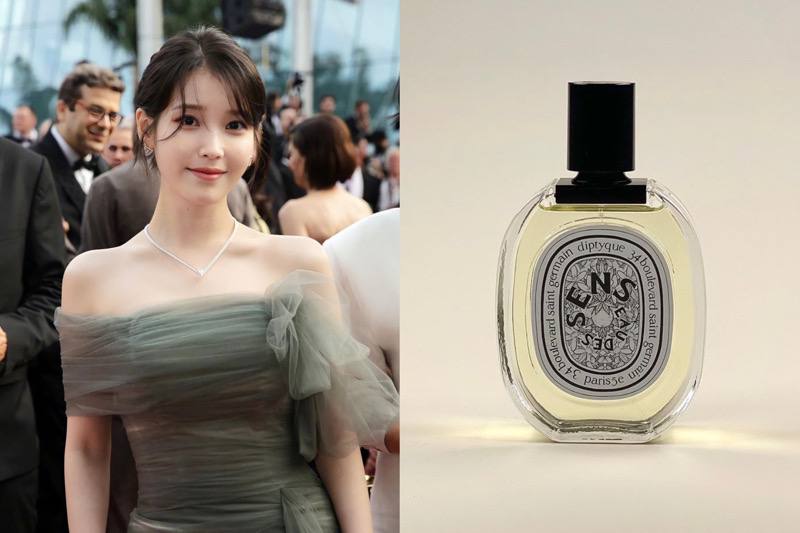 If that's the vibe that you're going for, try out Diptyque's Eau Des Sens — one of her favourite scents. It mainly smells like orange blossom, and dries down to a more woody and spicy scent — perfect for those who want something floral smelling but not overwhelmingly sweet.
2. Wonyoung – YSL Mon Paris
When it comes to the prettiest visuals in KPOP for this generation, IVE's Wonyoung definitely makes, if not even tops the list. Her gentle beauty and sweet demeanour quickly made her one of the most popular female Korean artistes in 2022 — many influencers and fans have even started a trend of recreating her makeup looks and hair!
So, it's no surprise that the perfume that she reaches for is just as sweet as she is — berry-scented with a musky base and some spicy notes to balance the whole thing out, Yve Saint Laurent's Mon Paris is certainly perfect for this fairy-like idol and anyone who loves her aesthetic.
3. Karina – Jo Malone London Blackberry and Bay
Aespa's Karina is known for her unreal AI-like beauty — so it's only natural that everybody would be curious about what fragrance the Gen Z icon is carrying around.
While Jo Malone London's Blackberry and Bay scent sounds like a sweet and fruity scent, it's actually more on the woody and fresh side — with just a nice tinge of berry notes to add just the right amount of sweetness. If you're one that likes clean and woody scents that are still feminine, then this would be a great pick.
4. Jisoo – Dior Blooming Bouquet
Blackpink's Jisoo is famously known for being the face of not only the girl group, but also Dior. Her aesthetic is very delicate, feminine and timeless — which fits perfectly with her scent of choice.
Formulated with a sweet floral scent and lightweight white musk, Dior's Blooming Bouquet is one of the most popular scents on the market for those who want a fresh, feminine and youthful fragrance (this was my first designer perfume as well, and I'm still using it up to this day!).
5. Taeyeon – Hermes H24
Undoubtedly one of the most influential and recognisable female vocalists in the Korean music industry, Taeyeon has often referred to herself as King Taeyeon. With such a strong character, it's not surprising that her scent of choice is something that's slightly more masculine as well.
While it's marketed by Hermes as a daring scent for contemporary men, H24 is a lovely fresh, sensual and woody scent that both guys and girls enjoy. I think it's perfect for those who do like the musky scent of many male colognes but also want something that's delicate and bright.
6. Hwasa – Creed Royal Water
An icon of female empowerment, Hwasa has gained mad respect globally for breaking the Korean beauty standards and emerging as one of the most influential female artistes of the generation. She's cool, fierce and unconventional — just like the scent that she uses.
Spicy and musky with just the right amount of citrusy freshness, Creed's Royal Water is a unique and glamorous scent that just oozes main character vibes — perfect for those who love to turn heads and steal the show.
7. Song Jia – YSL Libre
Last but not least, we most definitely cannot leave out this Single's Inferno superstar when it comes to talking about the best perfumes loved by Korean celebrities and influencers.
As a Pringie (Song Jia's fandom name), I can say with my whole chest that Song Jia is the it girl of the century. Almost anything that she's seen using has taken the internet by storm. The Vodana hair stylers, Prada's Terry Mini Bag — and of course, her signature fragrance.
While she did feature several fragrances in her YouTube video talking about her go-to scents, she gravitated a lot towards one particular fragrance — Yves Saint Laurent's Libre.
This scent is fresh, woody and floral all at once and not only does it smell feminine, it also exudes a certain classy vibe — all in all, it's a great pick for those who like the finer things in life (just like Jia).
Ready to explore some new scents and fill up your vanity? Check out some of these 7 best perfumes inspired by the Korean celebrities and influencers that use them! I would say most of them are pretty safe for blind buys. 

For more lifestyle updates like this, subscribe to our Telegram channel at @confirmgood.