Growing up in Singapore, there's no doubt that most of us have come across some of the old, traditional Chinese remedy 'staples' you'll probably find in your grandparents' drawers — Mopiko ointment, Axe brand medicated oil, Tiger Balm and so on.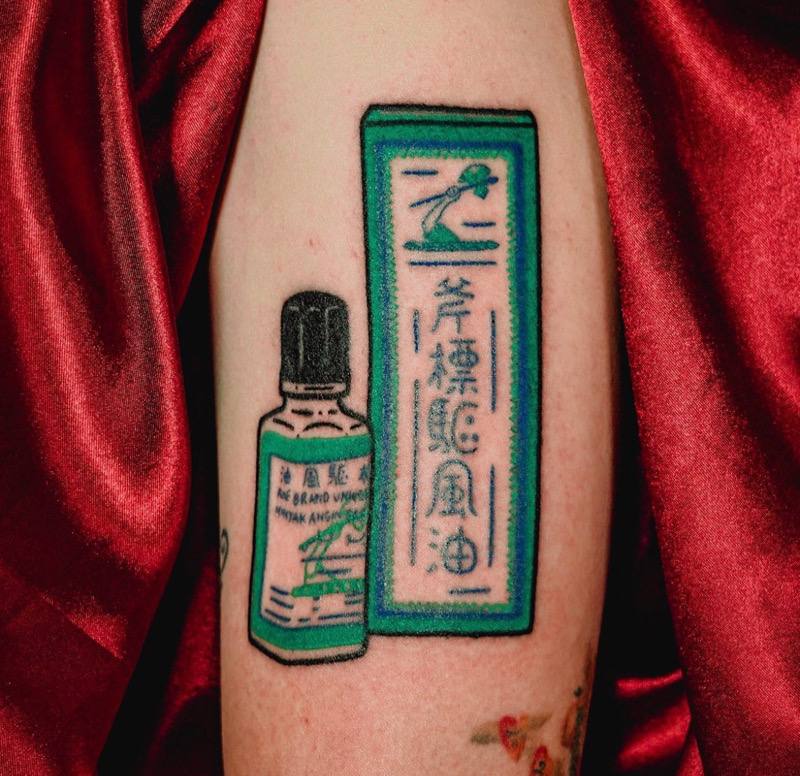 While you might not necessarily be into using these products, it's hard to deny that having some sick tattoos of these 'forgotten' products would be a great conversation starter — and it scores really high on the nostalgia factor as well.
If you're looking for something uniquely Singaporean to add to your ink collection (or if you're thinking about getting your first one), check out @jessinfully on Instagram — a local hand poke tattoo artist that does a variety of cute and quirky tattoos.
Some of her more popular works include the locally-inspired ones that we've mentioned before (Nin Jiom Pei Pa Koa or Po Chai pills tattoo, anyone?), and it's not difficult to see why — not only are they super nostalgic and unique to our culture, they look uber adorable too!
Other than that, the hand poke tattoo artist's portfolio consists of other creative designs — some of the crowd favourites seem to be the more gurokawa-styled (cute and creepy) ones like characters with bleeding eyes, tearing off their faces and so on (sounds morbid, but they actually look really cool!).
For the more classic options, she also does quotes and well, anything reasonable really. Whether you're into coloured tattoos or simple shapes, you'll probably be going home satisfied with your new tattoo as the artist seems to be pretty versatile when it comes to designs.
To book an appointment, simply head over to @jessinfully on Instagram and fill out the form provided on the account's bio!
jessinfully tattoos
Instagram
📍 4A Haji Ln, Singapore 189197 (Bada Bink Tattoo Firm)
🕒 By appointment only
For more lifestyle updates like this, subscribe to our Telegram channel at @confirmgood.