The first time I was ever onboard Royal Caribbean was back in September 2021 on Quantum of the Seas and I enjoyed Royal Caribbean's exceptional services so much that I made my next cruise booking after my second day of sailing right then and there.
Unfortunately (or fortunately), I was unable to make it for my second cruise in January 2022 on Quantum of the Seas and had to postpone it… Thankfully the news came out that Royal Caribbean was deploying their newest vessel, Spectrum of the Seas (yay to a bigger sister ship of Quantum of the Seas) so I immediately made use of my Future Cruise Credit (FCC) and rescheduled my booking!
If you're keen to check out the experience you can enjoy on this ship, then read on to find out all you need to know before you sail on the lovely Spectrum of the Seas.
Pre-Cruise Preparations
Once you've confirmed your booking, you should be able to log into your Royal Caribbean account to access the Pre-Cruise Planner where you can purchase dining packages, Wi-Fi, refreshment packages and more.
The Royal Caribbean app is really helpful – you get to browse all the restaurant menus in the app, sync your travelling parties' calendar bookings and more. So, be sure to download the app before you board the ship!
Royal Caribbean App
Once you've downloaded the app, you can easily use the app for your online check-in. Approximately 45 days before your sailing date, you will be able to choose your arrival time and fill up your travel information, while the Health & Safety questionnaire will only open up one day before sailing.
Do select your arrival time early if you want the early check-in slots at the terminal (earliest being 1pm; you can pick arrival time without filling in your travel information).
Unlimited Dining Package
The Unlimited Dining Package is only available on a first come first served basis and it is often sold out very quickly. If you happen to spot it on the Pre-Cruise Planner website, I would highly recommend you to get the package first (you can cancel it anytime before the pre-cruise planner portal closes).
This package allows you to dine at any of the specialty restaurants onboard Spectrum of the Seas such as Chop's Grille, Sichuan Red, Jamie's Italian, Izumi Sushi, Teppanyaki, The Hotpot, and Wonderland for dinners and lunch on sailing days (no lunch on boarding day).
Here's a breakdown of the additional fees under this package:
Sichuan Red & Izumi Sushi: each pax gets $35 credits, top up if amount is exceeded
Jamie's Italian, Chops Grille, Wonderland: No additional fee for food
The Hotpot: basic set and ingredients are free, additional charges applies for premium ingredients
Teppanyaki: top up $10 per pax, additional charges applies for appetisers
PS: Teppanyaki's top up includes lobster & scallops. The food and the experience I had was amazing, I would say that it is definitely worth the top up.
Wi-Fi Package
There are two types of Wi-Fi packages for you to choose from, VOOM Surf + Stream Voyage Package and Voom Surf Voyage Package. The VOOM Surf + Stream Voyage Package has the faster Wi-Fi speed between the two and is generally good enough to do zoom calls, or social media scrolling.
If you are travelling with a group, you can purchase any of the packages with up to 4 devices. This means that the person that purchased the package will hold the Wi-Fi account but this account is usable for up to 4 devices (even from different staterooms).
Refreshment Packages
For those looking to have some relaxing drinks onboard, you can consider getting the refreshment package. Deluxe refreshment packages include alcoholic beverages, milkshakes, coffees & more! This is a value-for-money package if you're looking to enjoy more than 5 drinks per day.
Note that each stateroom will only be provided 2 bottles of water throughout the sailing duration. However, you can refill your water at dining rooms, restaurants, Windjammers or Sorrento's Pizza.
The Key
For those looking to indulge in a more exclusive experience on Spectrum of the Seas without splurging on Suite rooms, you can consider getting The Key. This is how you can get priority access to the cruise terminal on boarding day, priority access to the theatre shows, private time slots for rock-climbing or Flowrider®, VOOM Surf & Stream 1 device and more benefits. This also means that you get to save on your Wi-Fi costs as well!
Boarding Day
ART Test
All guests regardless of age will have to undergo a COVID-19 ART test before boarding, and Royal Caribbean will send an email guide with the above three options.
For Fullerton, it is more expensive but ideal for big groups since the swab can be done simultaneously with a lower risk of contact exposure.
For QTCs/ CTCs, bookings have to be made individually on this website. I chose this option for my trip as it would have been difficult for my parents to use zoom for the Tele-ART. Depending on the location, the testing can be done as quickly as 5mins – my family of five were done in less than 25 minutes and we all got our results within an hour.
For Tele-ART, it costs as low as S$12 depending on which provider you choose. However, not only do you have to get your own test kit, there may be the possibility of delays due to unforeseen circumstances which can put a damper on your holiday. Be sure to prompt the provider again, if you happen to not be admitted into the breakout room after 15 minutes from your scheduled time.
Boarding Process
If you arrive on time for your selected arrival time, you would not have to queue at the carpark area and you can head straight into the terminal. For those that arrived earlier than their selected arrival time, you would have to queue up outside and wait for your arrival time.
It is recommended to select your arrival time as soon as the online check in opens up on the Royal Caribbean app to get the arrival timing that you desire.
Once you enter the terminal, prepare your passports, TraceTogether app (to show your ART results and vaccination status) and your sail pass (in the app) for a smoother boarding experience.
PS: Yes, the buffet at Windjammer is open for lunch dining on boarding day!
Free Dining
If specialty restaurants are not your cup of tea, fret not, there's still plenty of free dining options available during your sailing.
Seaplex Doghouse: variety of Hotdogs (Deck 15, aft)
Windjammer Marketplace: international buffet (Deck 14, aft)
Main Dining Room 3 & 4 or My Time Dining Room: ala-carte style restaurant (Deck 3 & 4, aft)
Soft Serve: available in Windjammer dessert section & Deck 14 (mid) under Sky Bar's staircase
Splashaway Cafe: poolside snacks (Deck 14, mid)
Sorrento's Pizza: pizza till 2am (Deck 14, aft; beside Windjammer)
[email protected]: savoury snacks (Deck 5, aft)
Room Service: free continental breakfast (orders have a US$7.95 service charge plus 18% gratuity; no charges for The Key holders & Sky Class guests)
For those staying in Suites, there are more free dining options for you such as Silver Dining (Star, Sky & Sea Class guests) and Golden Dining (Star & Sky Class guests).
To know which class you fall under, please refer to the table below:
Free Activities
Apart from endlessly indulging in food, there's also a wide range of activities to do onboard Spectrum of the Seas. From shows, movies, bumper cars, or even rock climbing, there is simply so much to do.
Bumper Cars: reservation required (once per sailing)
Star Moment: freestyle Karaoke
Shows: Two70 & Royal Theatre (reservation required; Gold Art Duo show is highly recommended)
Pool Outdoor Movie: first come first served, no reservations required (check app for movies that's available)
Rock Climbing: queuing system (private time slots available for The Key holders)
Solarium: free access to pool for adults only
Sports & Recreations: Basketball Hot Shots Competition, Open Play Soft Archery, Soccer Cross Bar Tournament & more
Events: Singles & Solo Travellers Get-Together, Men's International Belly Flop Competition & more
Flowrider®: free but chargeable for private sessions (queue up for the complimentary session)
To have a better understanding of what shows are available during your cruise, you can request for this flyer from the concierge.
Other Activities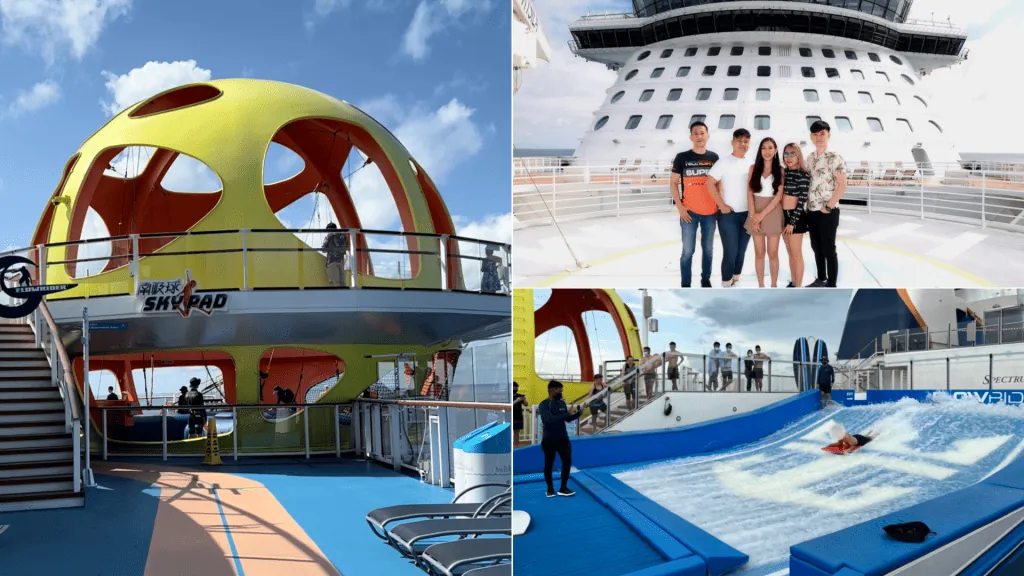 Other than the complimentary activities, there are also plenty of other activities that are chargeable but nonetheless worth it (in my opinion). I paid US$29.99 for a photo package for my family to have a 10-minute photoshoot at the ship's helipad (not accessible to guests), inclusive of our photos in three soft copies, three hard copies, and one photo frame folder.
Activities like iFLY, Northstar®, and Flowrider® are pretty popular and often highly booked as well. If you're looking to do any of these activities, do ensure you book it or queue for it early:
Ripcord® by iFLY®: US$40 for adults & child
Flowrider®: chargeable for private sessions
North Star®: US$20 per pax (elevate 100m above sea level for 360° view)
Sky Pad®: US$10 per pax (bungee trampoline experience)
I had an incredible time, and I'm very much looking forward to sailing again. Now that you know all you need to know about Royal Caribbean's Spectrum of the Seas, I will see you onboard next time!
Spectrum of the Seas by Royal Caribbean
Website | Facebook | Instagram
📍 Marina Bay Cruise Centre: 61 Marina Coastal Drive, Singapore 018947
For more lifestyle updates like this, subscribe to our Telegram channel at @confirmgood.