Hopping on a plane to India is one thing. But travelling to India by land? That's truly an adventure for daredevils.
Overland Adventures, an Indian travel company, has launched a 20-day Southeast Asia trip by bus. And it seems like the perfect quencher for the relentless travel drought that COVID-19 has brought on.
A bus ride over Southeast Asia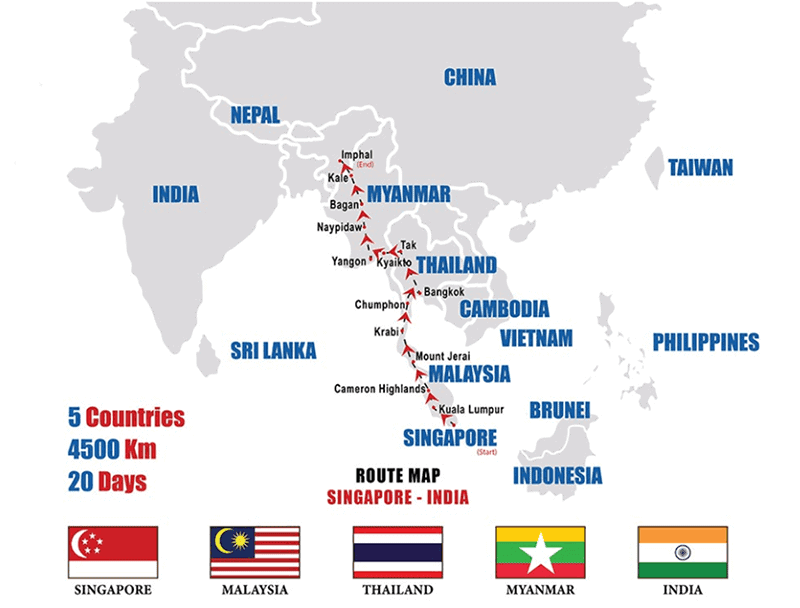 Though experts predict that travelling will only be declared safe in late 2021, the sign up for this 2,800-mile trip is enough to tease any restless traveler. Dubbed as Bus To Singapore, the expedition brings you through Singapore, Malaysia, Thailand, Myanmar and India. With five countries in 20 days, it's almost like making up for lost time.
The journey is tentatively set for 3 December 2021, where 20 fellow travelers will ride together for three weeks. Since the trip includes full-day stopovers at places such as Yangon, Krabi and Kuala Lumpur, there'll be more than ample time for you to explore.
White-sandy beaches that only Krabi can offer.
The gravity defying Golden Rock Pagoda, nestled in Mount Kyaikto, Myanmar.
But if you prefer going through a smooth custom and arriving at the comforts of your hotel ASAP, this experience may not be for you. The cross-border expedition means passing through multiple borders by land, and border crossings can be unpredictable and extremely slow.
To make up for that, the bus is equipped with business style seats, individual entertainment systems, and partitions for travelers to enjoy privacy. Plus, there's no need to worry if custom queues get long. Lavatories are available onboard, so it'll save you from uncomfortable situations.  
The Southeast Asia trip is currently priced at 8,900USD ($11,837). This includes accommodation, meals, guided tours, visa fees, snacks, wifi and even a book to read on the road.
Though the cost may be steep to some, travelling to India by land will definitely be a memorable story to tell.
To sign up, click here.
For those who can't wait for borders to open, check out this article for an immediate staycation instead.
I leave the office at 6PM on the . to rush home and play games. My boss has no control over me!!