You may have heard about the latest viral dessert that's been taking New York City, and now Singapore, by storm. First created by popular NYC bakery Lafayette Grand Café & Bakery, the Suprême, a round, cream-filled donut-croissant hybrid, or circular croissant, has spawned countless "copycat" versions.
Here are some local bakeries that have also jumped on the circular croissant bandwagon.
1. Swish Rolls
Swish Rolls' rendition of the circular croissants was the first to go viral in Singapore. The freshly baked "croissant moons", or Croons, are filled with cream in flavours like Loaded Pistachio (S$5.80) and Deep Dark Valrhona Chocolate (S$5.80).
Got less of a sweet tooth? Give the Ham 'N Cheeze (S$5.80), the only savoury option on the menu (for now), a try.
Do note that limited quantities are available daily and sell out quickly — pre-orders can be made here.
Facebook | Instagram | Website
📍 501 Bukit Timah Rd, #01-02B Cluny Court, Singapore 259760
🕒 9.30am–6pm (Daily)
2. La Levain
With a selection of over 50 artisanal bakes to choose from, La Levain is no stranger to the wondrous world of flaky and buttery croissants. The popular bakery's cream-filled circular croissants, the La Lebombz, promise an extremely enticing "explosion of flavours".
These croissants also deliver, appearance-wise — they look almost identical to the OG Suprême.
Choose between the Raspberry La LeBombz (S$6.20), Passionfruit & Mango La LeBombz (S$6.20), or Nutella La LeBombz (S$6.50). There's even a rich and decadent Truffle Cream Cheese La LeBombz (S$8.20) for those inclined towards savoury pastries.
La Levain bakes these babies in batches twice a day, with only eight croissants per flavour, so keep a close eye on their socials if you want to get your hands on some!
Facebook | Instagram | Website
📍 23 Hamilton Road, Singapore 209193
🕒 8am–6pm (Tue to Sun), Closed on Mon
Yeast Side
Yeast Side may be best known for its craft beer and sourdough pizzas, but did you know that they also have an impressive repertoire of cakes and bakes?
The cafe & bar has also branched out into circular croissants, or Swirls, which boast creamy custard and cream fillings.
Satisfy your pastry cravings with the Almond Swirl (S$8), filled with rum almond cream and topped with almond flakes, or the Vanilla Pistachio Swirl, a classic combination of vanilla pistachio custard and crushed pistachio.
I love the sound of the Black Forest Swirl — chantilly cream, wine-soaked cherries, kirsch, and dark chocolate ganache — it's definitely calling my name.
Do note that limited quantities of these freshly made pastries (exclusive to the Farrer Park outlet) are available daily.
Facebook | Instagram | Website
📍 2 Perumal Rd, #01-06, Singapore 218773
🕒 9am–11pm (Wed to Sun), Closed on Mon & Tue
Gamo
Gamo, a new Muslim-owned Japanese-inspired bakery, sells delectable pastries and entremets, including a moreish Kani Mentaiko Croissant and Strawberry Guava Mochi Tart.
The newest additions to the menu are their very own Croons, available in rotating flavours like Kaya, Goma (black sesame), and Hazelnut, which can be purchased in-house at the bakery.
Instagram
📍 231 Bain St, #01-75, Singapore 180231
🕒 10am–6pm (Tue to Sun), Closed on Mon
Keong Saik Bakery
Naturally, one would expect nothing less from the cult favourite Keong Saik Bakery, which has launched an adorable version of the viral circular croissants — Mini Crolls.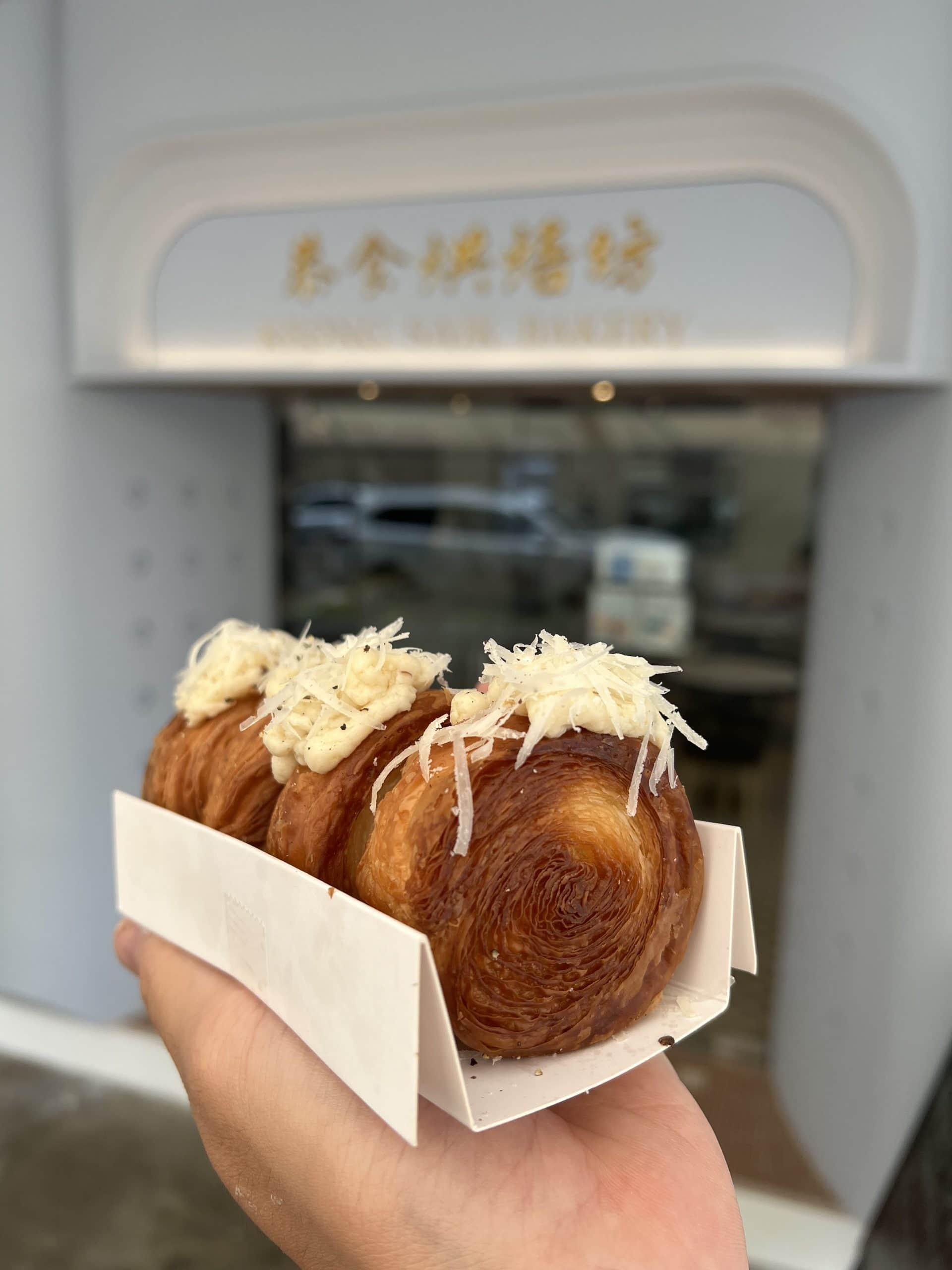 Expect fun flavours like Genmaicha, Pistachio Praline, and even Cacio e Pepe (sign me up for pasta-inspired croissant flavours any day). These crolls are priced at S$3.90 per piece (dine-in only), but they can also be purchased for takeaway (S$14 for min. 4pcs).
Facebook | Instagram | Website
📍  33 Keong Saik Rd, Singapore 089140
🕒 8am–8.30pm (Daily)
📍 44 Jln Merah Saga, #01-42, Singapore 278116
🕒 8am–8pm (Tue to Sat), 8am–7pm (Sun & Mon)
I foresee even more bakeries coming up with their unique takes on the viral circular croissants — updates will be made to this article accordingly.
For more lifestyle updates like this, subscribe to our Telegram channel at @confirmgood.