More and more people are turning to Chinese social media platforms for makeup tips and recommendations since Douyin makeup started trending — and one of the most notable trends under this umbrella are the super full, pouty and kissable lips. 
To help you attain those pretty puckers, here are 5 viral Chinese lippies trending on Douyin and Xiaohongshu that you can get in Singapore for under S$12!
1. Flortte First Kiss Stick Love Jelly Lipstick
Tinted lip balms are really in right now (hello, Clinique's viral Black Honey Almost Lipstick) — and it's not difficult to see why. They create the most juicy and kissable looking pouts that look almost like jelly while adding a nice pop of colour for good measure.
If you're looking for a good tinted lip balm that's not only affordable but also has a moisturising finish and looks absolutely adorable (this one is even shaped like a heart!), check out Flortte's First Kiss Stick Love Jelly Lipstick!
Available on Shopee.
2. Judydoll Mirror Ice Tea Jelly Light Lip Glaze
Not only does Judydoll's Mirror Ice Tea Jelly Light Lip Glaze sound delicious, it can make your lips look and smell yummy too!
Formulated with hydrating ingredients, this lippy has a watery consistency that gives your lips a smooth and shiny finish. And here's something unique about this product — it smells like tea!
Available on Shopee.
3. Colorkey Lip Gloss Airy Long Lasting Matte Liquid Lipstick
If you've been trying to pull off the popular pillow lips look, then you'll need a really good matte lippie that's smudgeable and light on the lips (the whole point of pillow lips is to have velvety, kissable lips so you definitely don't want something that would emphasise those texture and lines on the lips!).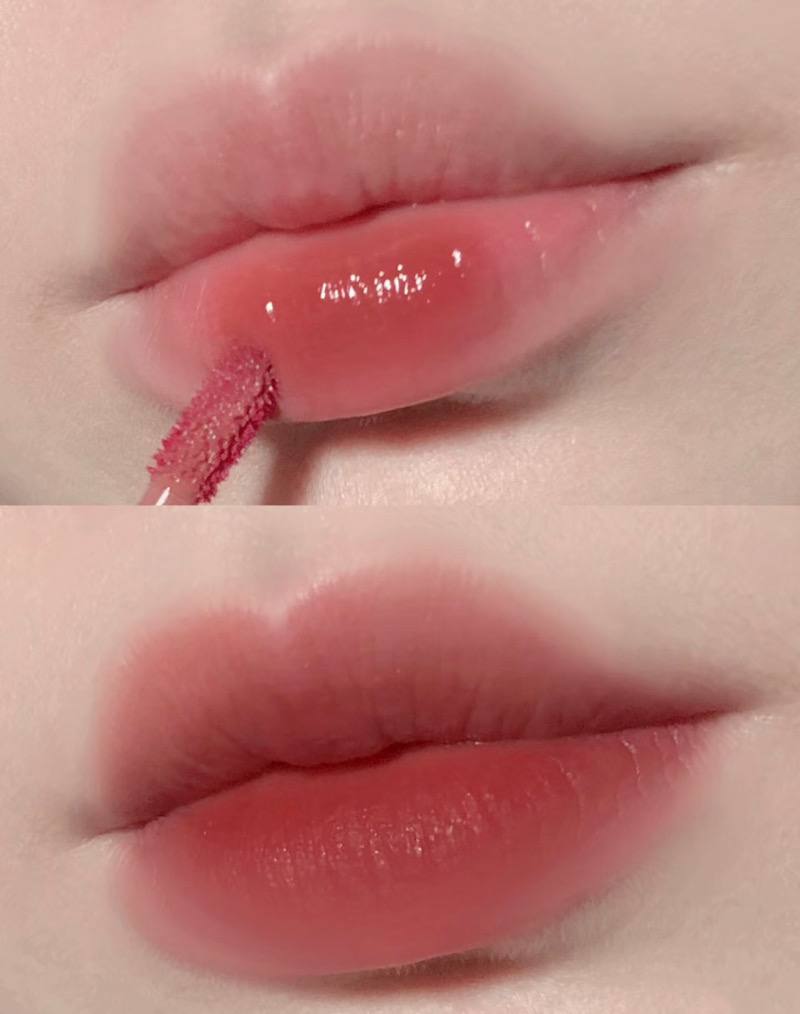 Moisturising and long-lasting, Colorkey's Airy Long Lasting Matte Liquid Lipstick is just the perfect pick for this effect — and it feels buttery soft on the lips!
Available on Shopee.
4. Focallure Jelly-Clear Dewy Lip Tint
Glossy and dewy lips are gorgeous, but they often come with one pesky downside — they're always sticky and lose their shine so easily.
Now, thanks to Focallure's Jelly-Clear Dewy Lip Tint and its long-lasting and quick-drying formula, you can now have the perfect glassy pout all day! Because it's a lip tint, it also stains your lips so you'll have a pop of colour even after wiping it off!
Available on Shopee.
5. Gogotales Lucky Bear Lip
If you're a sucker for all things cute, then Gogotales' Lucky Bear Lip is definitely going into your cart. Formulated with intensely hydrating ingredients completed with a super glideable and buttery texture, this lippy is perfect for those who want a nice and healthy pout.
Plus, the packaging is also insanely adorable!
Available on Shopee.
Ready to transform your lip game once and for all? Add some of these selections to your cart now for an easy start!
For more lifestyle updates like this, subscribe to our Telegram channel at @confirmgood.