Does anyone remember the popular Artbox night market in Bangkok (before it closed, that is)? Artbox might no longer be there, but you can now head on over to Jobox Food Truck Park in Johor Bahru instead!
Featuring fairy lights and other fun light installations, there are several IG-worthy spots to take your photos. But of course, the main highlight of this new food truck park is the myriad of street food available from local eats like roti john to tacos, pasta and more from the food trucks parked in the area.
Opened from Thursdays to Tuesdays from 6pm to 12 midnight (closed on Wednesdays), this is the next new place to hit up for dinners or suppers.
Wondering exactly what's available here?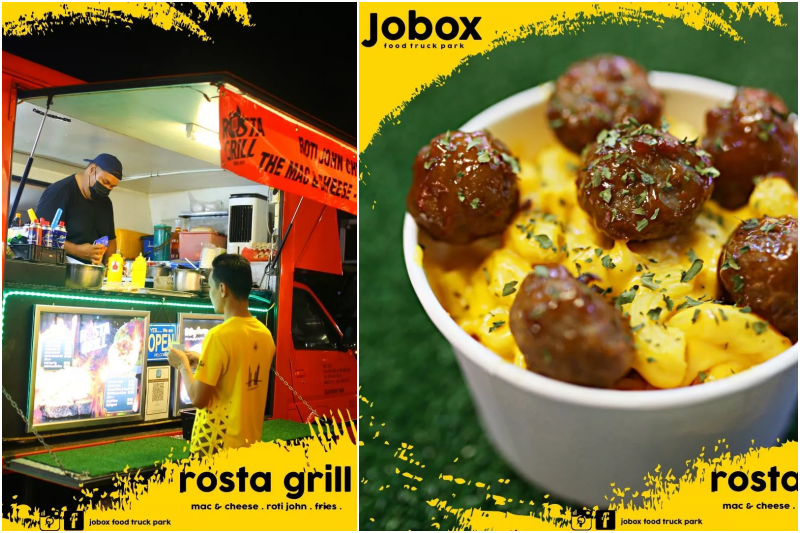 Make your way to Rosta Grill where you'll find an appetising selection of Mac n' Cheese, Roti John and Fries, then move to Nana Janggut for a sampling of Malaysian Char Kuey Teow. Otherwise, have your fill of Nasi Lemak or Bubur Ayam at Mak Ngah.
At Loklai you'll also find Oden, Lok Lok, and Yong Tahu (yong tau foo) – especially good if you're craving some good old lok lok!
For something a little less local, mosey on down to Tacoloco with its array of super cheesy Tacos, Nachos and Pasta! For those who can't resist a taco, this will surely hit the spot.
Had enough of the savouries? Enjoy sweet treats courtesy of Donut Squad, Yann Kopi and Shake the Coconut!
First up, take your pick of donuts from Donut Squad with donut flavours ranging from Choco Loco and Red Velvet to Sausage Donut. Then head to Yann Kopi and order a freshly brewed Toffee Nut Latte or Choc Frappe.
In the mood for a shake instead of a coffee? You'll absolutely love the colourful fruity shakes at Shake the Coconut with coconut, mango and dragonfruit shake options available.
With a wide variety of eats and treats available at Jobox, remember to put it on your list for your next jaunt into Johor Bahru. And if you've never checked out one of those popular food truck hotspots in Kuala Lumpur, this will be a good introduction to your first food truck park experience!
PS: While there's no shopping available at this food truck park, you can easily head over to Angsana Johor Bahru Mall that's just around the area to get some shopping in!
Jobox Food Truck Park
Facebook | Instagram 
📍 Plaza Angsana, Padang C, 81200 Johor Bahru, Johor, Malaysia
🕒 6pm – 12am (Thu to Tue) 
For more lifestyle updates like this, subscribe to our Telegram channel at @confirmgood.