It seems like it was just a couple of months ago that everyone was scrambling to Jurong Point to try the viral Mister Donut bakery's yummy donuts— and many were met with excruciatingly long queues because the pop-up was only going to be there for a limited time.
But don't worry — now, you no longer have to wait four hours just for a taste of this famous donut shop's doughy goodness as they've finally opened a permanent store in Singapore!
Located at Junction 8 in Bishan, the takeaway kiosk (sorry, no dine-in) will offer 20 different flavours, with prices ranging from S$2.30 to S$2.50 per donut.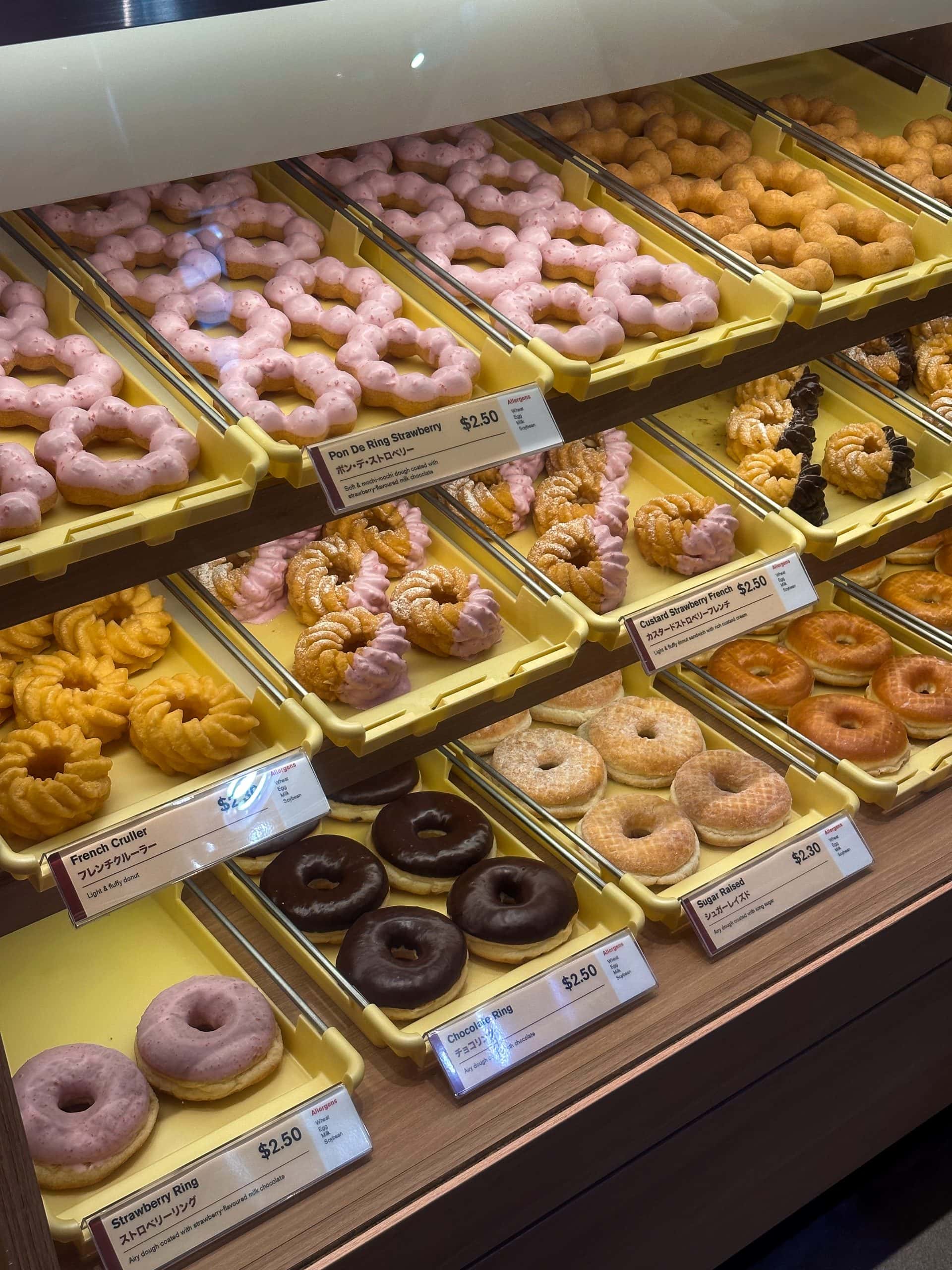 You can get six donuts for S$14, or 10 for S$23 as part of a bundle deal, but each customer is limited to a maximum of 10 donuts per purchase.
As anticipated, hot favourites like their best-selling chewy, moist and highly addictive Pon de Ring donuts are available, in flavours like Original (S$2.30), Plain (S$2.30), and the Singapore-exclusive Chocolate (S$2.50).
Having tried all five donut variations, the Pon De Ring, with its light and chewy mochi-like texture, is definitely a must-try. If you can only get your hands on one type of donut, this is it.
Go for the crunchy cookie-style Old Fashion (S$2.30), another of Mister Donut's signatures, if you prefer your donuts on the denser side.
Fans of cream-filled yeast donuts will enjoy the fluffy Custard Cream (S$2.50) — we certainly preferred it to the Angel Cream (S$2.50), which comes filled with a slightly greasy- tasting whipped cream (that left a not-so-pleasant waxy aftertaste).
And if cake donuts are up your alley, the Strawberry Chocolate (S$2.50), yet another Singapore-exclusive comprising moist chocolate dough coated with strawberry-flavoured milk chocolate, will definitely tickle your fancy. Do note that it's way sweeter as compared to the other flavours!
During the official opening, do keep an eye out for limited edition gifts, like folders and sticker sheets, that you can take home with any purchase. Oh, and a second outlet in the central area is in the works, so stay tuned!
Can't wait to sink your teeth into these delectable donuts? Mark your calendars for 21 May, and be prepared to queue.
Mister Donut Singapore
Instagram
📍 9 Bishan Place, #02-27A, Junction 8, Singapore 579837
🕒 11am-8.30pm (Daily), while stocks last
For more lifestyle updates like this, subscribe to our Telegram channel at @confirmgood.
Photos by Eunice Lim