Cafe Monochrome is a new 2D cafe that deserves to be first on our cafe-hopping list — after dining-in becomes an option again.
Most of the themed cafes in Singapore are based on pastel colours or pretty decor, but Cafe Monochrome does away with just black and white perspective lines that make it look like it was plucked out of a comic book.
Located near Jalan Besar MRT, the cafe also has a 1-for-1 promotion on their mains until 13 June. 
Cafe Monochrome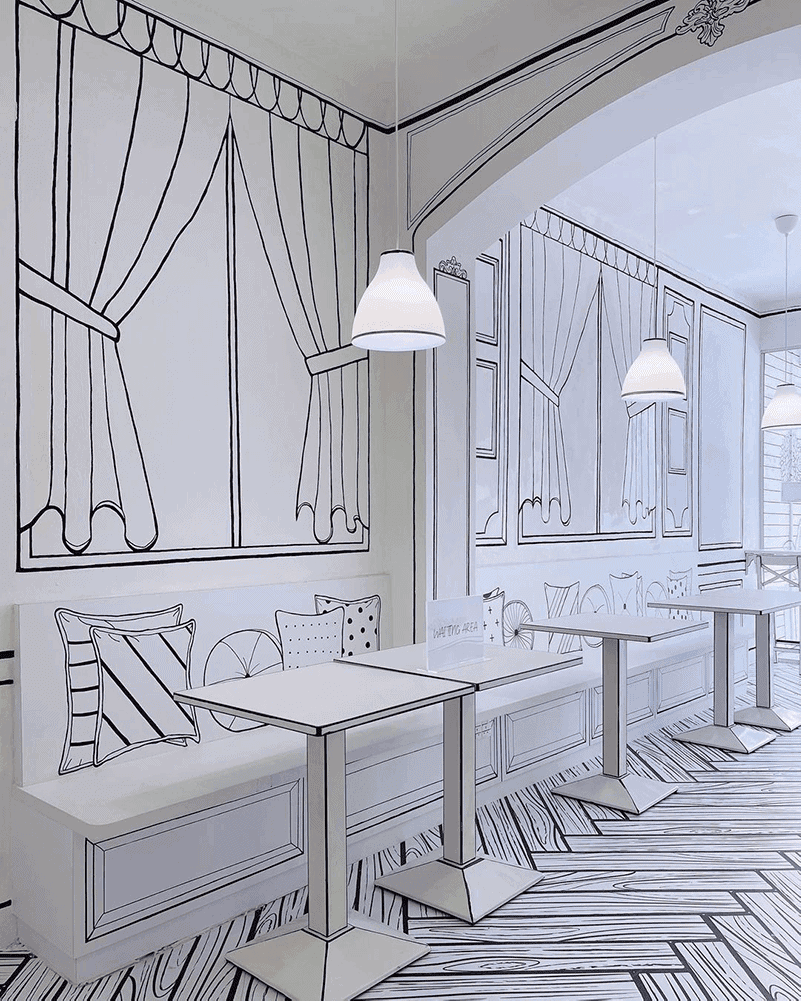 One step into Cafe Monochrome and you'll be transported into a 2D world. Besides the illustrations on the wall, the tables are also designed with lines that make them look like part of the sketch. 
The cafe serves up western fusion meals and there's also an ice cream counter for dessert. Though dining-in is suspended, you can still take away your meals at this new cafe. From now till 13 June, 10am to 8pm, the cafe is having a 1-for-1 promotion on all mains.
For spicy food lovers, the Spicy Baked Fish (S$12) will be right up your alley. A savoury baked tilapia fish is topped with copious amounts of chili and placed on fragrant truffle rice. 
Other brunch sets and a variety of pastas are available too. The Monochrome's Brunch (S$15) is a hearty meal of a crispy waffle served with bacon, sausage and a sunny side up.
If you're not over the mentaiko craze, there's also the Mentaiko Pasta (S$13) and other Japanese dishes such as Smoked Duck Donburi (S$12) and Smoked Bacon Donburi (S$12).
The mains are already affordably priced from S$12 to S$16, but the promotion makes it even more pocket-friendly.
Cafe Monochrome offers a gelato counter with 12 unique flavours, but we recommend trying the Youtiao Ice Cream (S$6.50), a Singaporean twist on churros and ice cream. You can choose between a traditional youtiao or a charcoal-flavoured one. Glazed with maple syrup, this sweet treat is perfect for beating the heat. 
A single scoop of ice cream costs S$3.50 while a double will set you back S$6. There's also waffle with ice cream for S$7.
The cafe also sells speciality coffee and other desserts such as Lava Cakes (S$7) — a great midday pick-me-up.
Cafe Monochrome
Facebook | Instagram
📍 216 Syed Alwi Rd, Singapore 207749
🗓️ 10am–10pm (Daily)

For more lifestyle updates like this, subscribe to our Telegram channel at @confirmgood.
I leave the office at 6PM on the . to rush home and play games. My boss has no control over me!!