Thanks to Chiak Kway Chap, there's no need to travel all the way to Bishan for Kway Chap anymore now that we've found this place. If you're looking for a new Kway Chap place to try, consider heading over to Geylang!
We actually stumbled on Chiak Kway Chap one night when the queue was way too long at Leong Kee (Klang) Bak Kut Teh (hands up if you love herbal Bak Kut Teh!) and we were too hungry to wait, so we settled here for a meal instead.
Despite being pretty new and little known, the food was surprisingly delicious for a random find. The Braised Pork Trotters was so tender and well-cooked, with the savoury meat easily falling apart, tasting juicy and melty all at the same time.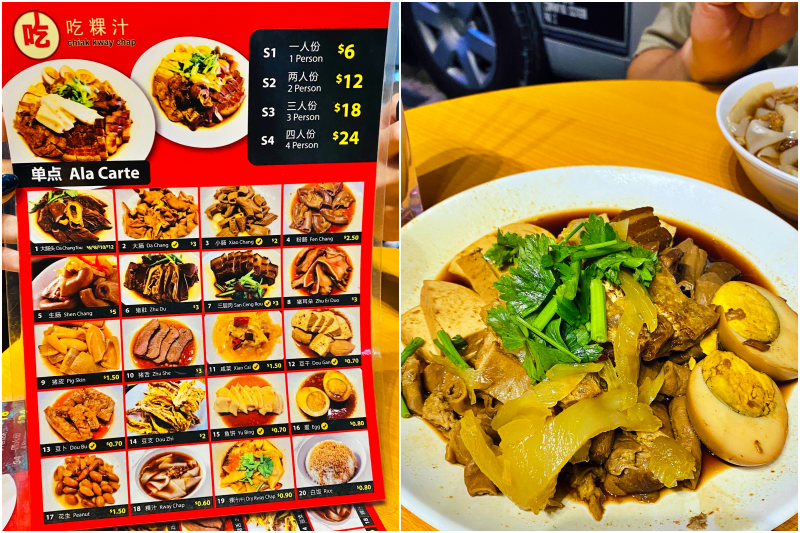 Although their à la carte menu offered different variations of pig intestines, three-layer pork, beancurd, salted vegetables and others – we kept it simple and ordered a set for two at S$12, and a plate of the Braised Pork Trotters at S$6.
The portions were perfectly sized and the Kway Chap platter oozed a subtle but slightly distinctive herbal taste as well. Not too rich nor too salty, it's a great option if you're not into meals that sit heavily (and uncomfortably) in the belly after you eat.
Apart from their normal à la carte menu, don't forget to flip the menu over and check out six other must-try highlights including the aforementioned Braised Pork Trotters, Braised Duck (S$6) and Thai Style Cockles (S$10). If you're a fan of duck and cockles, definitely give those a shot.
Really affordable, delicious, and open till 12 midnight from Sunday to Thursday, and 2am from Friday to Saturday, this is one supper spot to put on the list for the next time you're craving a good Kway Chap.
Chiak Kway Chap
Facebook | Instagram | Website
📍 257 Geylang Rd, Singapore 389313
🕒 12pm to 12am (Sun-Thu), 12pm to 2am (Fri-Sat)
For more lifestyle updates like this, subscribe to our Telegram channel at @confirmgood.