Love cats? You might want to add this beach to your itinerary when you visit Penang. Apart from being a food haven, Penang is also home to Cat Beach Sanctuary which is littered with plenty of cute and friendly kitties – yes, a beach full of cats. Forget cat cafes, we have the purffect place for you to check out. Cue the endless Puss in boots' eyes.
Located in the fishing village of Teluk Bahang, Cat Beach Sanctuary is home to over 300 cats, all of whom have been rescued from various situations – and in various conditions too. Run by nonprofit organisation, Cat Lovers International Society, the team hopes to provide a loving environment to improve the welfare of stray and abused cats in Penang.
Apart from just providing these little kitties with a place to roam freely and play with their own kind, the team at Cat Beach Sanctuary will also provide veterinary services to the cats.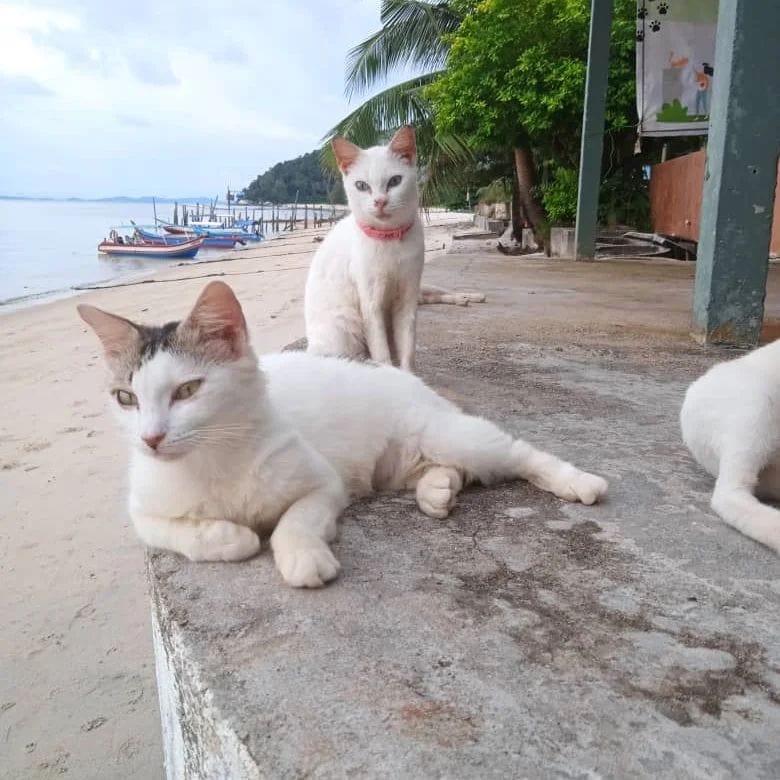 But you must be thinking, why cat beach? In 2014, Penang imposed a "Zero Stray Policy", which prompted a group of cat-loving volunteers to band together and set up this sanctuary for cats – kudos to them!
The beach is open to the public and the best time to visit is on weekends. There, you'll get to mingle with the little kitty cats – don't worry, most of them don't bite. Apart from playing with the cats, you'll also get the chance to feed the cats, make a cat toy or participate in the craft-making workshop, and even try your hand at grooming a cat – under the guidance of trained professionals of course.
You can also unleash your inner Leonardo Da Vinci and paint your own meow-na lisa at the cat painting workshop. Although, no promises that the cat will stay still long enough for you to paint it – speaking from experience.
Just like how you can't leave the zoo without seeing the baby animals, the same rules apply here. You have to make a stop at the Kitten Nursery where your heart will melt at the sight if the tiny baby kittens fast asleep. If you're lucky, you might be offered a chance to bottle-feed them.
After all the fun is over, you can unwind by the beach, get comfy with the cats and watch the sunset. Remember to stop by the 2nd Chances Charity Store before you leave to bring home a souvenir to remember your time here. You can also bring home your favourite kitty cat as the team are always welcoming adopters. Although bringing home a souvenir versus a live animal will require different logistical arrangements.
Otherwise, if your dream is to retire with your 10 cats, you can always volunteer with Cat Lovers International Society. They welcome volunteers both online and offline. You can contact them via social media for more information.
Looking for the purrfect weekend getaway activity? Check out Cat Beach Sanctuary in Penang!
Cat Beach Sanctuary Penang
Facebook | Instagram | Website
📍778 Jalan Teluk Awak, MK 2 Teluk Bahang 11050, Penang, Malaysia
For more lifestyle updates like this, subscribe to our Telegram channel at @confirmgood.