Looking for a gorgeous cafe to bring your date to? Or want to have a relaxing day out with your furkid? You can do both of those things at a gorgeous new cafe located at Fort Canning, Le Jardin.
Opened by the same people behind the IG darling cafe Cafe De Nicole's Flowers, known for its striking floral arrangements and fairy-tale-like vibes, you can expect more of that same delicate touch at their sister cafe.
Not only is it painfully beautiful but Le Jardin is also one of the rare aesthetic cafes that are pet-friendly.
Le Jardin's alfresco dining area feels like an idyllic European backyard garden, decorated by elegant marble tabletops, rustic wooden chairs, and tasteful splashes of dainty flowers to give it that pop of colour.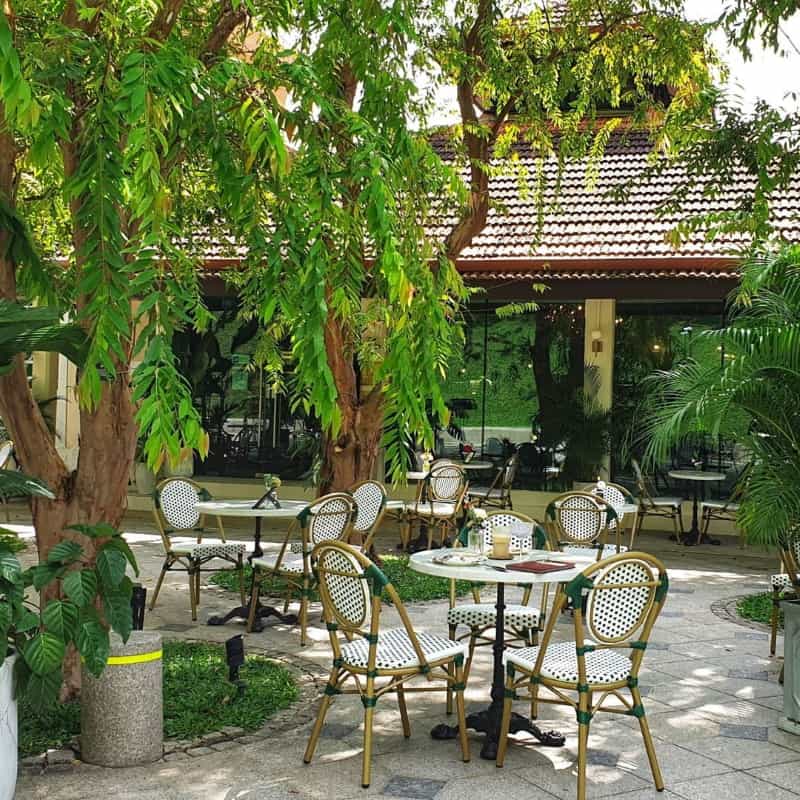 But the inside comes with a more luxurious victorian-style furnishing, populated by overhanging chandeliers and vibrantly coloured plants dangling from the ceiling.
While the term "IG-worthy cafe" is something overused by many people, even me, Le Jardin is probably the new cafe to head to if you want a gorgeous backdrop for your OOTDs.
With the current dining restrictions from 24 Sep 2021, they have tweaked their brunch hours to 9am to 3:30pm on weekdays and 9am to 12:30pm on weekends, while lunch is available from 12pm to 3:30pm daily with the last order at 3pm, and dinner is available from 5:30pm to 9pm daily with the last order at 8:30pm.
You can find hearty brunch items on Le Jardin's menu including the unique Croissant Waffle (S$23.90), the crispy potato pancake Potato Rosti (S$18.90), and the classic sweet treat of Fig & Salted Caramel French Toast ($S21.90).
But if you need something more substantial than brunch, more filling mains such as Margaret River Black Angus Ribeye (S$42), Forest Mushroom Tagliatelle (S$20), and Argentinian Red Shrimp Tagliatelle (S$22).
To complete your relaxing day out in Le Jardin's alfresco garden, get some of their cool drinks to sip on while you bask in the gentle sunlight.
Popular caffeinated choices include Sea Salt Caramel Latte ($10.90) while the beautifully decorated The Purple Fntasy ($11.90) smoothie will enchant most sweet potato fans with its smooth purple-hued body.
Or if you're looking to immerse in the posh European cafe ambience, get some of Le Jardin's tarts for an afternoon high tea sesh.
You can live the high life while sipping on a cuppa and slowly indulging in bakes including Pistachio Entremet (S$10.90), Lemon Meringue tart (S$11.90), and Fig & Raspberry Tart (S$12.90).
Le Jardin Cafe
Facebook | Instagram
???? 5 Cox Terrace, Level 2, Fort Canning Arts Centre Singapore, Singapore 179602
????️ 9am–3:30pm, 5:30pm–9pm (Tue–Sun)
For more lifestyle updates like this, subscribe to our Telegram channel at @confirmgood.
The guy who will go on a 30 minute monologue about artisan coffee when you ask if they want Starbucks.