Anyone with serious ramen cravings recently? The cold rainy season, coupled with 2 years without a trip to Japan, has got us hunting for the best ramen shops in Singapore to warm us up during gloomy days and also to curb our wanderlust pangs.
What makes ramen so enjoyable is that it's no-frills, straightforward, and just a supremely comforting bowl of piping hot soup. Not only is it rich and flavourful, but the diversity of flavours is staggering too.
If you're bored of slurping on the same old Tonkotsu broth from your favourite spot and want to know where to find other popular ramen joints and hidden gems in Singapore , we've come up with a list of the best ramen shops in Singapore worth those calories.
Menbaka Fire Ramen
You've probably seen this on your social media feed, being one of the most IG-worthy ramen places in Singapore. Customers are treated to a glorious pyrotechnic show at Menbaka, where the chef pours hot negi oil to make the ramen burst into bright flames right in front of them.
Their signature Shoyu Fire Ramen (S$17.90) is made by simmering chicken bones for hours to extract the flavour, then it's topped with lavish amounts of negi (green onion) to give it a sharp, fragrant punch.
Make your reservations here.
Facebook | Instagram
📍 8 Grange Rd, #05-03 Orchard Cineleisure, Singapore 239695
🗓️ 12pm–10pm (Tues–Sun)
Enishi Ramen
One of the best-kept secrets in Singapore, this ramen hidden gem only has 2 pretty unique items on its menu — an intensely rich Dan Dan Noodles (S$17.90) and a delicate Dashi Broth Ramen (S$15.90). While not widely known, Enishi is an authentic brand that originated from Kobe, and is even on the Kobe Michelin guide.
Most people go there for their Dandanmen, an umami atomic bomb that explodes with hefty cashew nut and sesame flavours. But my personal preference is for the Dashi's gentle but deceptively rich profile, scratching the itch for a strong broth without feeling too greasy.
Facebook | Instagram
📍 10 Anson Rd, #02-85A International Plaza, Singapore 079903
🗓️ 11am–3pm, 6pm–9pm (Mon–Sun)
Hakata Ikkousha
As an international brand with over 40 outlets all over the world, Ikkousha's quality and authenticity is up there with the best. Their specially-made Hakata style ramen are thinner than the average ramen shop in Singapore, which gives them a springier texture.
Those sleek strands are perfect for the creamy broth of their Tonkotsu Standard (S$12/13) to cling onto so every slurp is loaded with porky richness. In addition to the ramen, they are super popular for their birthday gyoza promo giving you the same number of gyozas as your age.
Facebook | Instagram
📍 30 Victoria St, #F1-07, Chijmes, Singapore 187996
🗓️ 11:30am–10pm (Mon–Sat), 11:30am–9pm (Sun)
📍  Blk 7 Tanjong Pagar Plaza #01-104B, Singapore 081007
🗓️ 11:30am–10pm (Mon–Sat), 11:30am–9pm (Sun)
Torasho Ramen & Charcoal Bar
If you and bae can't agree on what ramen to eat, don't worry. Torasho is where you can go for an eclectic range of ramen choices, with tight execution on various styles of ramen including Tonkotsu Broth, Dipping Ramen, and Dry Ramen. You can have it either soaked or dry — your choice.
While the Tonkotsu Ramen (S$12) is undoubtedly good, it's their indulgent Truffle & Wagyu Dry Ramen (S$20) that you have to get a taste of. It's an indulgent and luxe "bak chor mee" of sorts, chock full of beefy flavours and slickly coated with sauces — you'd probably find yourself slurping it down like a madman.
Make your reservations here.
Facebook | Instagram
📍 32 Tras St, Singapore 078972
🗓️ 12pm–3pm, 6pm–10:30pm (Sun–Thurs), 11:30am–3pm, 5:30pm–10:30pm (Fri–Sat)
Ramen Keisuke Lobster King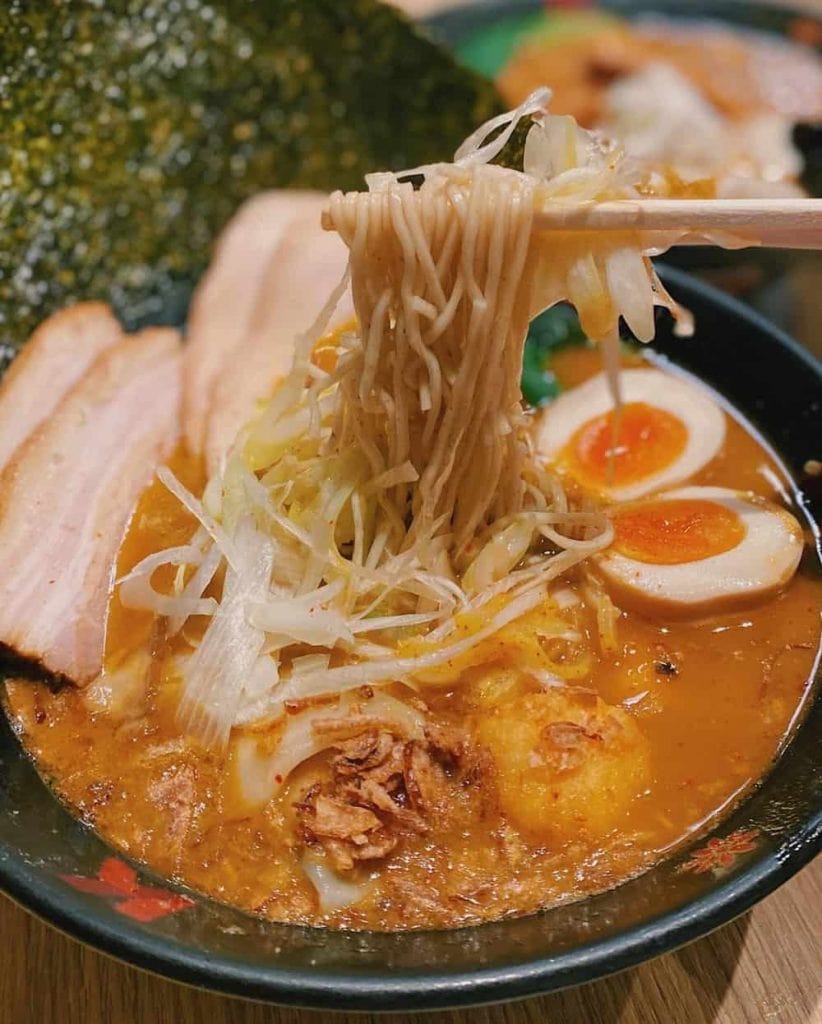 If there's one Keisuke outlet worth the queue, it's their lobster broth concept at Clarke Quay. Perhaps one of the most unique and luxurious ramen broths in Singapore, these are decadent bowls of seafood richness. They come with their iconic free-flow beansprouts and eggs too if you need even more convincing.
Besides the velvety broth that comes with a nice dose of crustacean sweetness, each bowl comes with a good deal of ingredients. Order the Special Lobster Broth Ramen (S$20.90) for the complete experience, including both Prawn Wontons and Prawn Balls.
Facebook | Instagram
📍 3C River Valley #01-07 The Cannery S179022
🗓️ 11:30am–2:30pm, 5:30pm–10pm (Mon–Thu, Sun), 11:30am–2:30pm, 5:30pm–10:30pm (Fri–Sat)
Kajiken
Ramen doesn't have to be just soup-based — there is also Mazesoba, a very popular dry-style ramen that many in Singapore liken to a "Japanese bak chor mee". Kajiken is the first in Singapore to sell these sauce-filled bowls of ramen which give the same comforting gratification if you're not in the mood for soup.
We recommend going for their signature Taiwan Mazesoba Nagoya Style (S$13.80) that comes with a medley of minced pork, soft boiled egg, seafood and chopped vegetables. It's got everything from texture to a tummy-warming blend of mild spice and saucy umami.
📍 1 Tras Link, #01-03 Orchid Hotel, Singapore 078867
🗓️ 11am–9:30pm (Daily)
📍 60 Paya Lebar Rd, #01-86 Paya Lebar Square, Singapore 409051
🗓️ 11:30am–10pm (Daily)
📍 10 Sinaran Dr, #02-03 Square 2, Singapore 307506
🗓️ 11:30am–10pm (Daily)
📍 181 Orchard Road, Hokkaido Marche, #B2-11 to 29 Orchard Central, Singapore 238896
🗓️ 11:30am–10pm (Daily)
Bari Uma
This is one of my personal favourites for Tonkotsu ramen in Singapore because of how sexily thick the broth is. If you thought your regular Tonkotsu was thick, you gotta get a mouthful of their viscous, almost bisque-like broth.
While such a thick broth may sound very overwhelming, my bowl is licked clean every single time — it's that addictive. Consistency is also their strong suit, with every component in their Ajitama Uma (S$14.90) executed well, especially the smoky and tender grilled char siu.
Facebook | Instagram
📍 19 Tanglin Road, #B1-01/02 Tanglin Shopping Centre, Singapore 247909
🗓️ 11am–8:15pm (Daily)
Ramen Nagi
Ramen Nagi is a ramen joint with many fans in Singapore, due to their use of premium ingredients air-flown all the way from Japan in each bowl of ramen. Plus, their unique flavours are something to watch out for.
Besides the traditional and classic Butao King (S$13.90), there are also the spicy Red King (S$15.90) and black-garlic loaded Black King (S$15.90) But if you're here with an adventurous palate, definitely go for the Green King (S$15.90) that's an innovative medley of parmesan cheese, basil and, olive oil.
Facebook | Instagram
📍 Suntec City Tower 2, North Wing, #01-512/513, 038989
🗓️ 11am–9pm (Sun–Thurs), 11am–9:30pm (Fri–Sat)
📍 2 Orchard Turn, #B4-54, Singapore 238801
🗓️ 11am–9pm (Sun–Thurs), 11am–9:30pm (Fri–Sat)
Ramen Bar Suzuki
Another hidden gem that non-Japanese aficionados might not know about. Suzuki is one of the longest-standing ramen shops in Singapore, open since 2012 and has a loyal crowd of Japanese expat customers — that's how you know it's authentic.
For good flavour, the Pure White (S$12.90) is a good choice for a normal Tonkotsu but the Jet Black (S$13.90) beats it handily with its potent dose of squid ink, black miso and black garlic. They even have a unique Whisked Tonkotsu (S$13.90) that comes with foamy whisked broth.
Facebook | Instagram
📍 61 Circular Rd, #01-01 Singapore049415
🗓️ 11am–3pm, 6pm–10pm (Mon–Thur), 11am–3pm, 6pm–10:30pm (Fri) 11:30am–3pm, 6pm–10pm (Sat)
Ramen Matsuri
Another Boat Quay hidden gem that ramen lovers will be more familiar with, Matsuri is actually run by the same people who went on to open the successful Kajiken brand. So they definitely know what they're doing when it comes to ramen.
What's special about Matsuri is the collagen-rich chicken broth in their Signature Torikoku Ramen (S$13.50) that is such a blissful treat when it gracefully slides down your throat. Either that or dig into their Mazesoba (S$10.80), it's not far off from Kajiken.
Facebook | Instagram
📍 7 North Canal Rd, Singapore 048820
🗓️ 11:30am–3pm, 6pm–10pm (Mon–Fri), 11:30am–3pm, 5:30pm–10pm (Sat), 11:30am–3pm, 6pm–11pm (Sun)
Sapporo Misono
Keisuke's new Sapporo Misono has impressed many people with its unique butter miso ramen that not many people have seen — a wildly different type of broth that you won't find at many other ramen shops in Singapore.
The Hokkaido Sapporo Miso Ramen with Butter & Corn Special (S$17.90) is wildly different in taste profile for ramen — it's rich and sweet but with a gratuitous dosage of smoke and a dollop of butter to give it some creaminess.
Sapporo Misono
Website | Facebook | Instagram
📍 9 Raffles Boulevard, #02-15 Millenia Walk, Singapore 039596
🗓️ 11.30am–3pm, 5pm–9pm (Mon–Fri), 11.30am–9pm (Sat, Sun)
Menya Kokoro
Known as the biggest Mazesoba chain in Japan, Menya Kokoro is different from Kajiken in that their Mazesoba is done Tokyo style instead. The noodles used in their mazesoba is way thicker and feel closer to Jjajyeongmeon than it is to Bak Chor Mee, which is the local dish it is commonly compared to.
But it's not as cloying as a bowl of Jjajangmyeon that some may struggle to finish on their own. Plus each bowl of Tokyo Mazesoba (S$10.80) comes douses in a rich minced meat sauce and ground saba fish to give it a more meaty flavour. Some might prefer the more balanced veggie to meat ratio here than Kajiken's negi spam.
Facebook | Instagram
📍 Multiple outlets
Ramen Hitoyoshi
Say you're a fan of Keisuke Tonkotsu King but also allergic to those tedious queues that form outside during meal times, where can you go? The closest substitute for that in Singapore will be Ramen Hitoyoshi, which is opened by ex-cooks from Keisuke.
And honestly, they aren't that far off in terms of quality. A thick and robust soup at its base, springy noodles, and a nicely charred aburi char shiu make this a solid ramen option choice. While they don't offer free-flow eggs like Keisuke, the sweet corn are equally nice to nibble on while you wait for your piping hot ramen to arrive.
Facebook | Instagram
📍 Multiple outlets
Nantsuttei
Ever heard of black garlic ramen? A few ramen places offer it in Singapore but Nantsuttei, a hidden ramen shop at level 7 of Orchard Central, specialises in the fragrant and garlicky variety of ramen.
Nantsuttei pours in a special blend of black garlic and sesame oil into every bowl of their Nantsuttei Ramen (S$12) for that punchy depth and taste profile distinct from most other tonkotsu broths out there.
Facebook | Instagram
📍 181 Orchard Rd, #07-12/13 Orchard Central, Singapore 238896
🗓️ 11am–10pm (Daily)
Tsuta
Famously known for being the first ramen shop to get one Michelin star — a huge feat for a humble ramen shop — Tsuta has become a mainstay of Singapore's ramen scene ever since it landed on our shores back in 2016.
While their queues aren't as crazy as they were before, they still serve very hearty bowls of Shoyu Soba (S$18) with dashi broth that will warm your tummy right up. Light but with some depth, it comes with an intoxicating kiss of truffle to keep your palate excited.
Facebook | Instagram
📍 Multiple outlets
ForFor more lifestyle updates like this, subscribe to our Telegram channel at @confirmgood.