Eng's Wantan Noodles in Tanjong Katong is a stall famous for many things — great wanton mee, spicy chilli, and their iconic green bowls. Now, they're a subject of a suspension due to customers getting sick from their food.
The popular Tanjong Katong branch of Eng's Wantan Noodles had been hit with a suspension that will start from May 18. This came as a result of thirteen customers experiencing gastroenteritis symptoms.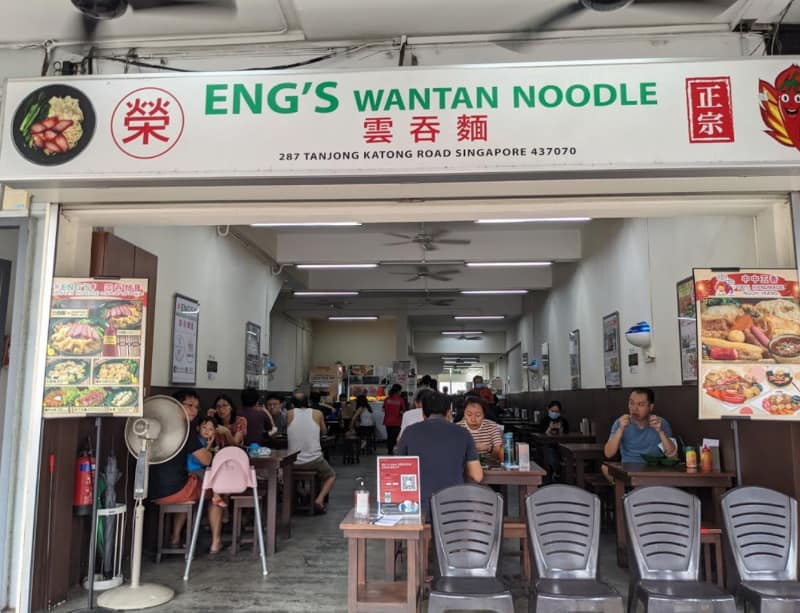 Customers who fell ill were linked to the shop at Tanjong Katong and had eaten food from the outlet between May 14 and 16. Starting from May 18, the outlet's operations will be suspended until further notice.
An unfortunate situation as this coincided with Eng's Wantan Noodle's 3rd year anniversary at the Tanjong Katong outlet, where they offered a 1-for-1 promo in celebration.
The wanton mee brand is most famous for being one of the two famous wanton mee outlets in Tanjong Katong. Both outlets are opened closed to each other and known to have a fierce rivalry.
In contrast to their rivals Eng's Char Siew Wantan Mee's white bowls, Eng's Wantan Mee are iconic for their green bowls.
Food handlers and the on-site food hygiene officer will be required to re-attend and pass food safety courses before they can resume work as food handlers.
Eng's Wantan Noodles will also have to undergo a thorough cleaning and sanitisation of their premises. So diners can be assured that their equipment and utensils are safe when they re-open from the suspension.
It's not the first time that Eng's Wantan Noodles has met with a suspension due to hygiene mishaps. Their Northpoint City outlet was also suspended earlier this year.
The previous incident saw twenty-six customers falling to gastroenteritis symptoms, compared to the current thirteen. Their Northpoint City outlet has reopened since.
"SFA will not hesitate to take firm action against anyone found to be in violation of the Environmental Public Health Act," the agency said.
If you come across any such unhygienic establishments, you can provide feedback via the online feedback form or call the SFA Contact Centre at 68052871 with details.
Eng's Wantan Noodles (Tanjong Katong)
Facebook | Instagram
📍 287 Tanjong Katong Rd, Singapore 437070
🗓️ Suspended from operation until further notice
The guy who will go on a 30 minute monologue about artisan coffee when you ask if they want Starbucks.