Your friend may not have the answers to your life's troubles, but we all know that chocolate provides a temporary solution to any kind of pain. With the new Hershey's pop-up at Changi Airport, to say that you're on a chocolate high would be an understatement.
Located at Terminal 3, the limited-time pop-up event will be held from now till 3 May 2021.
One and only Hershey's pop-up in Singapore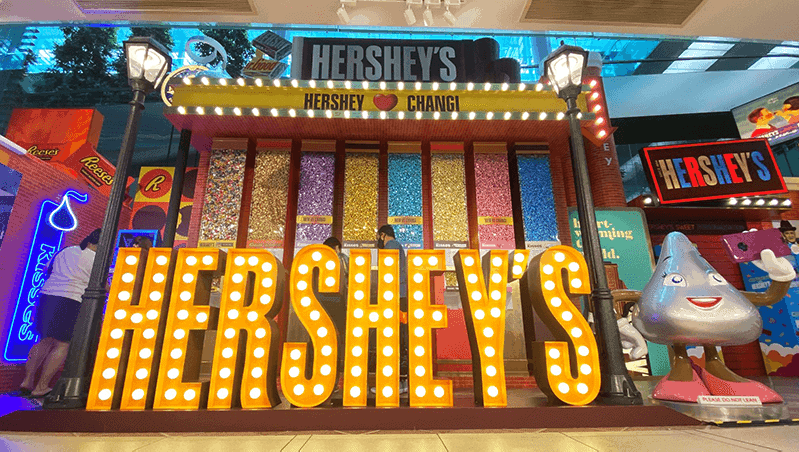 The event's concept is modelled after the iconic Hershey's Chocolate World store found in New York's Times Square and the Amazing Candy Machine in the New York store. Besides having fun photo ops to populate your Instagram feed, there's also a retail store that features eight types of chocolates and three new exclusive Changi flavours. The flavours are Hershey's Kisses Filled Yoghurt, Hershey's Kisses Filled Strawberry and Hershey's Kisses with Hazelnut.
The Amazing Chocolate Machine
Willy Wonka & The Chocolate Factory may be a movie from the 1970's, but you'll definitely go Oompa-Loompas over The Amazing Chocolate Machine. 3-metre tall candy dispensers dominate Hershey's pop-up installation, and they're not just for show.
If you spend S$60 or S$80 at the supermarket in Changi Airport, you'll be given a "Bucket of Happiness" for you to load up your preferred goodies with. Options include Hershey's, REESE'S and Hershey's Kisses chocolates for S$9.90 — we say it's not every day that you're shadowed by a truckload of chocolates, so pile up as much as you can.
To ensure that no one will be stealing your bucket, you'll be given a Hershey's sticker set. Customize your bucket in any way you want to make it truly yours. For those with girlfriends to please, you can also personalise a Hershey's Giant Bar with a special message or photo at the Hershey's Sweet Personalization counters for S$6.90.
Hershey's pop-up photo ops
Forever immortalize the only time you're surrounded by chocolates with the larger-than-life installations. Yes, the candy dispensers are cool, but what about the bigger-than-your-dining-table stack of fluffy pancakes? Don't miss the opportunity to sit on them because hey, you're a snacccc.
Your boyfriend may not call you his peanut butter cup but that's okay. With this humongous REESE'S peanut butter cups installation, it's a reminder for him that you're a goddess and he bit off more than he could chew.
Retail store with limited-edition goodies
Go big or go home with the world's Largest Hershey's Milk Chocolate Bar and the world's Largest Hershey's Kisses Milk Chocolate Candy at the Hershey's pop-up retail store. The chocolate bar weighs more than 2KG, while the candy is almost 500grams — if that's not enough for you, we're sentencing you to life behind bars.
With a minimum spend of S$60 on a single receipt at the pop-up store, you're also entitled to a limited-edition Hershey's Bear.
Be there or be square.

📍 Changi Airport, T3, Basement 2
🗓️ 11am–10pm (Daily)
To find out more about Hershey's pop-up event, click here.

Or, for more lifestyle updates like this, subscribe to our Telegram channels at @good2gosg and @confirmgood.
I leave the office at 6PM on the . to rush home and play games. My boss has no control over me!!