It doesn't matter if you identify as a Gen Z, millennial or boomer. Whether you're pulling up different private car hire apps to compare prices or, refusing to purchase something from Cold Storage because it's cheaper at Sheng Siong, it's the Singaporean spirit to scour out for only the best deals. 

Life may not have any shortcuts, but there are hacks at your fingertips to make things easier. Besides helping to compare prices, there are other apps out there that'll save you time and hassle and solve our very Singaporean problems.
Apps made for Singaporeans
OLIO – Donate food and used items without going to Salvation Army
Having the energy to do some spring cleaning is one thing, but possessing the extra effort and time required to head down to a donation centre or Salvation Army is another. Besides being too tired, some of us even lack the vehicle to transport the many bags of items.
Though OLIO is branded as a food sharing app, you can donate preloved items as well. It'll be able to free up space in your house ASAP, and at the same time, help the needy.
To use the app, firstly, you can set your identity as a 'giver' or 'taker'. A giver gives away the items while the 'taker' takes the pre-loved items. You can change your identity later on.
To give, simply make a listing on the app by taking a picture of the item you'll like to donate, then set a pickup location. The mobile app will notify you of a request and details can be exchanged between users after.
Price Kaki – Compare grocery prices to save that 10cents
As a child, it was a common supermarket experience for our parents to snatch snacks away from us, only for them to be placed back on the shelves. As we painfully walk away from the item, it always follows up with what was supposed to be a reassuring "Don't buy from here, NTUC cheaper."
With that, the Singaporean skillset of saving every single cent has been ingrained in us since young, and Price Kaki is here to help us with that. The Singaporean app allows you to compare and contribute in-store prices of groceries, household items and hawker food through a single platform, and even shows you the things that are going on discount.
Ez-Link – Top-up your card on the go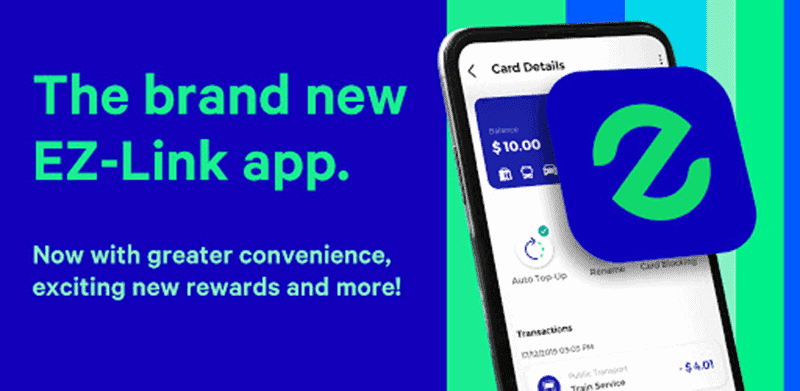 You know that feeling when you're not sure of how much credit is left in your Ez-Link? The sensation subsequently leaves you apprehensive of going towards the gantry, fearing the spiteful BEEP of rejection which sends you into a nervous breakdown.
Fear not, the Ez-Link app is here to save the day. Besides keeping track of your card's value, the app also lets you reload your credits EZ-ly. All you have to do is key in the 16-digit CAN ID found at the back of your card and you're good to go.
BTT 2021 Basic Theory Test – Practice and predict BTT questions
If you've taken the Basic Theory Test (BTT) 176543 times and have not passed, perhaps it's time to give the Singaporean app BTT 2021 Basic Theory Test a try.
The app features more than 500 mock questions to prepare you for the examination and mimics the layout of the actual test, so you won't be too intimidated during the actual test.
IC Photo Singapore – Take a photo for your passport/IC without professional help
Renewing your passport is a chore, especially when you have to get your photo professionally taken. With IC Photo Singapore, you no longer have to visit or pay for such services.
The ICA (immigration and checkpoints authority)-approved metrics will help you position your face correctly and crop your photo to the standard passport size. Just ensure that the options for "Country", "Photo" and "Print Size" is accurate before uploading your image.
SPUR – Compare private car hire prices in one app
By now, most of us are probably platinum members on Grab. Though ride-hailing services have made life so much easier, it has also burned a hole in our pockets — which is why it's important to compare each provider's rates and make the best bang for your buck.
You don't have to go through the apps one by one anymore to do so. SPUR will compile the rates of Grab, GoJek, Comfort, Tada and Sixt altogether, and there's a direct button which copies your address to the ride-hailing provider you've chosen. No need to key in your details twice.
AXS Payment – Pay for bills, fines and insurance without visiting machine
It's never good news to have to make a trip down to an AXS machine. You're either paying for your bills, fines or insurance and travelling down just isn't worth it. To lessen your pain, the AXS Payment is a one-stop app with payment access features and e-services for Singaporeans.
The app securely stores all your bill account details for easy retrieval, and each transaction will give you an e-receipt for safekeeping. There are even reminder services for bills payment based on your past payment timings, which makes it pretty nifty.
ManyTutors – Upload math problems and others will solve them for you
Math isn't everyone's forte and sometimes we need to get to the root of the problem. ManyTutors helps students stumped on their homework questions by providing a solution. To get your answers, upload a picture of your problem and someone else would reply with an answer — complete with workings and equations.
From what we've observed, you'll usually get your answers within one to two hours.
WhyQ – Hawker food delivery app
With so many food delivery apps available, cafes and restaurants are right at our doorstep. But as Singaporeans, we still do crave humble hawker fare now and then.
WhyQ is a Singaporean food delivery app that focuses on hawker nosh, with options from popular hawker centres such as Chomp Chomp, Adam Road Food Centre and Tiong Bahru Market.
The best part of all is that delivery fees are usually free or at a flat rate of S$1.99 to keep things affordable.

iPhone | Android
NLBMobile – Borrow library E-books through your phone
The fines that we've paid for not returning a library book on time would probably be enough to fund a trip to HaiDiLao, but sometimes, our schedules are so packed that we just can't head back to the library.
And perhaps, the National Library Board (NLB) is also tired of having to send book return reminders to us, so they've created the NLBMobile app. Simply search for the book title you're looking for, and you have the choice to borrow it as an E-book or audiobook, depending on the format available — it's kinda like having a Kindle, but free.
If you liked what you read, subscribe to our Telegram channel at @confirmgood for more updates like these.
Or, take a look at our article on minimum-effort apps that earn you money.
I leave the office at 6PM on the . to rush home and play games. My boss has no control over me!!