Crayon Shinchan has to be the most iconic cartoon boy in the world. Many of us grew up with his cheeky antics such as mooning his parents and his signature "elephant" dances. So we were extra excited to hear about the Crayon Shinchan pop-up at Kumoya.
This Kumoya pop-up, like Crayon Shinchan himself, is absolutely adorable. Like with their previous collab, this pop-up is done in collaboration with Little Miss Bento, a renowned food artist known to create kawaii dishes.
The pop-up will be opening at Kumoya's Bugis outlet on 5 May 2021.
You'd feel your mood instantly elevated when you step into the vibrantly coloured real-life recreation of Crayon Shinchan's world at Kumoya's pop-up.
Fans would fall in love with the decor mainly showcasing Shinchan's in his element, from playing with his dog Shiro to his signature hands-above-head run.
What really got us gushing is the myriad of references to his favourite Chocobi biscuits.
Firstly, the snacks are all served inside cutesy Chocobi boxes, with the Star Hash Browns and Sweet Potato Mochi Balls (S$12.90) looking exactly like the snack. Now you can channel Shinchan and pig out on the star-shaped snacks.
Other snacks include Teriyaki Chicken Sticks (S$13.90), Karaage Chicken with Shoyu Glaze (S$14.90), and Handcut Nacho Cheese Fries (S$12.90).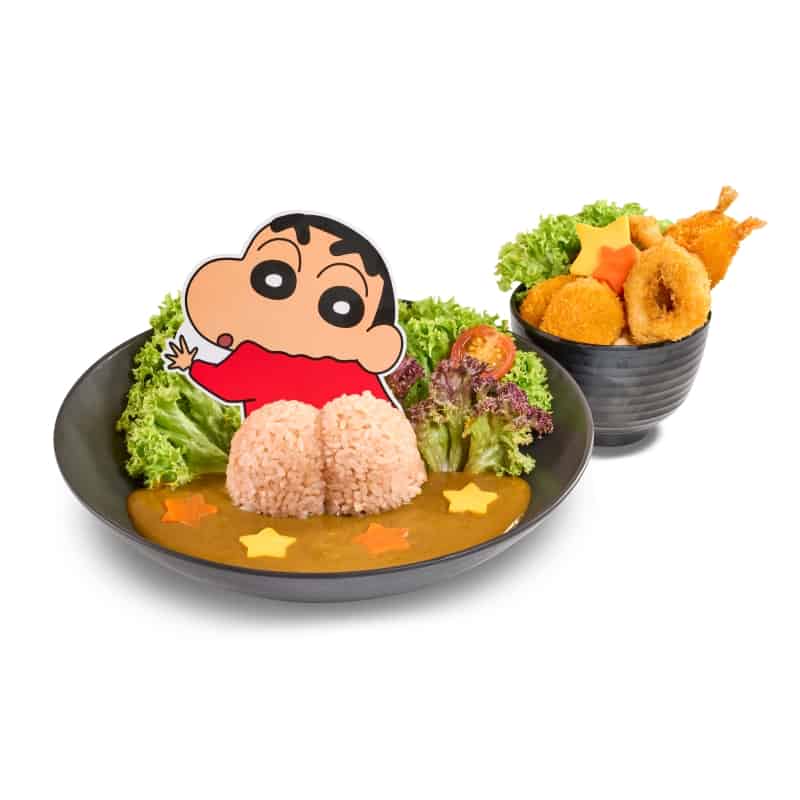 If you're here to see Shinchan moon you irl, we won't judge. Because we're also in love with the So Mischievous Japanese Seafood Curry Rice (S$26.90).
It's a cute dish that comes with two shapely mounds of rice — thicc and fluffy — swimming in a pool of rich brown curry. Probably the cutest and most eye-catching dish at Kumoya's Crayon Shinchan pop-up.
However, if you want something that can give you a heavier lunch, there's also the It Ain't Heavy. It's My Pancakes! (S$26.90).
It comes with a nice fluffy stack of pancakes as well as a slab of hearty fried chicken. Shinchan trying to lift the pancake barbell is the most adorable thing. Ever.
However, if these aren't up your alley, there's also a Shiro And The Lucky Stars Ebi Burger (S$24.90) and Chill-To-The-Max Pomodoro MeatBalls Pasta (S$23.90).
Above all, fans of Shinchan and gutter humour would enjoy the plating on the Relaxing Onsen Pudding Parfait (S$22.90).
You see Shinchan's butt sticking out of the Onsen while he's relaxing, except the butt is made out of bouncy, jiggly pudding.
For drinks at the Crayon Shinchan x Kumoya Pop-up, the most eye-catching would be the Let's Swim Iced LycheeTea (S$12.90) and Mango Lemonade Tea (S$12.90). You can see Shinchan floating atop the drink with a donut float.
Alternatively, they also have hot drinks with Shinchan-themed foam art such as the Kamen Shinchan Hot Latte (S$10.90) and Waniyama-San Shinchan Hot Chocolate (S$10.90).
If you want the adorable butt pudding but don't want to commit to a whole-ass dessert, Piak! Piak! Mango Frappe (S$13.90) and Matcha Frappe (S$13.90).
In summary, Kumoya has the perfect pop-up for Crayon Shinchan fans, or just people looking for the cutest themed cafe in Singapore. Keep your eyes peeled for those cute instagram shots.
Crayon Shinchan x Kumoya Pop-Up Cafe
Facebook | Instagram
📍 8 Jln Klapa, Singapore 199320
🗓️ 12:30pm–9:30pm (Tue–Sun)
The guy who will go on a 30 minute monologue about artisan coffee when you ask if they want Starbucks.