While dining out is back on the menu, not everyone feels ready to assemble their squad for a night out yet. Especially since there are so many delivery options now for those who don't feel mingling with the hordes of people rushing out after the confinement.
You don't have to feel left out when you can still dig into some indulgent hotpot, delivered straight to your home by HaHa Hotpot. They offer Sichuan hotpot delivery with wallet-friendly prices that come up to as low as S$13 per person! That's even cheaper than some hotpots when you're dining out.
The business is also Halal, so Muslim diners can also dig into the hot and steamy Sichuan hotpot, something which can be hard to find as Halal-certified.
HaHa Hotpot's fuss-free delivery also saves you the headache of setting up and the tedium of washing through everything after your meal. They provide everything from the pot and stove to cutlery, bowls, and plates — it's a hassle-free experience like in a restaurant.
And we mean really hassle-free — just like how they deliver to your house, you can just place your used utensils and stove outside before 10:30pm and you'd find it magically spirited away by their delivery drivers. Do note that they ask for a S$30 deposit for the stove upon delivery.
There are various packages tailored for different group sizes. For small groups, you can go for the 2-3pax package (S$39.90) that comes with 2 choices of meat, 1 choice of seafood, and 2 soup bases. For just S$13.30 per person, and with all the logistics settled for you, this is a pretty good deal.
Their largest package feeds 7 to 8 pax (S$129.90) but comes in the form of a sprawling feast containing 7 meat, 4 seafood items, 9 veggies, and 3 soup bases.
Meat options include Shabu Shabu Chicken, Beef, Mutton, and the interesting Swedish Beef Balls. An array of veggies are also available for a more holistic meal, including favourites like Enoki Mushroom and Lotus Root.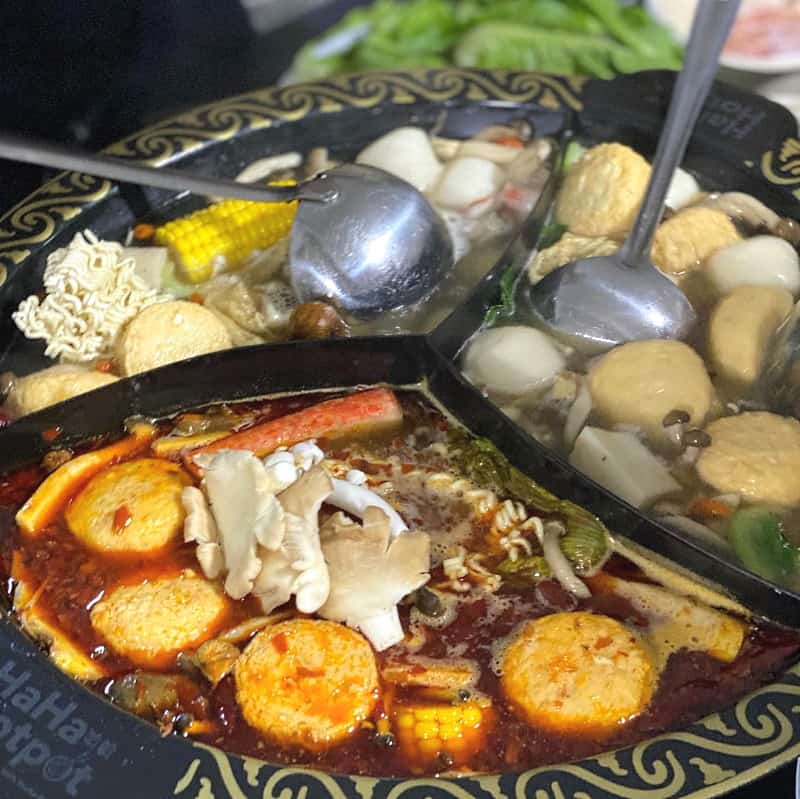 Broth choices aren't super exciting but it's all the familiar and comforting classics we love such as Mala, Collagen, Tomato, and Mushroom. Besides all the ingredients, you also get complimentary sauces and, most importantly, everyone's favourite Instant Noodles.
They deliver islandwide for S$18.90 but if you hit a minimum spend of S$138, you get free delivery. You can place your orders here.
HaHa Hotpot Delivery
Facebook | Instagram
📍 Islandwide delivery
🗓️ Place orders 2 days beforehand
For more lifestyle updates like this, subscribe to our Telegram channel at @confirmgood.
The guy who will go on a 30 minute monologue about artisan coffee when you ask if they want Starbucks.