KFC's special items can be hit or miss, but one hit that we've missed is their addictively crunchy cereal chicken. But good news — we hear they're bringing the local-inspired classic back, just in time for National Day.
From 9 July 2021, KFC will be bringing back their cereal chicken, as well as the new cereal fries and ondeh ondeh egg tart.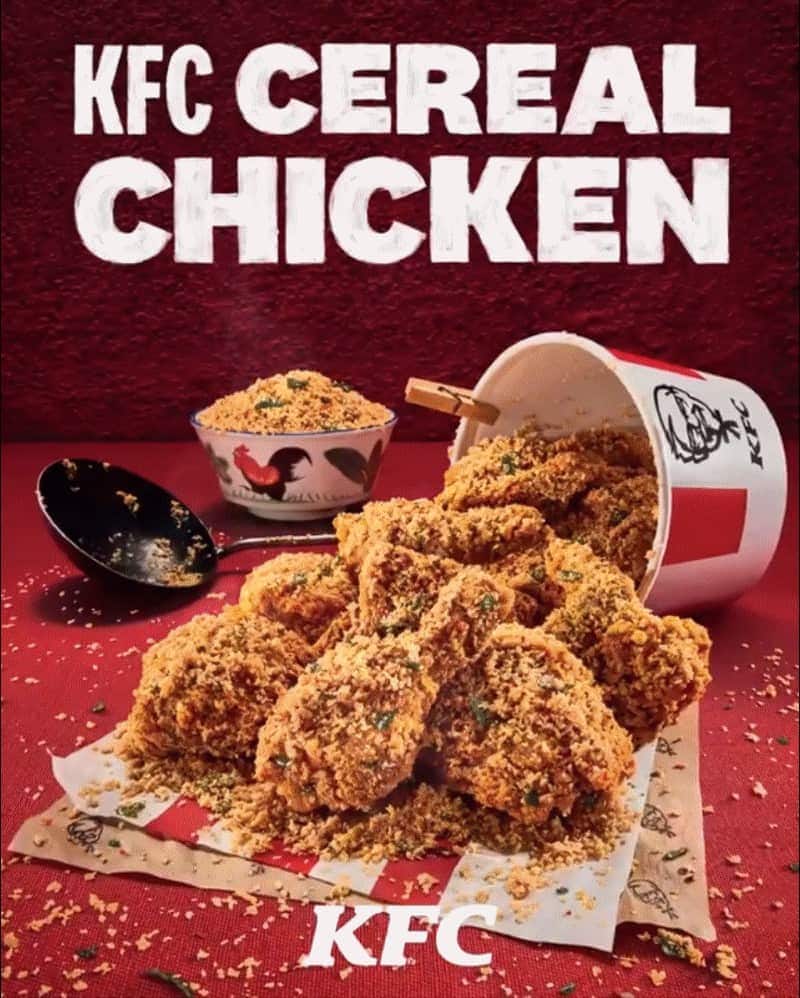 Each piece of chicken is available for S$3.65 a la carte or diners can get a 2pc meal for S$8.95. A Cereal Chicken Box with 2 pieces of chicken and 2 tenders is available for S$10.95, while the 5 pc meal will cost S$19.95.
If you want to share it with your family, go for the Cereal Chicken Family Feast (S$36.95) that comes with 8 pieces of chicken as well as 9 pieces of nuggets.
The special item is KFC's own spin on the tze char classic that's loved by Singaporeans, young and old.
Sweet and crunchy Nestum cereal is wok-fried with curry leaves, chilli, and butter first. then lavishly showered onto KFC's Hot & Spicy chicken
If you'd rather have the crunchy cereal with fries, KFC are also rolling out cereal fries. It's loaded with butter mayonnaise and then finished with the sweet-savoury cereal.
The cereal fries are available for S$3.20 as a meal add-on, or S$4.60 a la carte if you just want to snack on it. We know how much everyone loves to snack on cereal snacks — it's just so addictive.
Besides the hearty cereal chicken and fries, KFC will also be putting a local spin on their popular egg tarts.
Encased within their signature flaky pastry are Ondeh Ondeh Egg Tarts filled with oozy brown sugar and pandan custard. There's also a sprinkle of shredded coconut on top to give it that signature ondeh ondeh texture.
KFC's Ondeh Ondeh Egg tart is priced at S$1.50 apiece, while you can also get 4 pieces for S$5.50.
KFC Cereal Chicken & Cereal Fries
Facebook | Instagram
???? All outlets except Singapore Poly, Nanyang Technological University, and Singapore Zoo
????️ From 9 July 2021
Ondeh Ondeh Egg Tart
???? All outlets except Jewel Changi Airport, Jurong West Street 51, Nanyang Technological University, Paya Lebar Quarter, Punggol Oasis, Rivervale Mall, Toa Payoh Lorong 1, Singapore Poly, and Singapore Zoo.
????️ From 9 July 2021
The guy who will go on a 30 minute monologue about artisan coffee when you ask if they want Starbucks.