While McDonald's is popular for many fried chicken items such as their McNuggets and McSpicy, there's one fried chicken item that many have been asking McDonald's to bring back since it vanished in the early 00s.
We're talking about the Chicken McCrispy, McDonald's take on classic fried chicken which will return on 1 July 2021 at 11am.
Some people might remember that it was reintroduced for a short while last year, but only at selected outlets. Many nostalgic chicken lovers joined the long queues to try their luck, but it sold out pretty quickly.
Looks like they saw the crowd's love for it so this time, they're reintroducing the Chicken McCrispy as a permanent fixture on McDonald's Singapore menu.
These pieces of fried chicken are meant to be mildly spicy, juicy and golden crispy.
The original Chicken McCrispy achieved that pristine texture through being steam marinated then flash fried, for precise moisture inside and crisp outside. But it's not stated if the preparation methods are kept the same.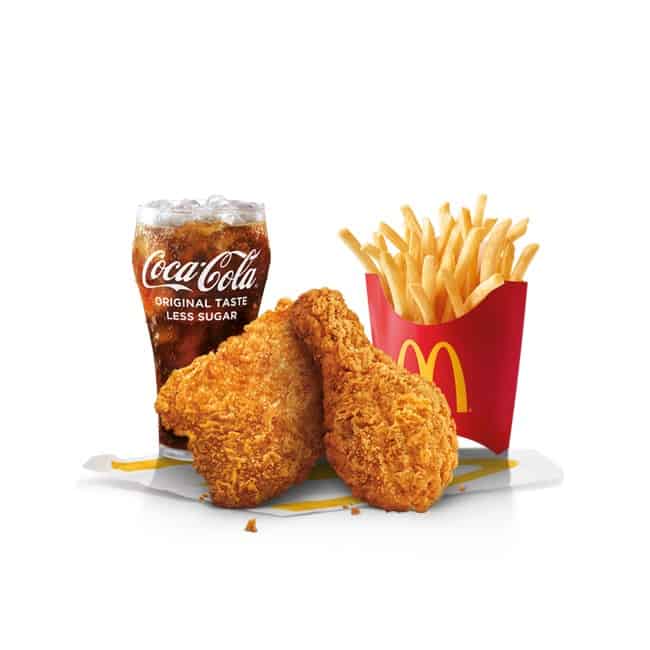 If you're curious to try out this legendary fried chicken, you can enjoy the Chicken McCrispy as a 2pc Extra Value Meal (from S$8.40).
The meal contains two pieces of the fried chicken, along with medium fries and a small coke.
But for those who have been really craving it for the past 2 decades, you can indulge in a welcome back feast with their 6pc Chicken McCrispy (S$18.10), a bucket that comes with 3 thighs and 3 drum sticks.
In addition to that, the bucket is also available in a Chicken McCrispy Value Bundle (from S$21.50) for a heartier meal. Besides the six pieces of fried chicken, you also get 2 medium fries and 2 small cokes.
The Chicken McCrispy will be available for delivery and also at all McDonald's stores islandwide, except for the following six outlets:
McDonald's Shell Tampines
McDonald's Shell Hougang
McDonald's Shell Havelock
McDonald's Clementi Avenue 3
McDonald's Parklane
McDonald's Tampines Kiosk.
If they can bring back the Chicken McCrispy after 2 decades, does that mean that we'll get our bae, Spicy Chicken McNuggets, back in the future too? Hopefully the wait isn't as long!
If you're looking for other fast food to indulge on your cheat days, you can swing by Shake Shack for some free fries if you've been vaccinated.
McDonald's Singapore
Facebook | Instagram
📍 Selected McDonald's outlets, McDelivery®, GrabFood, and foodpanda
🗓️ From 1 July 2021 onwards, after breakfast hours.
The guy who will go on a 30 minute monologue about artisan coffee when you ask if they want Starbucks.